How do you bring the true spirit of Christmas into your home? In this meaningful Christmas activity for kids, children make a bed for baby Jesus and fill it with hay. Then, they learn how their actions each day can make their own home a place where Jesus feels comfortable and welcome. This Bed for Baby Jesus Christmas Lesson will bring the true Spirit of Christmas into your hearts and homes.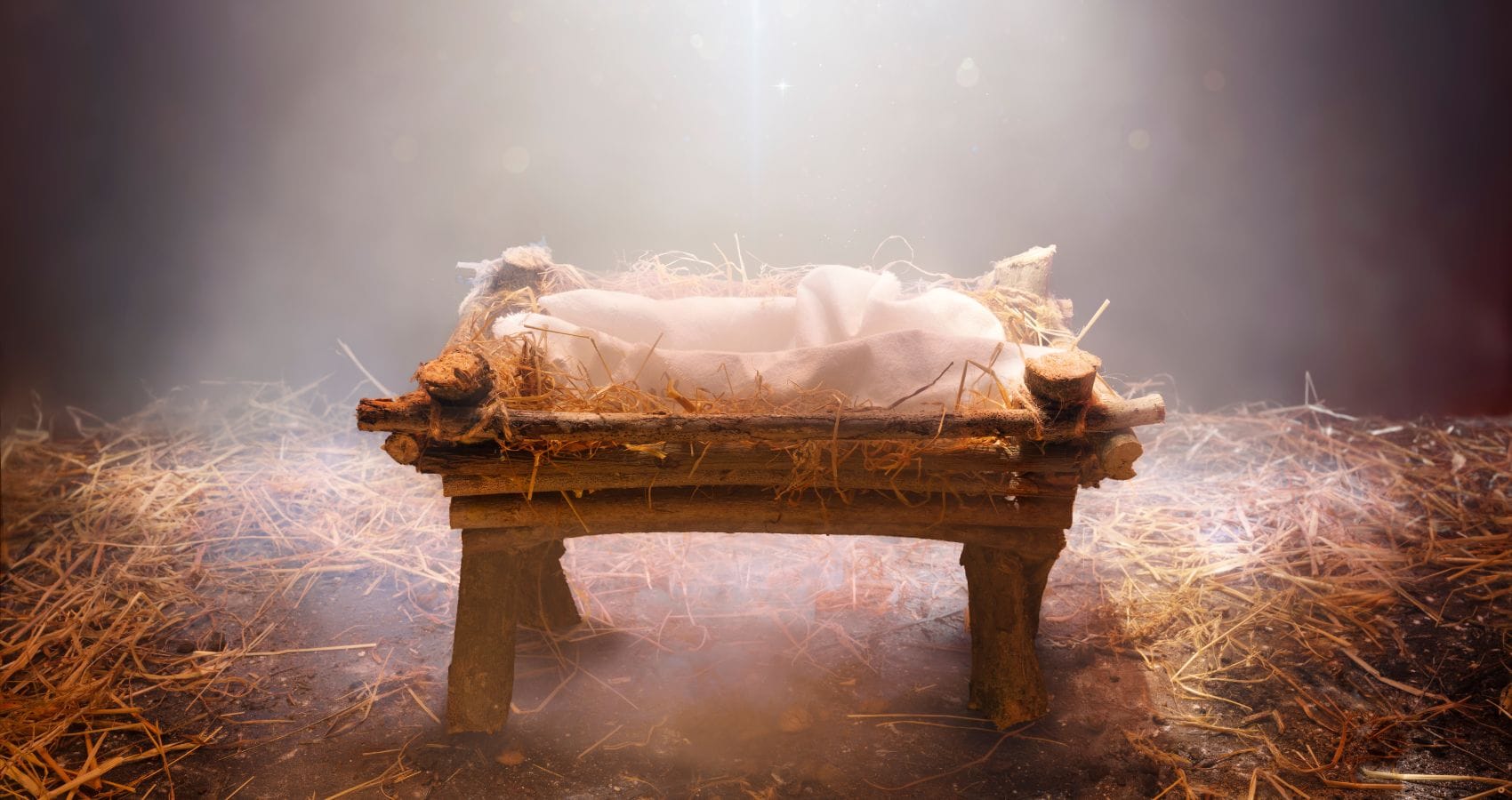 Bed for Baby Jesus ~ Christmas Lesson for Children
I love the song from the Grinch movie that little Cindy Lou Who sings. It is called, "Where are you Christmas?" In the lyrics, the cute who child wonders why she can't feel the Christmas Sprit. The feelings of Christmas have changed for her and she wants to feel hope and peace. It is one of my favorite Christmas songs. I think we all feel the same longing as the girl from the movie. Why? Because, the holiday season is so full of clutter. With shopping, sales, ugly sweaters, neighbor gifts, white elephants, blow up yard decorations, work parties, class parties, tissue paper, and Amazon deliveries it is easy to feel a little bit lost and overwhelmed.
That is because the Christmas Spirit comes from Christ.
This Christmas lesson for children will help bring hope, peace, and love into your home during this most wonderful time of the year. The Grinch discovered that Christmas wasn't about all of the stuff. It is about people and love. When you make a bed for baby Jesus and fill it with special hay, your family will find ways to bring that love into your home and hearts too!
First, build a bed for baby Jesus out of wood.
You will need to prepare a manger to use as a bed for baby Jesus. There are a lot of options for making your little wooden bed. You could use large craft sticks and hot glue. Or, fold some brown construction paper into a v-shape and glue it onto popsicle stick legs. My husband built ours out of some scrap wood. You can build one to last year after year, or just make a quick manger for the lesson.
Have your kids feel the manger. Talk about how baby Jesus was born in a stable with no crib for his bed. Mary did not have a bed for baby Jesus. So, she laid him in a manger with hay. The manger Jesus laid in was made out of wood or stone. It was not soft like our cozy mattresses! When your children feel the manger, talk about how it is not a place where a baby would want to rest.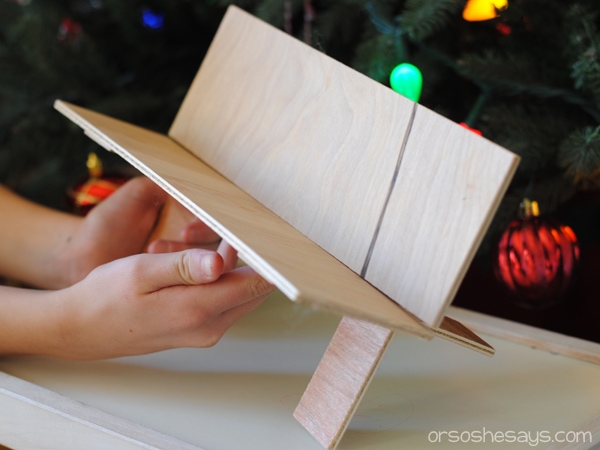 Then, fill the bed for baby Jesus with special hay.
Luckily, the manger had hay to make it more comfortable and warm. This is where the bed for baby Jesus turns into an object lesson for kids! Tell your children that to make the manger better, it needs to be filled with hay. The hay represents actions we can take to make Jesus welcome in our own lives. I got this paper hay at the store next to the gift wrap supplies. It is kind of like paper easter egg grass! Ask your children, "What sort of things can we say and do to invite Jesus into our home?"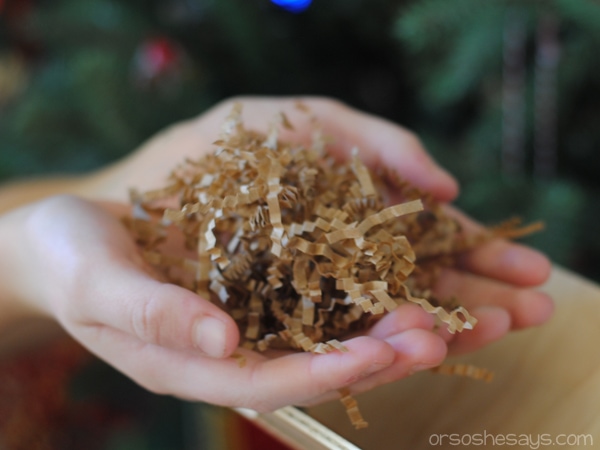 Some examples include:
Pray to Heavenly Father with gratitude.
Offer help to people in need.
Play uplifting music that has good words.
Read the scriptures.
Give hugs and kisses to Mom and Dad.
Be careful with with you watch on television.
Send kind notes or text messages to friends and family.
Do homework without complaint.
With each wholesome and good action suggested let the kids add a little bundle of hay into the manger.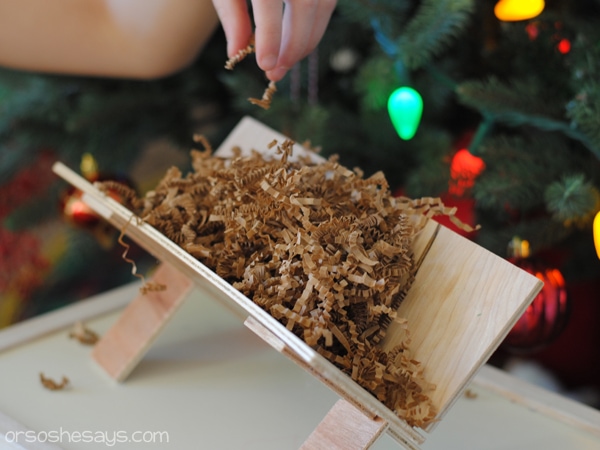 Explain that when we make good choices and keep the commandments, we invite the Holy Ghost into our lives. The Holy Ghost helps us to feel happiness and peace. He gives us our testimony of Jesus and helps it to grow. When we choose the right, we fill our lives with goodness and Jesus can dwell with us. We can feel His special presence. At Christmas time, this feeling is called the Christmas Spirit.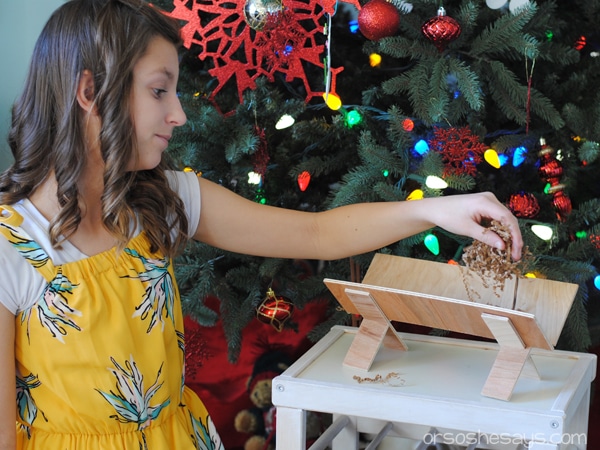 Lay the baby in the manger filled with hay.
Once the bed for baby Jesus is soft and cozy and filled with hay, then get out the baby. I got this little baby at the dollar store! It was dressed in a silly little outfit that I removed promptly. I wrapped the doll in a white tea towel. It felt like swaddling clothes to me! Let your kids hold the little baby and talk about how Jesus came to earth as a baby. He was born in Bethlehem. His mother was Mary and his father was Heavenly Father.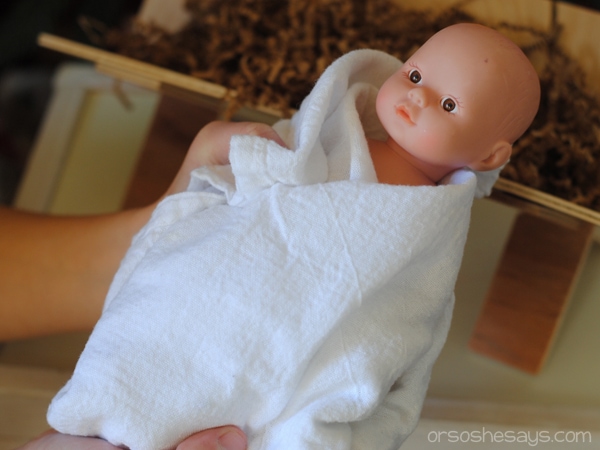 Give the baby Jesus a nice hug and squeeze and then put him into the manger. Talk about how the bed for baby Jesus is so much better, because, it is filled with hay.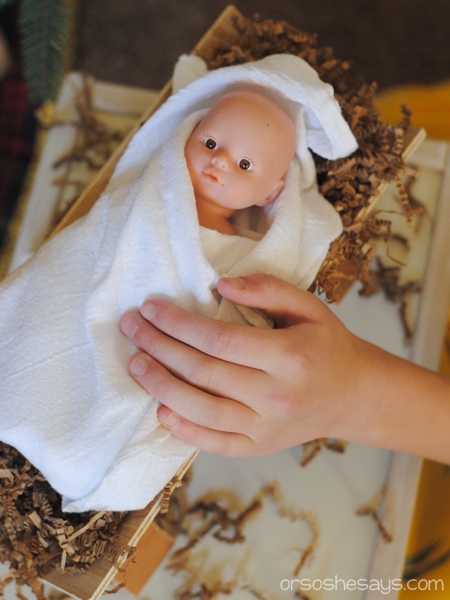 When we fill our own lives with good and holy words and deeds, we invite Jesus to be near us.
Choosing the right and showing kindness makes our homes a comfortable and welcome place for Jesus to visit. Our actions show Christ that we want Him to be part of our lives…just as the hay in the manger made the bed for baby Jesus soft and warm!
This Christmas Season, bring the true Christmas Spirit into your hearts and home with this simple nativity activity. Make a bed for baby Jesus and fill it with good works and kind deeds. When we uplift and serve each other, our homes are filled with the light of Christ and His Spirit will bring peace and happiness this holiday and throughout the year.
Pin this image to save or share post: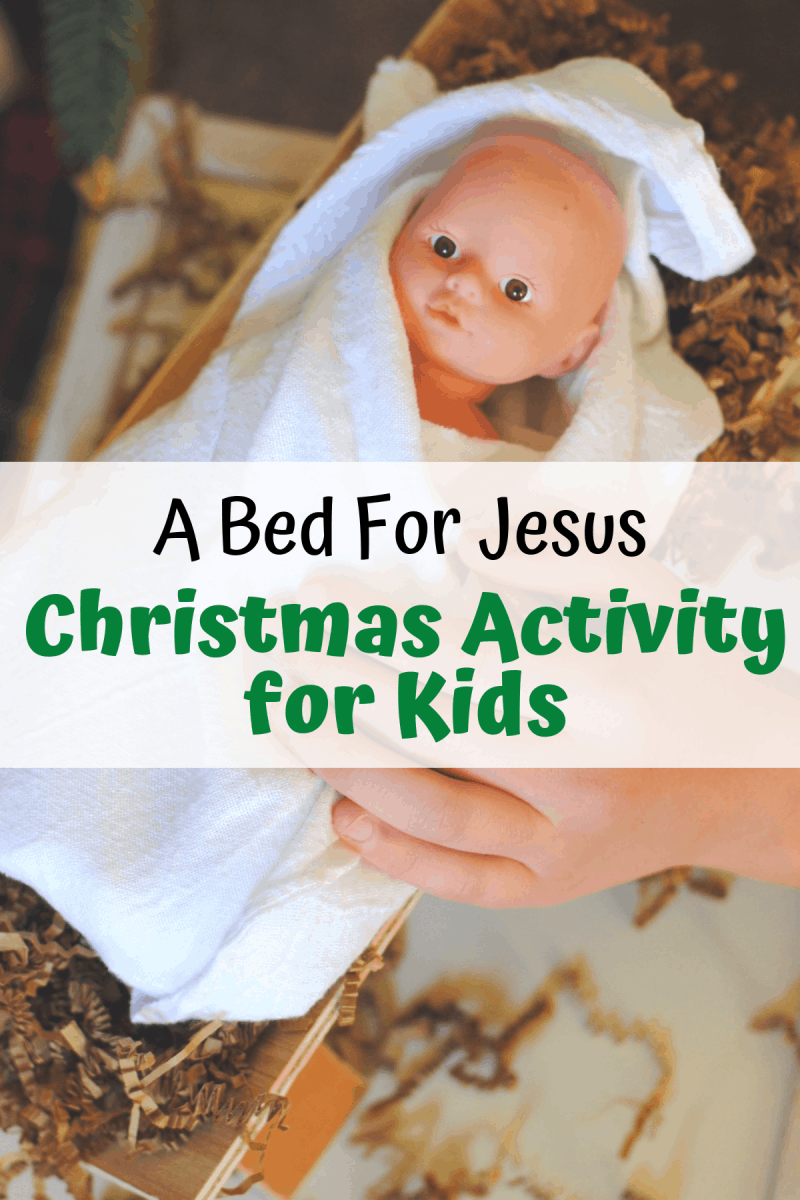 Other Christmas posts you'll enjoy: