I love advent calendars and this Nice List Advent Calendar is such a cute way to get the little ones behaving all month long.
'Tis ALMOST the season for fun holiday crafts! It's the perfect time to start thinking of new holiday traditions before getting bombarded with Christmas parties, present buying, and the hustle and bustle of December. Keep the little ones on the nice list throughout the holidays, by having them help you make this fun nice list Advent Calendar. These paper chains are so cute, and SO easy to create. All ages can get in on the fun! And, let's be honest here… you know any incentive to get the kids behaving and being extra sweet all month long is a welcome thing. At least it is in my book!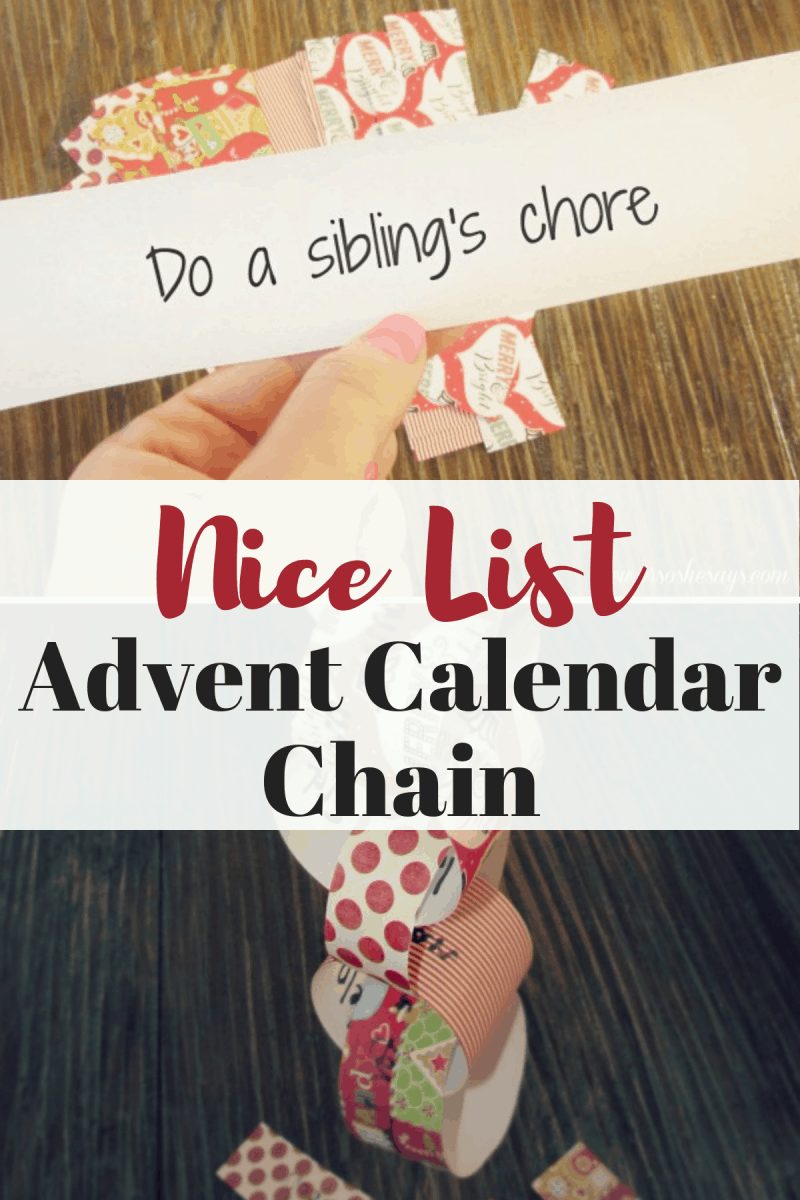 Nice List Advent Calendar
One of my most favorite things about this Nice List Advent Calendar is how little is needed to get the tradition started. I'm all about a simple family tradition during the holidays!
Here is what you'll need:
Cut your paper into strips, I made 25, because I'm going to start mine on December first.
Have the kiddos help you come up with "Nice List Activities" What would Santa want to see in our behavior this holiday season?
Nice List Activities
Help Dad wash the car
Do your chores without being asked
Make a card for a family member
Thank mom for dinner by doing the dishes
Make cookies for a neighbor
Share your toys with your siblings all day
Donate a toy to a shelter
Make someone's bed in the morning and leave a treat on their pillow.
Read a book to a younger sibling
Help shovel the snow in the driveway or rake leaves
Invite a sibling to play with you
Help make dinner
Make a treat for the family to share
Give 5 sincere compliments
Find someone at school that could use a friend
Tell your teacher thank you at the end of the day
Invite someone all alone to sit with you
Draw a picture for a grandparent
Call a relative just to say hello. Put them on FaceTime!
Then have them help you make the chain by looping each piece together.
If you do Elf On A Shelf, this is a great activity to do along with him!
These look so cute strung up on the Christmas tree, mantle or even in a child's room. They also make a great Family Home Evening activity! So gather together and have fun creating this super easy DIY!
Happy holidays!
If you liked this DIY holiday craft, please check out www.paperwngs.com for more!
-Kari
Here are some more ways to get in the spirit of Christmas:
Christmas Activity Advent – Celebrate All Month Long!
Free Christmas Tree Advent Printable
Felt Character Christmas Ornament Craft for Kids – Featuring Ninja Turtles!
And, some of our favorite advent and nativity products:
LEGO City Advent Calendar 60201, New 2018 Edition, Minifigures, Small Building Toys, Christmas Countdown Calendar for Kids (313 Pieces)
Fisher-Price Little People Advent Calendar
Melissa & Doug Countdown to Christmas Wooden Advent Calendar – Magnetic Tree, 25 Magnets
VTech Go! Go! Smart Animals Advent Calendar Amazon Exclusive
Kurt Adler J3767 Wooden Nativity Advent Calendar with 24 Magnetic Piece
Hot Wheels Advent Calendar
Willow Tree hand-painted sculpted figures, Nativity, 6-piece set
Fisher-Price Little People A Christmas Story
Three Kings Gifts 23 Pieces, 5-Inch The Real Life Nativity – Includes Lighted Stable, Palm Tree and Chests of Gold, Frankincense and Myrrh
Willow Tree hand-painted sculpted figure, The Holy Family
Melissa & Doug Classic Wooden Christmas Nativity Set With 4-Piece Stable and 11 Wooden Figures
Lenox Holiday Nativity, Set of 7 (Holy Family, Three Kings, Angel)