Hello, it's Mariah, here again sharing some of the best breastfeeding products with you today! I've been breastfeeding my son for 11 months now. It's been an adventure. I've learned a lot & come across great products along the way. However, with this being my first, I'm DEFINITELY NOT an expert on the subject. So, I asked the amazing OSSS Facebook fans for their recommendations too.
When you ask thousands of women what their favorite breastfeeding products are, there are lots and lots of opinions! But, I read through them all and narrowed it down to the most popular suggestions in the bunch. So, whether you're a brand new mom not knowing where to start or a mother of six looking for upgrades, I hope you can find something on this list that will make your breastfeeding experience a better one.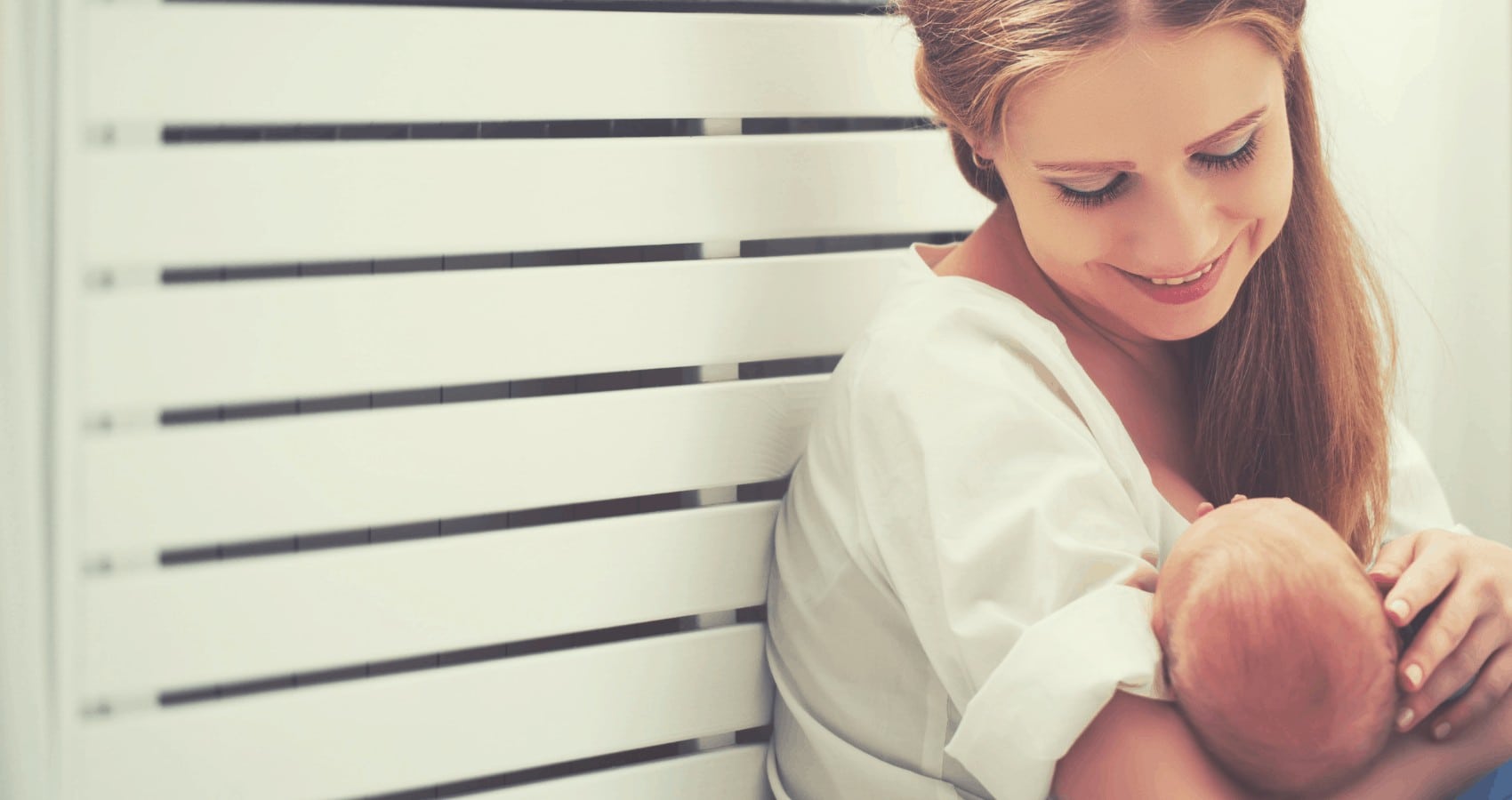 The Best Breastfeeding Products for New Moms
These tank tops would probably be my #1 recommendation. I wear one basically everyday! The reason they are so awesome is that they hook right onto your nursing bra (they work with any nursing bra that clips down). As a person who wears a tank top under pretty much everything, these have been so nice! They're comfortable, have generous lengths, come in cute colors, and keep your skin/underclothes covered because you don't have to pull it up to nurse.
This nursing bra has the best reviews on Amazon by far and I can see why. It looks super comfy! No underwire, stretchy fabric, and removable pad inserts- A bra like this is perfect for that first week or so of engorgement when your boobs are trying to figure out what the heck is going on and with the pad inserts it might just become your go-to bra for the entire time you're breastfeeding!
A sleep bra is another awesome product for breastfeeding mamas. I used mine in the hospital and almost every night after I got home to help hold my nursing pads in place. There's nothing worse than waking up in the morning with a big wet spot next to you because your nursing pads fell out/slipped out of place! Oh good, washing the sheets is exactly what I wanted to do today!
If you're a working mom, I would highly recommend a hands free breast pump bra. I used mine multiple times a shift during my nursing preceptorship. I could pump while I ate lunch or charted and my break didn't have to be any longer than anyone else's. I worked the night shift so it also made it possible for me to pump in the car on the way home. Thankfully it was dark so I never got any strange looks but being able to go right to bed when I got home was SO NICE!
I've tried multiple brands of nursing pads and these are definitely my favorite. Lansinoh pads don't show through my bras and they have TWO adhesive strips instead of just one like many other brands have, so they stay in place so much better! They have great absorbency and they pull the wetness away from your skin which is a must.
Have you ever seen these?! I've struggled a lot with low milk supply and so for me, every drop of breast milk is precious! If you feel the same, consider giving these milk-saver pads a try! They collect your leaking milk so you don't waste anything.
Among the Or so she says… Facebook followers we had quite the mix of people crazy about Lanolin and people who were anti-Lanolin. I actually loved it during the first month of breastfeeding. It totally helped protect and sooth my sore and cracked nipples. It's also safe for mom and baby. 100 percent natural with no preservatives. Such a life saver!
An alternative to Lanolin that came highly recommend from our followers is this Earth Mama Angel Baby Nipple Butter. It's actually lanolin free, but also safe for mother and baby. You can also use this on lips, cheeks, heels, and elbows.
Clogged ducts and sore nipples can be annoying and painful and I've found that heat packs can be so relieving. Most moms suggest using them after nursing and if the cold packs are a little too much on your breasts, you can wrap them in a paper towel or thin cloth and then put them against your skin.
Another heat pack that I would love to try is the NuzzleHUG. I love that you can just hang it around your shoulders for hands free relief! Heaven knows, as a mom, we have plenty of things we need our hands for, and we often need to be up and going. This looks so perfect and comfortable. It soothes engorgement, can increase breast milk flow, help with clogged ducts, sooth nipple soreness, etc. It's even great for women who have recently had breast surgery, breast cancer treatments, or it can relieve PMS symptoms. So many good things!
I have loved having a Medela pump while working! Mine included a battery pack for on-the-go pumping which was a must for me, but the manual pump is super affordable and handy for the casual pumper. I love that it has a let-down phase that begins as you start pumping which really gets the milk flowing! It's also great for engorgement at the beginning of your breastfeeding experience. I like to use it just enough to relieve pain, and then I stop. I don't want to overuse it, or my body will continue to make more than I can handle. But, this little gadget helped me get regulated.
Okay, this seems silly, but I love this grass drying rack! It's designed to allow air up into bottles, nipples, breast pump accessories, storage bags, etc. so they can dry without holding in any condensation. The water drains into the lower tray, and basically it just looks cool and people love it.
These are by far my most favorite breast milk storage bags. They hold quite a lot, the bags are thicker than the other brands I've tried, and they're so durable. I've never had a leak! I also love that they're self standing.
With my baby now 11 months old, nursing covers are a thing of the past. I usually find myself nursing in an empty room when I'm away from home simply because trying to get him to leave the cover over us is just not worth the fight. However, back when he had less of an opinion, I used this Bebe Au Lait cover. I loved the flexible band across the top that allows you and your baby to see each other, the generous sizing, and all of the cute designs available. Oh, and they're machine washable. You don't have to smell that spit up forever, thank heavens. 🙂
We had a lot of people raving about their Boppy pillows! I've used one on and off for the last few months and have loved the extra support. Breastfeeding can be a little hard on your back and shoulders because hunching over is very common. The Boppy is totally there for you. I especially love it for the times where I want to read a book while nursing. They're also great for propping the older babies up while they're resting, or wrapping around them when they're first learning to sit. The slip cover can be removed for washing.
Clogged ducts and sore spots in your breast can be really uncomfortable. There's a reason why women love this breast massager. The shape of it is perfect for really getting in there and encouraging the milk to flow freely. It's also waterproof and rechargeable, two super handy features!
Whenever you're breastfeeding in the middle of the night, it's helpful to have a night light. But, not just any night light… one that isn't too bright, can turn on just by touching it, and is cordless and rechargeable, so it can be carried into another room. This is the one that mothers love. It's super cheap but as good as any Apple product.
If you liked this breastfeeding products post, I'm guessing you'll love these too:
The Great Nipple Rub & Other Breastfeeding Tips – This is a simple and free thing you can do to help prepare yourself for breastfeeding. I learned it from my sister-in-law, and have passed it on to my friends and family, as well.
Raising a Baby Diaper Free – Not sure that I have the energy or desire for this, but it's definitely super interesting!
What I Wish I Knew With Baby #1 – After having 7 children, this is the post where I offer some parenting advice, based on what I learned. Obviously, take what works for you, as all parents and children are different. But, these are some things that worked for me, when it came to raising babies.
Favorite Products for New Babies – My favorite baby products that I turn to for all of my babies.
Awesome Baby Products – And, a few more products. All great gift ideas for babies and new moms too!
Get more top picks in the OSSS weekly newsletter, Sunday Seven. Plus, free bonus!
Do you ever see a bunch of recipes on a blog and wish that you could just know, right then, which ones the author would suggest making first? Well, Mariel put together a list of her 5 favorite family recipes, that her family asks for, on repeat. Get those 5 recipes sent right to your email when you join over 150,000 others, who keep regular tabs on 'Or so she says…'
Pin this image to save the post
(or click Pinterest button in header/footer for additional images)