These Come Follow Me 2019 Primary Talk Templates for September are written based on the Come Follow Me topic for each week of the month. They are simple messages for children and make speaking in Primary easy and fun.
One thing that I love about the Church of Jesus Christ of Latter-day Saints is that the gospel teachings are the same everywhere in the whole world. The Church of Jesus Christ shares a global message that applies to anyone and everyone no matter their location, age, race, or family circumstances.
With the introduction of the new Come Follow Me 2019 curriculum, this concept of worldwide congruency is even more apparent.
A few years ago, my husband got assigned to take a special training class at facility just outside of New Orleans, Louisiana. It was a 6-week class, so we decided to take the entire family along so we could be together.
I thought that moving from Utah to backwoods Louisiana (even for a short time) was going to be kinda crazy! And I'll be honest, there were some things that caused a bit of culture shock. But, the first Sunday we walked into the ward building it was like I was transported back home. The Church building was the exact same layout as our building in Utah! The ward members were welcoming and kind. In Relief Society, they passed around clipboards and I signed up to bring a potluck dish to the Halloween carnival. The Primary kids were even learning to sing the same songs as our home ward was teaching. But, more than the cultural and physical similarities, the Spirit was the same and the gospel messages taught were congruent with the messages given back home and thought the world.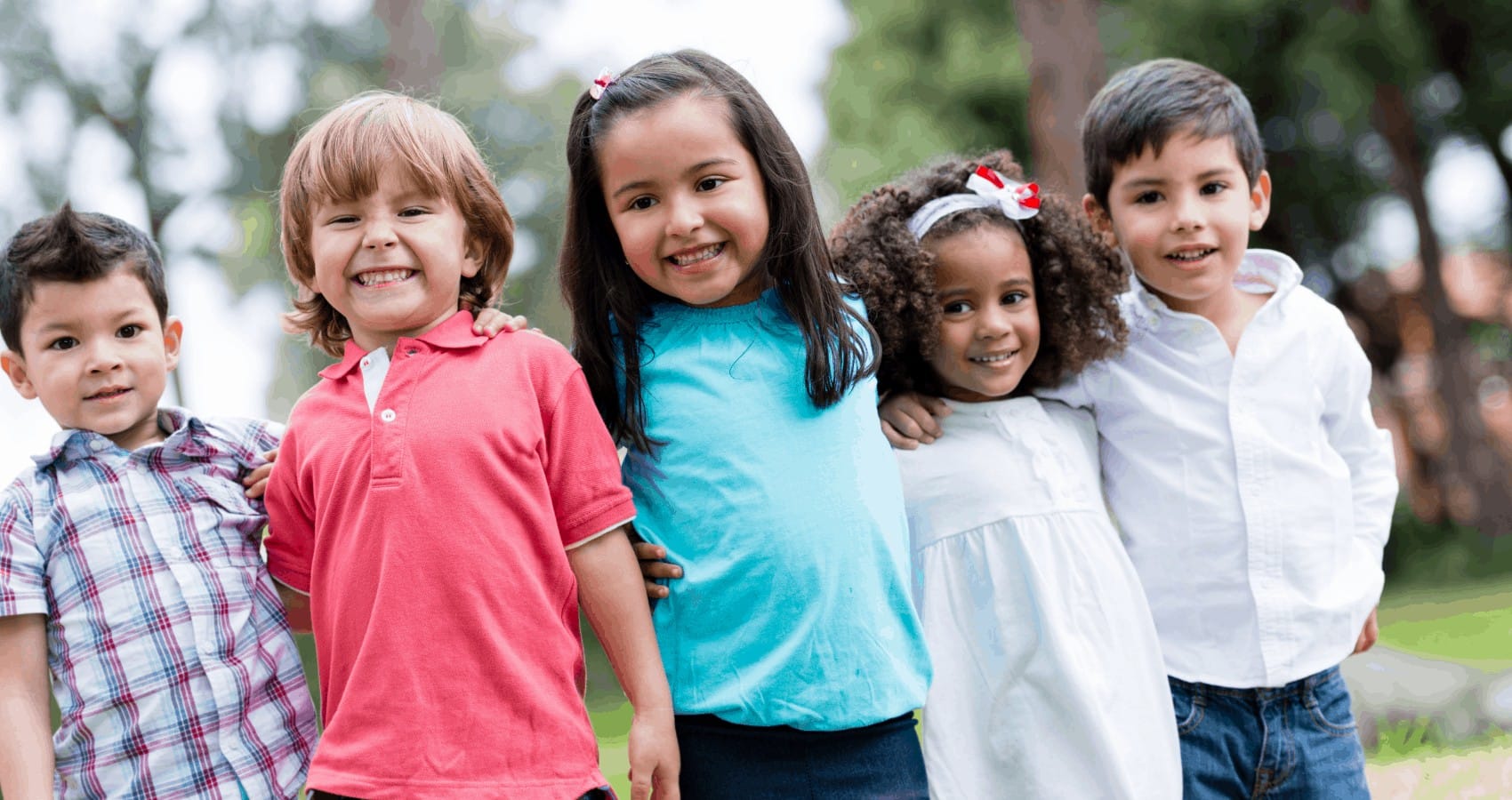 I think it is such a testimony to the truthfulness of the Gospel that it can be taught anywhere and be recognized as truth without being changed to accommodate locational traditions and customs.
Each ward does not need Relief Society clipboards with sign up sheets and printed newsletters. Some kids might sing Primary songs to the tune of a ukulele or a recorded CD instead of a live piano. In fact, members of a ward might even meet under the shade of a grass hut or in the back of a commercial building! But, the truths taught in Sunday meetings all come from the direction of the Lord. It is truly the Lord's church on Earth. And His message is being taught every week.
I started thinking about this global miracle when writing these Come Follow Me Primary 2019 Talk templates for the month of September. Isn't it awesome that children around the country are all standing up in their Primary opening exercises each Sunday and proclaiming the same truths from these simple talks? It makes me smile to know that God's word is being spread by the mouths of children! So, thank you for being part of the work of the Lord.
If you are a Primary leader and use these talks to support your little ward members, thank you for serving so faithfully! If you are a parent helping your child prepare to participate in Primary, thank you for raising a family dedicated to God. You are all part of a marvelous work and a wonder. I hope you feel the blessings of the Lord each day.
Primary Talk September 1st: Ye Are the Body of Christ
Everyone likes getting presents! My birthday and Christmas are two of my favorite holiday's. Opening a package and finding something new and exciting inside is so much fun. It makes me feel special. I bet you like it too!
Heavenly Father gave all of us spiritual gifts to bring with us to Earth. We can't see them like a present wrapped in paper and tied with a bow, but they are just as real and just as special. Spiritual gifts strengthen our faith and help us bless other people. Everyone has them. You may be good at feeling the Holy Ghost or able to be a good example to others. Some people can learn a new language really fast as they prepare to serve a mission. There are a lot of neat spiritual gifts.
I know that Heavenly Father loves me and wants me to be happy. He gave me my own special gifts to help me choose the right and be happy. I hope I can use my gifts to help my friends and family and to be a good example for them to follow.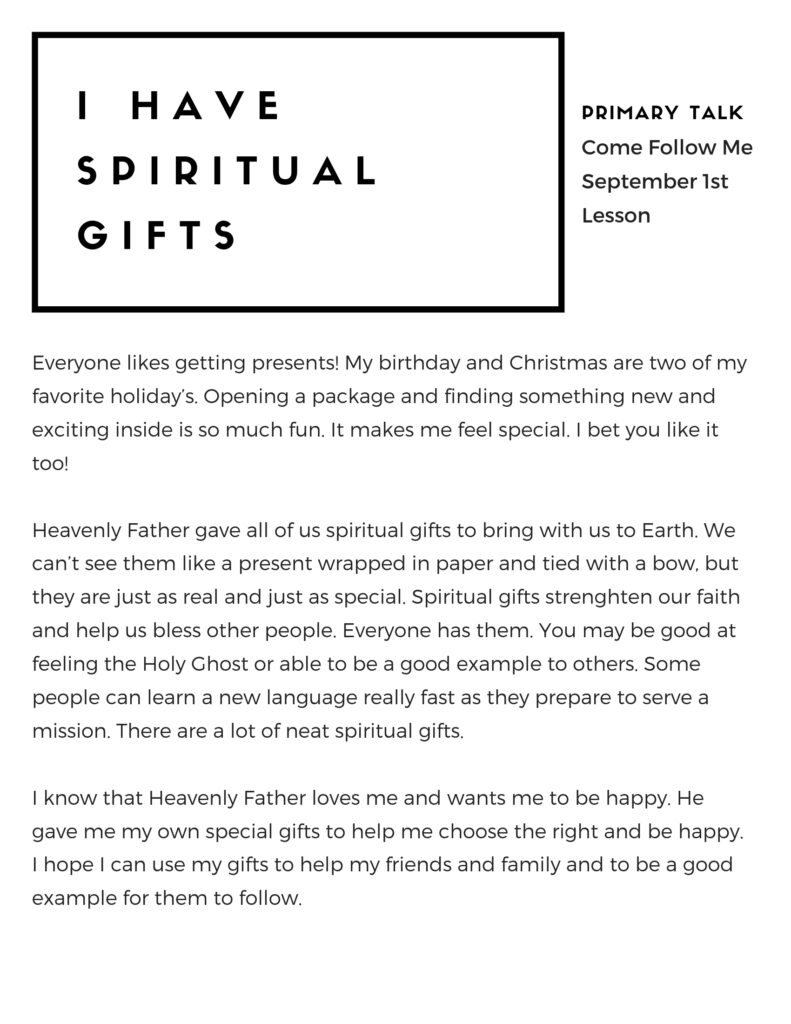 LDS Come Follow Me Talk September 8th: God Is Not the Author of Confusion, but of Peace
What do you picture when you think of Heaven? Some people think of angles with white feather wings and streets made of real gold! We don't know exactly what Heaven will be like, but, a prophet from the Bible named Paul said that Heaven is like the sun. The sun is big and bright. It brings light to the world and helps things to grow. The sun is warm and chases out all darkness.
Heaven is a place full of love and happiness. We will continue to grow and learn when we are there! My goal is to live in the Celestial Kingdom. It is the best place because that is where God lives. I know that I can live with my family in Heaven someday. When I do my best and repent when I am wrong I can be worthy to live with Heavenly Father in heaven too!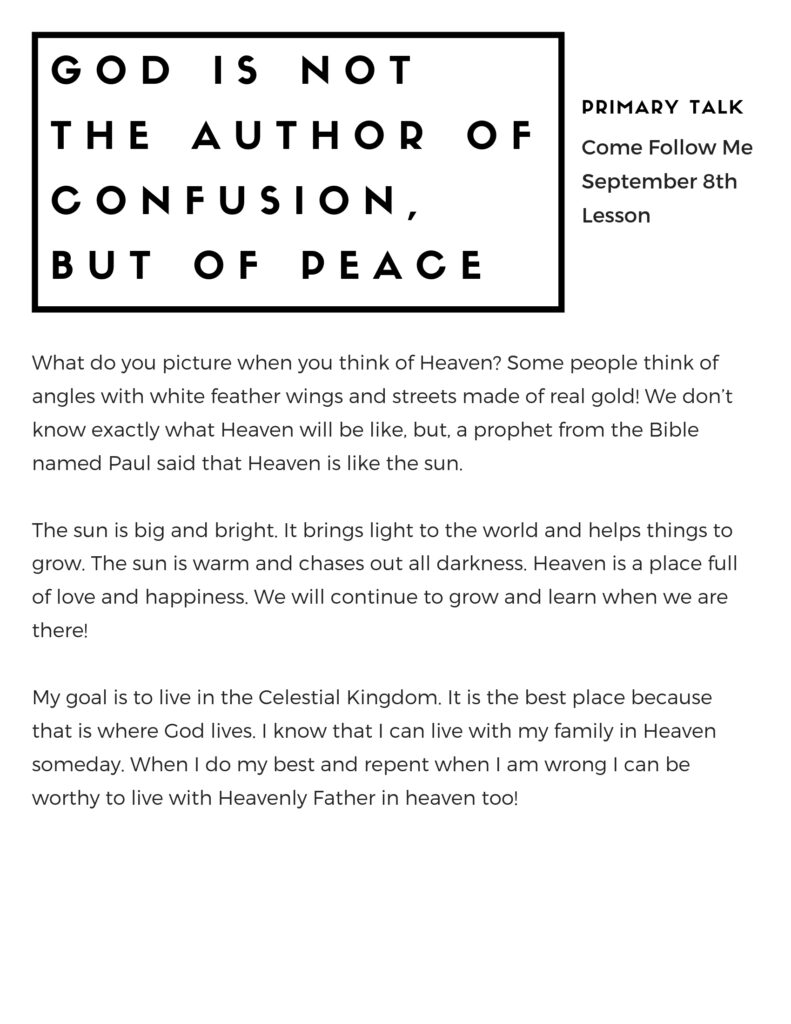 Primary Talk Template September 15th: Be Ye Reconciled to God
The Thirteenth Article of Faith begins with the words, "We believe in being honest." Being honest means telling the truth. The apostle Paul said that we should be honest with our thoughts, words, and actions. One of the Ten Commandments also says to be honest. Honesty must be pretty important!
Why do you think lying is bad? Have you noticed that when you tell a lie it makes you feel yucky inside? It feels wrong because lies cause hurt feelings and create trouble! Sometimes telling a lie is tempting, but it is never the right thing to do. Telling the truth takes courage. It is not always easy to tell the truth, but it is always worth it! I challenge you to tell the truth no matter what! Being honest will make you feel good and make God proud.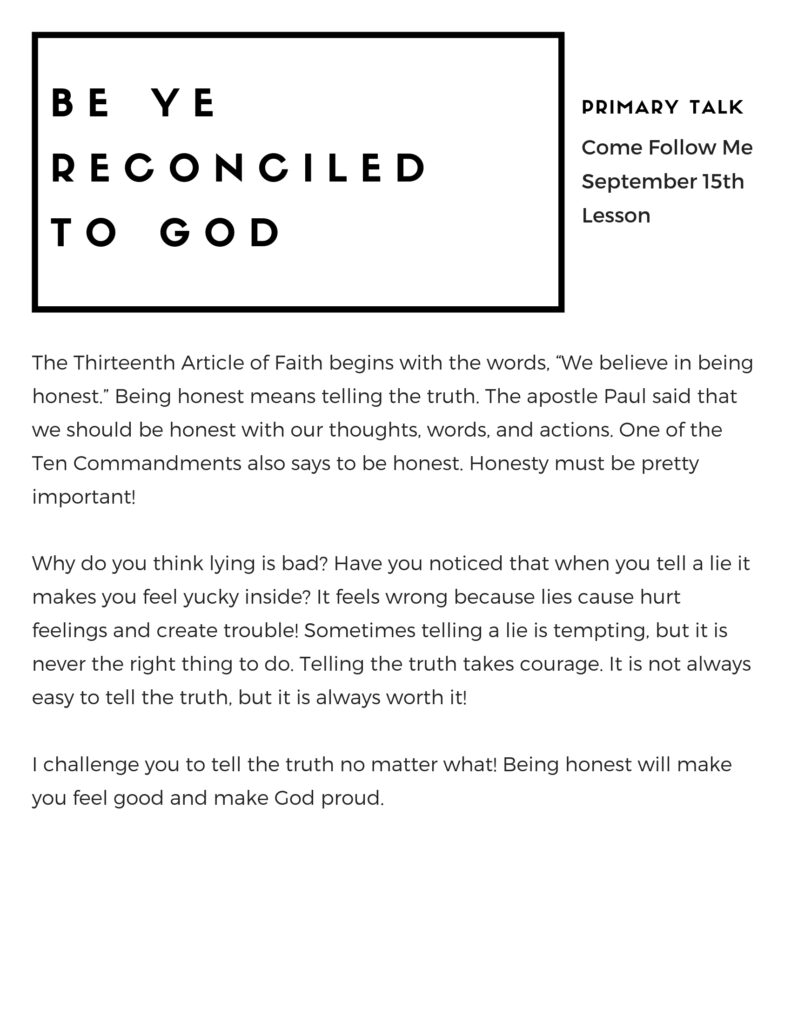 Come Follow Me Primary Talk September 22nd: God Loveth a Cheerful Giver
Heavenly Father wants us to be happy when we serve. The scriptures say that, "God loves a cheerful giver." Being a cheerful giver means helping with a happy attitude. It is easy to be happy when I am playing games with my friends, or having fun at a birthday party! It is a lot harder to be cheerful when I have to clean my room or help with chores.
One way to be a cheerful giver is to practice smiling. Try it! Everyone make a big smiling happy face right now. Did it make you feel good? Smiling is a great way to make work time more fun. Listening to good music, singing songs, and working as a group are also easy ways to help create a cheerful attitude about serving! I hope we can all follow the scriptures and be happy helpers each day.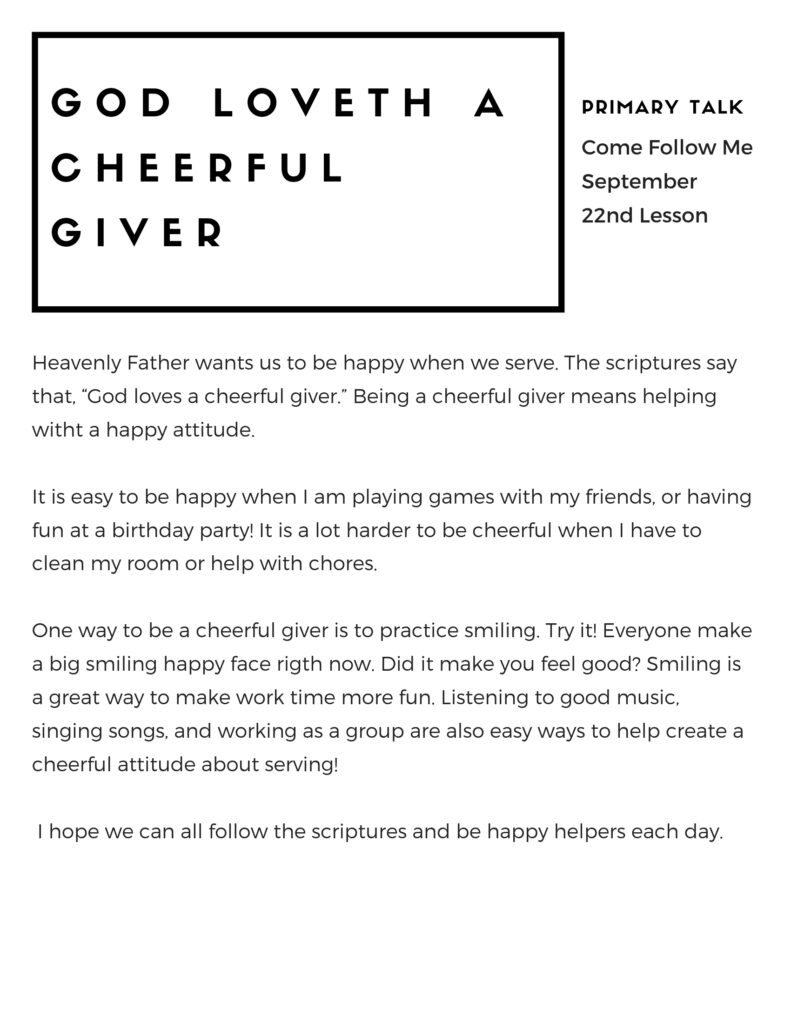 Primary Talk September 29th: Walk in the Spirit
Did you know that the Holy Ghost has a whole bunch of different ways to help us? It's true! The Bible teaches that there are many "fruits of the Spirit." That's a fancy way of saying that the Holy Ghost can bless us in lots of ways.
Think of all your favorite fruits. Apples are crunchy and make tasty pie. Bananas are soft and easy to peel. Grapes are full of yummy juice. Colorful berries are a perfect snack. All the fruits have their own flavor and purpose.
The Holy Ghost can come as a soft feeling of peace and comfort when you are sad. Or, you can hear a warning voice telling you to stop and go another way. Sometimes, the Spirit makes people cry and other times the Spirit can make people feel so happy! The Holy Ghost is a teacher of truth. He can make your mind know and understand right from wrong.
The fruits of the Spirit are peace, comfort, understanding, knowledge, protection, guidance, and love. I am glad that I have the gift of the Holy Ghost and that I can be blessed with His fruit.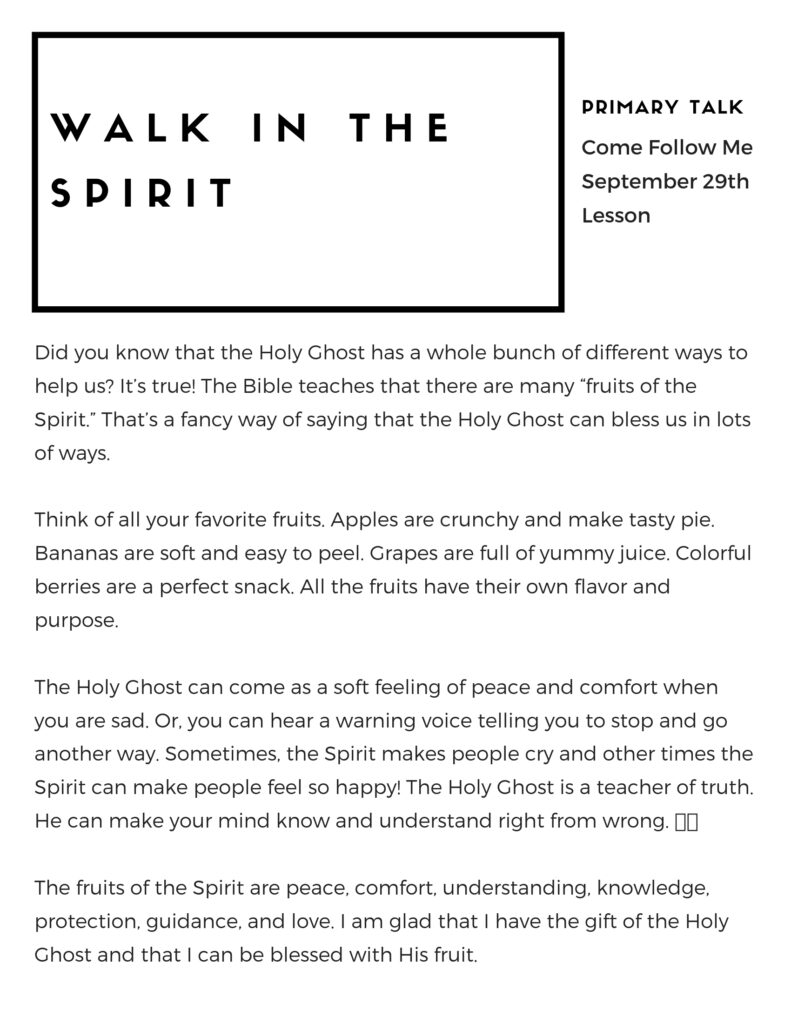 If you would like to download all five of the talks on one document for easy printing, use this link!
Thanks for stopping by! I hope these Primary talks from the Come Follow Me Manual 2019 are helpful! I know that children can learn, understand, and teach the principles of the Gospel. They are so close to the Spirit and testify with humility and sincerity. I hope you come back to download the new talk templates that are available each month.
Want a free pdf with 5 favorite family recipes?
Join over 150,000 others who keep tabs on 'Or so she says…' family ideas and Mariel's weekly thoughts and favorites. Plus, get the bonus recipes sent right to your email. Subscribe to our newsletter today!
If you loved this post, check out:
These Primary Class Reverence Ideas are so perfect for Teacher Training handouts or simply for advice on helping your own Primary class.
Get the kids excited for General Conference, at home or in Primary, with these 12 'Fishers of Men' General Conference Treat Ideas. Perfect for this year, studying The New Testament!
If you're an Activity Days leader, or simply have a preteen girl that needs something to do, this is for you! 16 Awesome Activity Days Ideas
Pin this image to save the post and share with your friends!