Hey Everyone! It's Kimberly with Packed with Fun, the official blog for Get Away Today. Today I'm talking about, surprise… Disneyland! We get asked a ton of questions about the Happiest Place on Earth. I thought it would be fun to compile a general FAQ list with our top questions and answers. Keep in mind that with most questions about Disneyland, the answers are going to depend on a few things. The best answer for you may not be the best answer for everyone. But, I hope that these answers will give you a good idea of what the best answer is for your Disneyland vacation.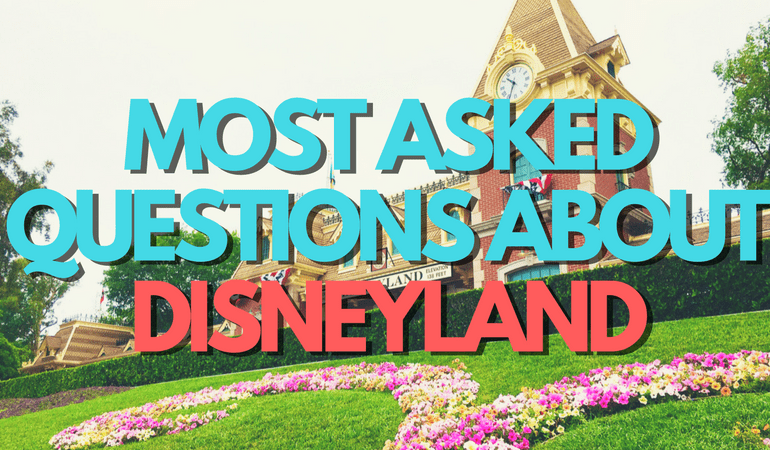 The Most Frequently Asked Questions About Disneyland
FAQ 1: When is the best time to go to Disneyland?
As far as frequently asked questions about Disneyland, this tops the list. Like most of these questions, the answers will vary depending on what you're looking for. If you're hoping to avoid crowds, any time kids are in school is your best bet. That means avoiding spring, summer, fall and holiday breaks, as well as weekends year-round. You can always check the Anaheim Convention Center calendar to make sure you're not planning over a big convention as well. If you love the fall, Halloween Time is an awesome time to go. Be sure to check out the new Changes to Halloween Time at Disneyland. The festivities normally run mid-September through October 31. If Christmas is your jam, the Holidays at the Disneyland Resort begin mid-November and continue through the second week in January. Both are awesome times to visit, but you'll have a few more crowds. You can also check out this When to Go to Disneyland in 2019 Guide that I put together, that will also be apply for 2020 pretty closely.
FAQ 2: How many days do I need to spend at Disneyland?
Because there are two parks with nearly 100 attractions including rides and entertainment between the two, I always recommend at least three days regardless of your situation. That way you can spend one full day in each park, and your last day in between the two parks. Your third day can be used to hit anything you may have missed or ride your favorite attraction one last time. For a more relaxed vacation, especially with little kids, I'd go with the 5-day ticket. That's my preferred way to do Disneyland, because you can spread out the nighttime shows, take midday naps and don't feel stressed to fit everything in.
FAQ 3: Where should I stay near Disneyland?
There are SO many great hotel choices near Disneyland. My favorite of all is Disney's Grand Californian Hotel & Spa for a convenience factor unlike anything else. You're inside the park and you get early entry every morning. It's awesome, but it's also pricey. If you're looking for something a little more affordable, there are so many choices. I personally love the SpringHill Suites, Embassy Suites Anaheim South, the Courtyard Theme Park Entrance and the Fairfield Inn right across the street – all for different reasons.
You can see a full list of our favorite hotels on getawaytoday.com. Use the filter to find one that suits your needs. Whether you are looking for free breakfast, a full kitchen or to be within walking distance, there is sure to be the perfect hotel for you. Another thing to keep your eye out for when looking at Disneyland hotels is extra fees. Parking and resort fees are becoming more of the norm, so watch for those before booking so you know what you're getting into.
FAQ 4: How much should I budget for food at Disneyland?
This is another of the questions about Disneyland that can have widely varying numbers. I think a good rule of thumb is to plan on $20-$25 per person per day if you want to save, but still enjoy a good meal in the parks. If you really want to splurge, you could easily spend $50-$100 per person per day. If you want to keep it as cheap as possible, bring your own snacks, share meals and stay at a hotel with free breakfast. Some hotels even have a free dinner if you're traveling during the week. I have a friend that likes to take her kids to the IHOP right outside the park for dinner, because kids eat free!
If your budget allows, I also always recommend splurging on a Character Dining experience. For the most bang for your buck, make a late breakfast reservation for Minnie-and-Friends. It's located inside Disneyland and is considered Regular Character Dining, which costs less than the premium options. If you eat late enough, it would easily count as an early lunch and keep you full well until dinner time.
FAQ 5: What are your top three tips for Disneyland?
This is a tough one, but if I had to pick my overall best tips they would be:
Use the official Disneyland app. It's free and has EVERYTHING you could possibly need to know. It has park hours, wait times, show times, restaurant menus with pricing and so much more.
Use the Fastpass system and set an alarm on your phone to alert yourself each time you're eligible for a new one. If you're going during a really busy time, upgrade to the MaxPass. The MaxPass is $10 per person per day, but lets you reserve FastPasses from your phone and includes free PhotoPass downloads.
Get to the parks as early as possible, preferably 30 minutes before the park opens. This includes using your Magic Morning, which lets you into Disneyland an hour before it opens to the public. Each 3-day and longer ticket includes one that is offered on select days. No matter the time of year you travel, you'll always get the most done first thing in the morning.
FAQ 6: Where is the best place to get tickets and not pay the gate price?
Well, I'm biased but I really believe that Get Away Today offers the best deals available and I honestly don't know anyone that puts as much effort into learning the ins and out of Disneyland as they do. They literally study Disney vacations and spend their own personal time on Disney vacations, at least once every single year, so they can help customers with anything they could possibly need. And, do you know they're totally FREE to use? A lot of people don't realize that it's free to use a travel agency, but it is. It's pretty amazing to get your entire vacation put together and organized just the way you want it, with all your questions answered, and you don't have to do the work! Get Away Today will help you choose the best dates to go, the best places to stay for your budget, answer ticket questions, and anything else you need help with (rental car, bus transfers, airfare, etc.) And, they'll send it to you in a nice little packet, so you have everything you need! We also guarantee the best price on your vacation and always have specials.
Plus, when you use promo code: OSSS10 will save you an extra $10 off any 2-night or longer Southern California vacation that includes a minimum of 2 tickets. You can book any of our Disneyland vacations online or call our agents at 855-GET-AWAY (Just let them know the promo code.)
I hope these answered some of your biggest questions about Disneyland. Or, at least gave you some ideas so you can answer your own questions about Disneyland.
Get more Disney tips and tricks in these posts:
Learn all about the new Star Wars: Galaxy's Edge… the rides, the food, the merchandise. There's lots going on this time of year!
How to Get Cheap Disneyland Tickets, and More! There's really no need to pay full price. This post is so helpful at guiding you through your Disneyland plans.
If you happen to get caught at Disneyland in the rain… never fear. There are lots of options for staying dry and you can find some great tips, here: How to Make the Most of Disneyland in the Rain. Although, I'll tell you a little something… I've been to Disneyland a handful of times and the time it was pouring rain was our favorite time! The crowds were almost non-existent and the kids got to ride the rides over and over again. We loved it!
Pin This Image to Save Post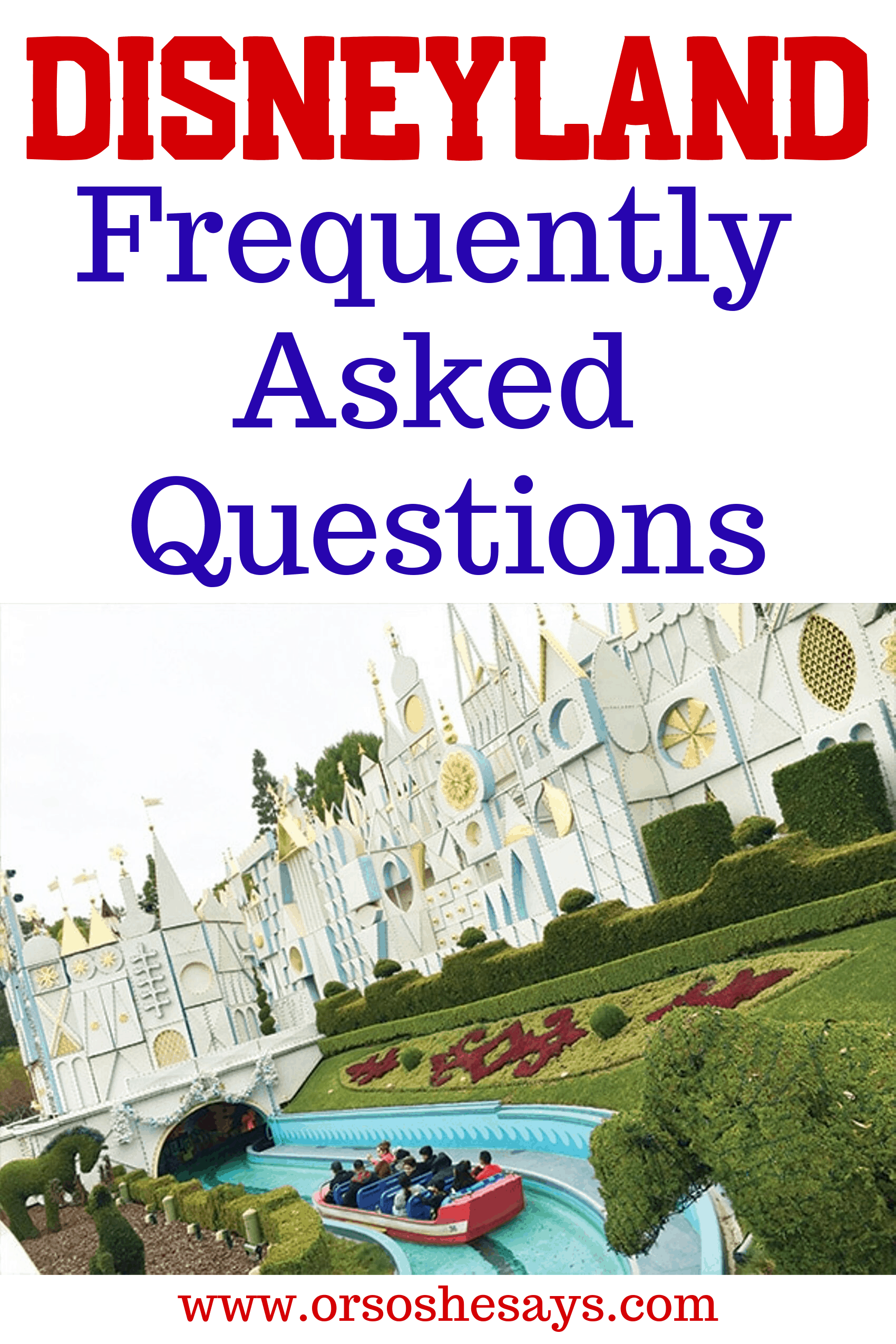 Save