Hi everyone, it's Kimberly from Packed with Fun, the official blog of Get Away Today. As always, I'm here to give you the best tips and tricks to make your Disneyland vacation great. Today, I want to talk to you about bringing toddlers to the Disneyland Resort. With three kids of my own, ages four and under, I have learned a thing or two.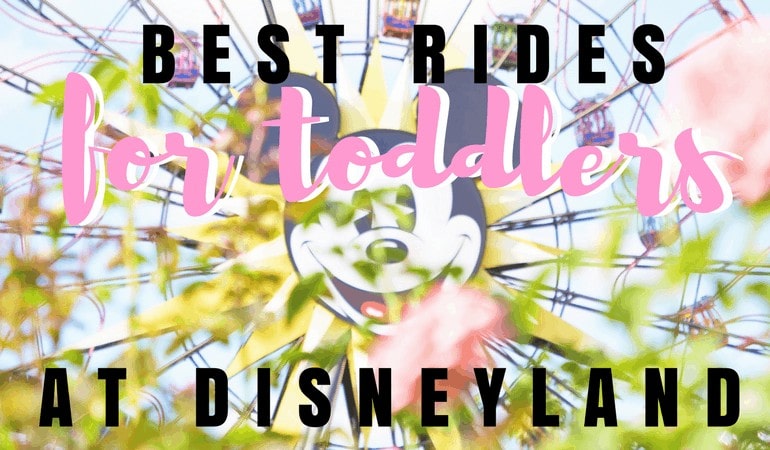 Bringing a toddler to Disneyland can make the "Happiest Place on Earth" even happier with proper planning. Navigating height restrictions is only the beginning. Just because a ride is in Fantasyland, doesn't mean it's suitable for your toddler. You know your own kids best! As long as you do your research and come prepared, Disneyland can be a magical experience for both the little ones and the entire family. I've made a guide on the best rides for toddlers at Disneyland, to make sure your future cast member has their best vacation yet.
Best Rides for Toddlers at Disneyland
Astro Orbiter –
Located in Tomorrowland, Astro Orbiter is the perfect ride for little ones. Here, you're able to pilot your own rocket ship and spin around the orbiting planets. However if you have a toddler that's afraid of heights, don't fret! What's great about this attraction is that you're able to control how high you go, so you can stay close to the ground if needed. Whether you fly high or stay low, this attraction is a "blast" for everyone.
Autopia –
With a height requirement of only 32″, most toddlers can enjoy a ride in an Autopia car, as long as you are the driver along a guided track. Since guests can control how fast they go on this ride, you'll want to be aware that your toddler might not like the inevitable push when another car bumps you from behind. Even though the cars can only go 6.5 mph at their max speed, this is something to seriously consider. However, this attraction is typically a fun experience and one of my oldest son's favorites!
Buzz Lightyear Astro Blasters –
Both adults and children alike absolutely love Buzz Lightyear Astro Blasters. This ride is essentially one giant video game filled with bright colors, fun sounds and beloved characters from Toy Story. The entire goal of the game is to try and defeat the evil emperor Zurg by firing lasers at targets to score points. The best part? You're almost guaranteed to get the highest score against your toddler.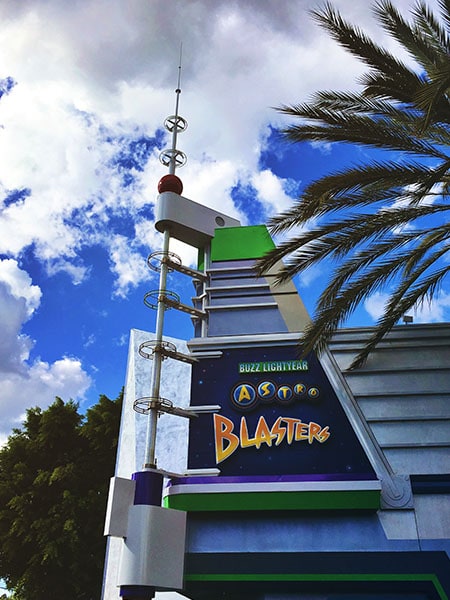 Dumbo the Flying Elephant –
Much like Astro Orbitor, Dumbo the Flying Elephant flies slowly in a circle. You'll be able to find this ride in Fantasyland and is a Disneyland classic. I don't know of one toddler who doesn't enjoy this attraction, so this one is a sure bet. As a bonus, this attraction is getting a new shaded queue. I can almost hear parents around the parks celebrating.
"it's a small world" –
While some adults might think this is the scariest ride at Disneyland, toddlers absolutely love it. Located at the end of Fantasyland, you'll be able to travel around the world on a slow-moving boat and see that it's not so small after all. While you're little one is bound to enjoy the bright colors and diverse characters, I can't guarantee that the song won't be stuck in your head for the rest of your vacation. If this is a risk you're willing to take, then "it's a small world" is a must.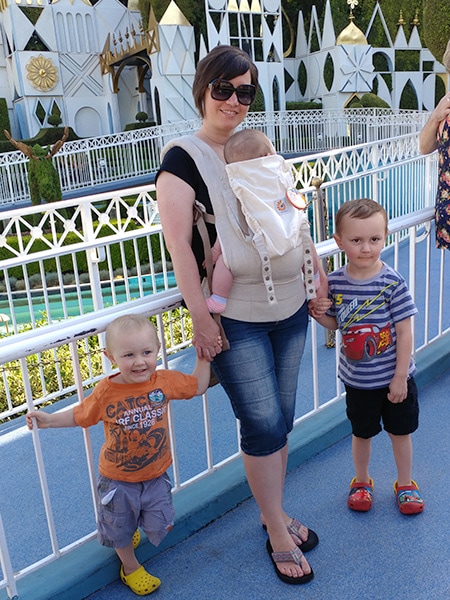 Peter Pan's Flight –
The line for this ride always seems to be longer than the rest and it's no surprise. Peter Pan's Flight is one of the best rides for both toddlers and adults. You'll be able to have a gentle flight over the city of London and watch the story of Peter Pan play out before your eyes.The only concern for this ride is if your child is afraid of the dark. But, with a little faith, trust and pixie dust, your little one will absolutely love it. Keep in mind that wait times are typically around 40 minutes, so I recommend snacks while you're waiting in line.
Mad Tea Party –
Another Disneyland classic is the Mad Tea Party attraction. Here, you'll be able to take a teacup for a twirl while you spin to festive music. The only hesitation about this ride would be if your child (or you!) gets sick easily. However, you can determine how fast or slow you spin, so you can adjust the ride so it isn't as "mad." Since this ride can hold up to 5 guests, it's a great one to ride together as a family.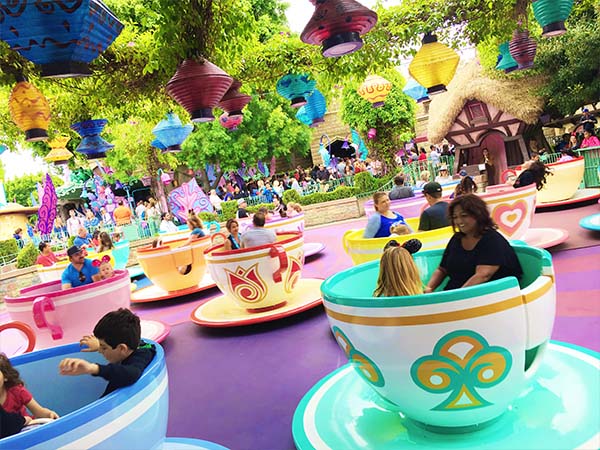 Finding Nemo Submarine Voyage –
If your toddler is fascinated by sea life or simply just loves Finding Nemo, then this ride is a must-do. You can find this attraction in the Tomorrowland Lagoon and will be able to go on an undersea adventure with Nemo and his friends. Since the seating is bench style, you'll be able to sit together as a group. However, if your child (or you!) gets claustrophobic easily, then you might want to skip this ride.
Mark Twain Riverboat –
While this isn't the most thrilling ride, The Mark Twain Riverboat is a great way to relax and enjoy the sights of Frontierland and Tom Sawyer's Island. However, if you're one of the first to board the boat, you can ask a Cast Member if your little one can help commandeer the boat.
Disneyland Railroad –
Another calming attraction is the Disneyland Railroad. This is the perfect ride to go on if everyone needs a break, but you still want to be able to be entertained. The Disneyland Railroad travels to every land in Disneyland, so you'll be able to see your parks from a new view. This has always been one of my favorite attractions, but I think it's even better after it reopened in 2017 with its new track.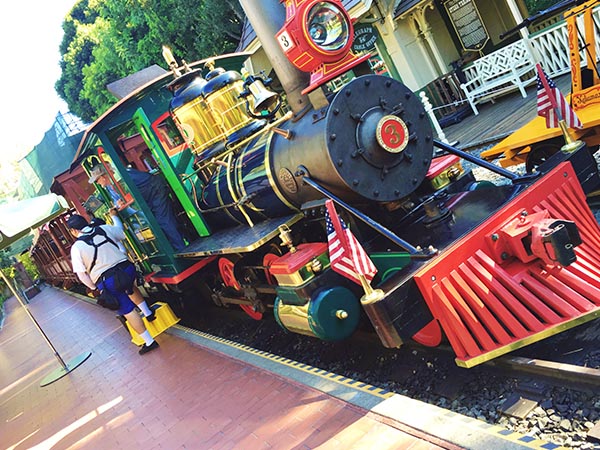 Mickey's Toontown –
While Mickey's Toontown isn't technically a ride, it is the perfect place to spend your Disney day with your toddler. Here, you can meet both Mickey and Minnie Mouse in their adorable houses. Plus, ToonTown is also home to Clarabelle's where you can find some of the most delectable frozen treats, snacks and drinks. If you have kids that are 35" or taller, then you can also experience Gadget's Go Coaster here as well. It's a perfect starter roller coaster.
Best Rides for Toddlers at Disney California Adventure
Toy Story Mania –
Toy Story Mania is one of my favorite rides in all of Disney California Adventure. Other than being a blast, I love that I'm able to ride it with my little ones too. This ride is similar to Buzz Lightyear Astro Blasters, but has a 3D element thrown in. Here, you can play a variety of carnival games with Woody, Buzz, Jessie and more. Your toddler will love seeing their favorite Toy Story characters on screen, which makes this attraction one of the best for your little ones.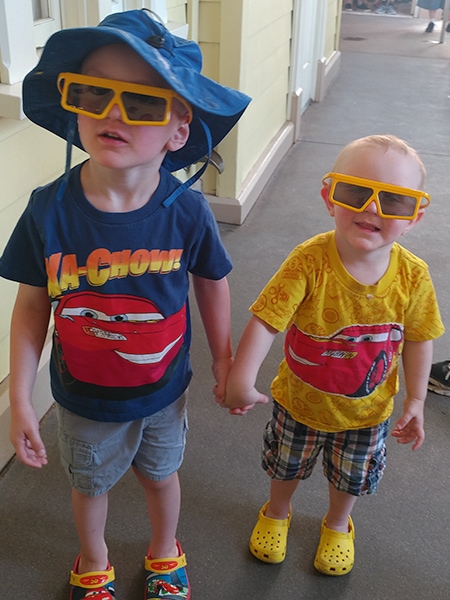 Golden Zephyr –
Much like Dumbo the Flying Elephant and Astro Orbitor, the Golden Zephyr is an attraction that spins in the sky. However unlike the other two attractions, all of the silver spaceships fly at the same level. The best part? You're able to get an incredible view of the pier from this ride.
Monsters Inc. Mike & Sulley to the Rescue! –
Who doesn't want to go on an adventure with their favorite monsters? Mike & Sulley to the Rescue is the perfect ride for little ones. Here, you'll ride in a taxi throughout Monstropolis to rescue Boo from Randall. At the very end of the ride, you'll be able to hear a special message from Roz who's truly "always watching you." Monsters Inc. is an attraction you won't want to miss!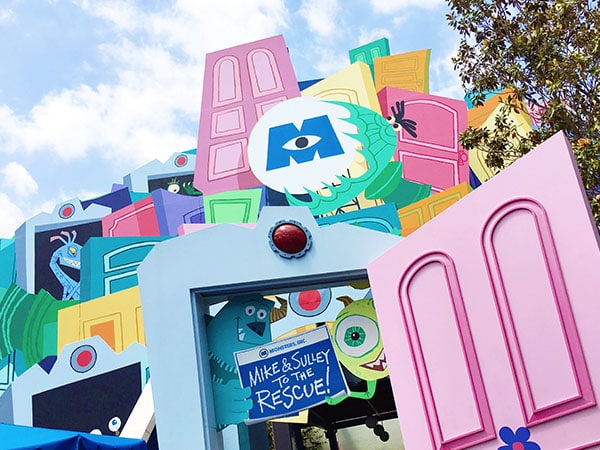 Mickey's Fun Wheel –
While this ride is currently down for renovations due to the grand-opening of Pixar Pier, it's a great attraction to enjoy the stunning views of Disney California Adventure. However if anyone in your group doesn't like heights, you'll want to avoid this altogether. I get queasy just thinking about it, but it's a hit with my crew.
Redwood Creek Challenge Trail –
This is another non-ride per se, but it's one of my little kids' favorite spots in the park. There are slides, rope courses, and of course, magical Disney elements. And as a bonus for parents, there's plenty of seating and shade.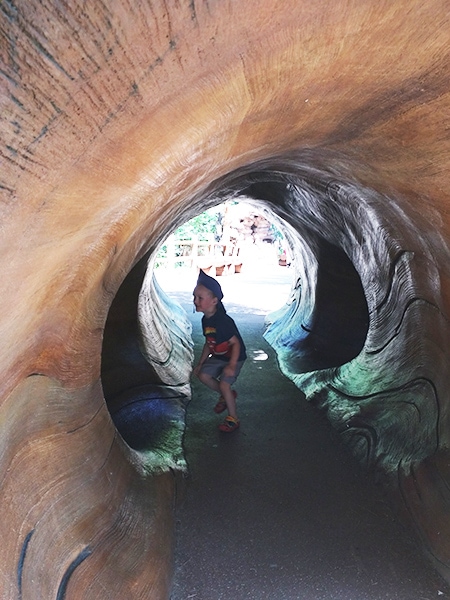 The Little Mermaid – Ariel's Undersea Adventure –
Located at the edge of Paradise Pier (soon to become Paradise Park) you can find Ariel's Undersea Adventure. This ride is filled with everything that toddlers love. You're able to enjoy music, scenes and favorite characters from the animated classic. Plus, you're able to journey under the sea without ever getting wet! And, I love that the ride is six full minutes.
"a bug's land" –
Since we learned that "a bug's land" is getting exterminated at the end of summer 2018, our hearts have been broken. But if you do get a chance to visit the Disneyland Resort before it closes, make sure to ride Francis' Ladybug Boogie, Tuck and Roll's Drive 'Em Buggies and Heimlich's Chew Chew Train one last time. However, we are pretty confident that Flik's Flyers will become the yet to be announced Inside Out attraction that is coming to Pixar Pier. I'll be sure to keep you in the loop as soon as it's confirmed.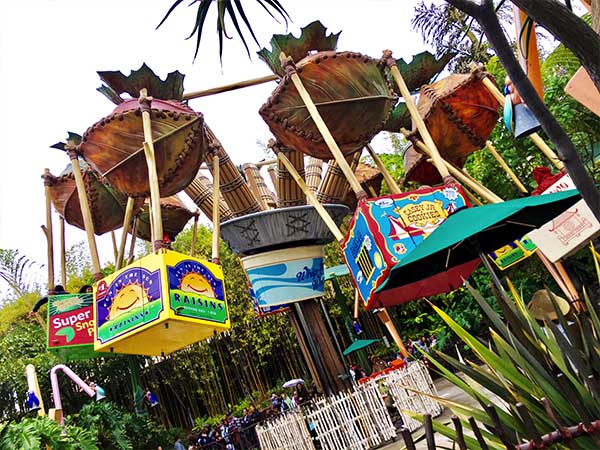 Maybe *not* the best rides for toddlers at Disneyland:
Alice in Wonderland –
While this attraction might be a wonderland to some, like most dark rides, it can be scary for young children. While the ride follows Alice on her adventures, the scenes with the Queen of Hearts and the Cheshire Cat may spook your little ones.
Pirates of the Caribbean –
Although this is one of my favorite Disneyland attractions, I know that this ride might be a little much for toddlers. In addition to dark and small drops at the beginning of the ride, the simulated cannon battles could be scary for some.
The Many Adventures of Winnie The Pooh –
You are going to go on one interesting adventure when you ride The Many Adventures of Winnie the Pooh. The majority of the attraction is bright and fun, however, the scene with the Heffalumps and Woozles might make your toddler go into a woozle themselves. This ride might be fine for some, like mine, however, I would suggest riding it first to be sure.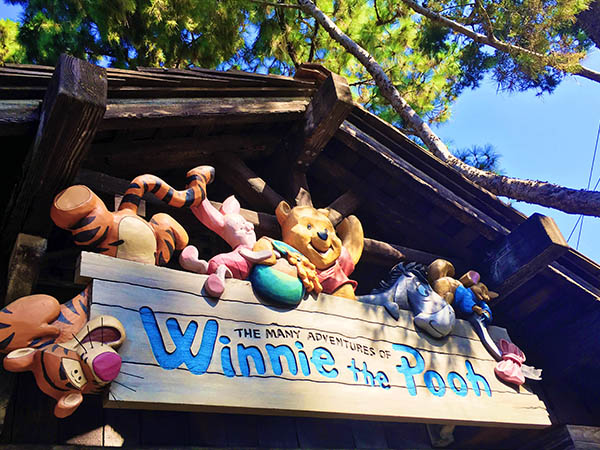 Snow White's Scary Adventure –
The title of this ride says it all. Snow White's Scary Adventure still scares me as a grown adult, although I admit that I'm still bedazzled by the sparkling jewels in the dwarfs' mine.While this attraction sticks to the main storyline of Snow White and the Seven Dwarf's, the witch still finds a way to be terrifying.
Jungle Cruise –
Another Disneyland classic, the Jungle Cruise is a fun attraction filled with tons of animals and even more corny jokes. While it's pretty rare that a toddler would be scared of the animatronic tigers, elephants and gorillas, they might be scared of the fake gun shot that occurs as you pass the hippos and the piranha surprise. If you think you're little one might be startled by this, you can always give them a warning before it happens.
Haunted Mansion –
Even though this is a slow-moving ride, it might not be the best for young children. The sounds and sights of ghouls might give you a screaming toddler instead of a "Grim Grinning Ghost."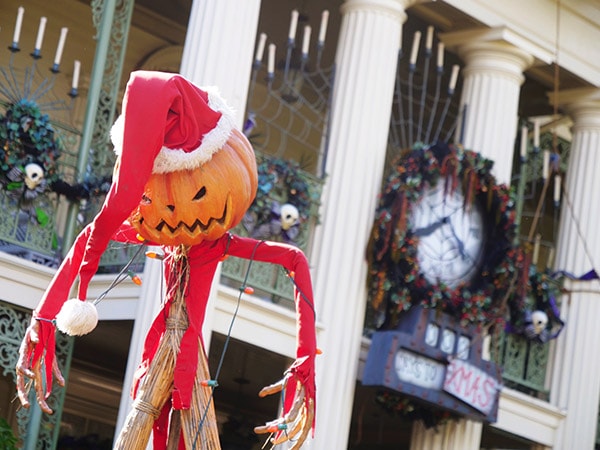 Mr. Toad's Wild Ride –
This attraction is truly a WILD one. Although this ride might seem gentle and fun from the outside, it is far from it. During the attraction, you get hit by a train and are sentenced to Hell – complete with an increase in temperature! Because of this, Mr. Toad's Wild Ride might be a little too much for kids.
Pinocchio's Daring Journey –
Much like Snow White's Scary Adventure, Pinocchio's Daring Journey is true to the original story. There are scenes with clowns, pirates and a whale that might be scary for some. Additionally, there a couple of words scattered throughout the ride that might not be age-appropriate.
Roger Rabbit's Car Toon Spin –
Roger Rabbit's Car Toon Spin is a busy and crazy attraction. It's filled with loud noises and sudden turns that might be unpredictable and jarring for toddlers and adults alike.
Again, no one knows your kids better than you do! And riding with toddlers gives you new eyes on all of your favorite childhood attractions. There is so much for you to enjoy at the Disneyland Resort with your little ones.
So what are you waiting for? Don't wait for your toddlers to grow up too much. I promise, there is SO much magic when your kids are little. You can book your Disneyland vacation at getawaytoday.com or give one of our agents a call at 855-GET-AWAY. No matter how you book, you'll want to be sure to use promo code OSSS10 for an additional $10 off your vacation package. Plus, you can always take advantage of their Layaway Plan too. For just $175 down, you can book your Disneyland vacation as soon as you dream of it. Make sure to mention that Or So She Says sent you!

Get more Disneyland tips here on the blog:
10 Free Disneyland Souvenirs You Don't Want to Miss!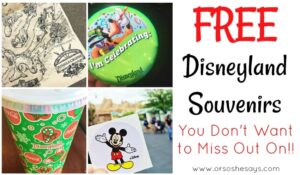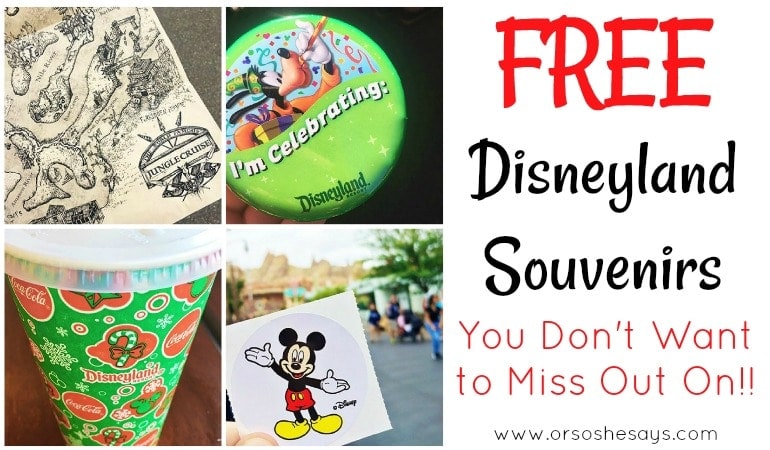 3 Reasons to Get Your Disneyland Tickets NOW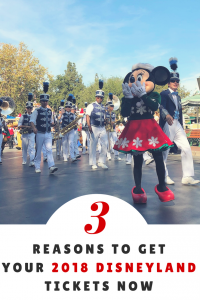 What's Happening at Disneyland in 2018