This time of year, I'm browsing book sections everywhere I go, looking for the perfect books for my kids for Valentine's Day. I've told you about our scavenger hunt tradition, where the kids find their new books, a card from mom and dad, and some Valentine's treats along the way. You can read that post, here: Our Valentine's Day Family Tradition. Anyway, I wanted to share with you the books I currently have in my online shopping cart right now. I think I found some fun ones!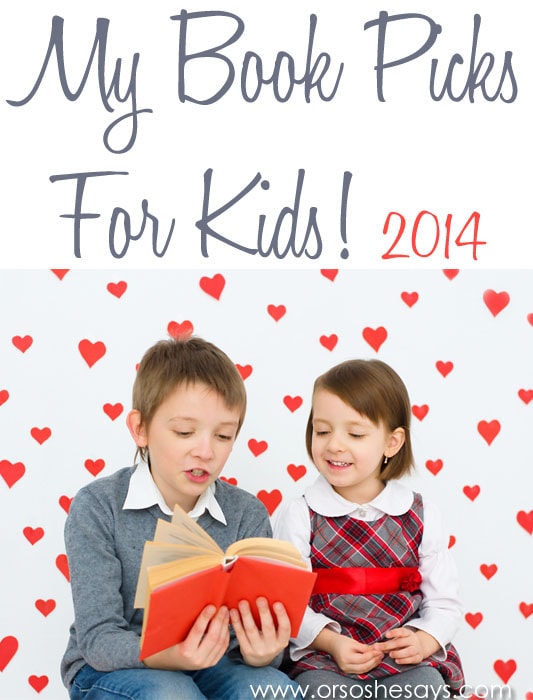 Valentine's Day Children's Book Picks 2014:
12 Year Old Boy:
I Funny – "Jamie Grimm is a middle schooler on a mission: he wants to become the world's greatest standup comedian–even if he doesn't have a lot to laugh about these days. He's new in town and stuck living with his aunt, uncle, and their evil son Stevie, a bully who doesn't let Jamie's wheelchair stop him from messing with Jamie as much as possible. But Jamie doesn't let his situation get him down. When his Uncle Frankie mentions a contest called The Planet's Funniest Kid Comic, Jamie knows he has to enter. But are the judges only rewarding him out of pity because of his wheelchair, like Stevie suggests? Will Jamie ever share the secret of his troubled past instead of hiding behind his comedy act?"
Guinness World Records 2014 Gamer's Edition – "The Guinness World Records Gamer's Edition is the ultimate guide to videogames. The all-new 2014 book is bursting with news and views from the gaming world, alongside the latest and very best records relating to the world's most popular games. Amazing trivia sits alongside hard facts and top tips on how to achieve greater feats on the games you love."
10 Year Old Boy:
Spirit Animals – "Four children separated by vast distances all undergo the same ritual, watched by cloaked strangers. Four flashes of light erupt, and from them emerge the unmistakable shapes of incredible beasts – a wolf, a leopard, a panda, a falcon. Suddenly the paths of these children – and the world – have been changed forever.
Enter the world of Erdas, where every child who comes of age must discover if they have a spirit animal, a rare bond between human and beast that bestows great powers to both. A dark force has risen from distant and long-forgotten lands, and has begun an onslaught that will ravage the world. Now the fate of Erdas has fallen on the shoulders of four young strangers . . . and on you."
The Boys' Book of Survival – "Lost in the desert? Stuck in quicksand? Confronted by a man-eating tiger? Trapped at a school dance? Fear not, brave reader! With this essential survival guide, you'll find a way to get yourself out of every imaginable predicament, whether it's an avalanche or a zombie invasion!"
7 Year Old Girl:
Bad Kitty Gets a Bath – "The following are some items you will need for Kitty's bath: one bathtub, plenty of water, dry towels, a suit of armor, a letter to your loved ones, clean underwear (because stressful situations can cause "accidents"), an ambulance in your driveway with the engine running, and, oh, yeah, you'll also need Kitty…but good luck with that!"
Make Clay Charms – "Make Clay Charms features simple step-by-steps for more than 30 different designs — cute fruit, adorable animals, mini sweets, monsters, and tons more. Make your charms with the nine bright colors of clay, bake them, add shine (with our specially formulated glaze), and then attach your creations to the included bracelet."
5 Year Old Girl:
Zombie in Love – "Mortimer is looking for love. And he's looking everywhere! He's worked out at the gym (if only his arm wouldn't keep falling off). He's tried ballroom dancing lessons (but the ladies found him to be a bit stiff). He's even been on stalemate.com. How's a guy supposed to find a ghoul? When it seems all hope has died, could the girl of Mortimer's dreams be just one horrifying shriek away?"
Frozen Jumbo Coloring Book – Both of my girls are obsessed with Frozen, so hopefully Isabelle will share this with her older sisters. 🙂
3 Year Old Boy:
Even Monsters Need Haircuts – "Just before midnight, on the night of a full moon, a young barber stays out past his bedtime to go to work. Although his customers are mostly regulars, they are anything but normal-after all, even monsters need haircuts. Business is steady all night, and this barber is prepared for anything with his scissors, rotting tonic, horn polish, and stink wax. It's a tough job, but someone's got to help these creatures maintain their ghoulish good looks. Perfect for Halloween, this is a hilarious story about a boy who follows in his father's footsteps . . . in his own monstrously unique way."
Shark vs. Train – "If you think Superman vs. Batman would be an exciting matchup, wait until you see Shark vs. Train. In this hilarious and wacky picture book, Shark and Train egg each other on for one competition after another, including burping, bowling, Ping Pong, piano playing, pie eating, and many more! Who do YOU think will win, Shark or Train?"
1 Year Old Boy:
Dog – "In Matthew Van Fleet's captivating new multiconcept book, twenty breeds of capering canines demonstrate action words, opposites, synonyms, and more. Cleverly designed pull tabs and flaps plus ten pettable textures provide interactive treats that will have toddlers arfing along from start to surprising finish. Bow-WOW!"
Chomp – "Our newest invention pairs a tot-friendly board book with an actual working mouth. The result is anything but ordinary. Each die-cut spread reveals a different animal, with the mouth visible through the hole. With the pull of a single tab, kids will become little ventriloquists, working the jaws to make lions roar and polar bears yawn. Adding simple text and richly drawn illustrations makes this an irresistible package."