Are you so excited for Christmas? I sure am! Getting into the holiday shenanigans is so much fun, especially with a classroom full of kids. Every year I look forward to the class parties that my kids have at school, especially when I get to help. It's so fun to come up with Christmas games, treats, and little activities that the kids can do. I'm hoping this list of Christmas ornament crafts for elementary students will help you as much as it helped me. Kids love having a little something to take home, and parents (hopefully) love having something handmade from the kids to display. And of course, these DIY ornament ideas don't just have to be for students. They are great for bored toddlers at home, a fun evening with the family, or to make yourself.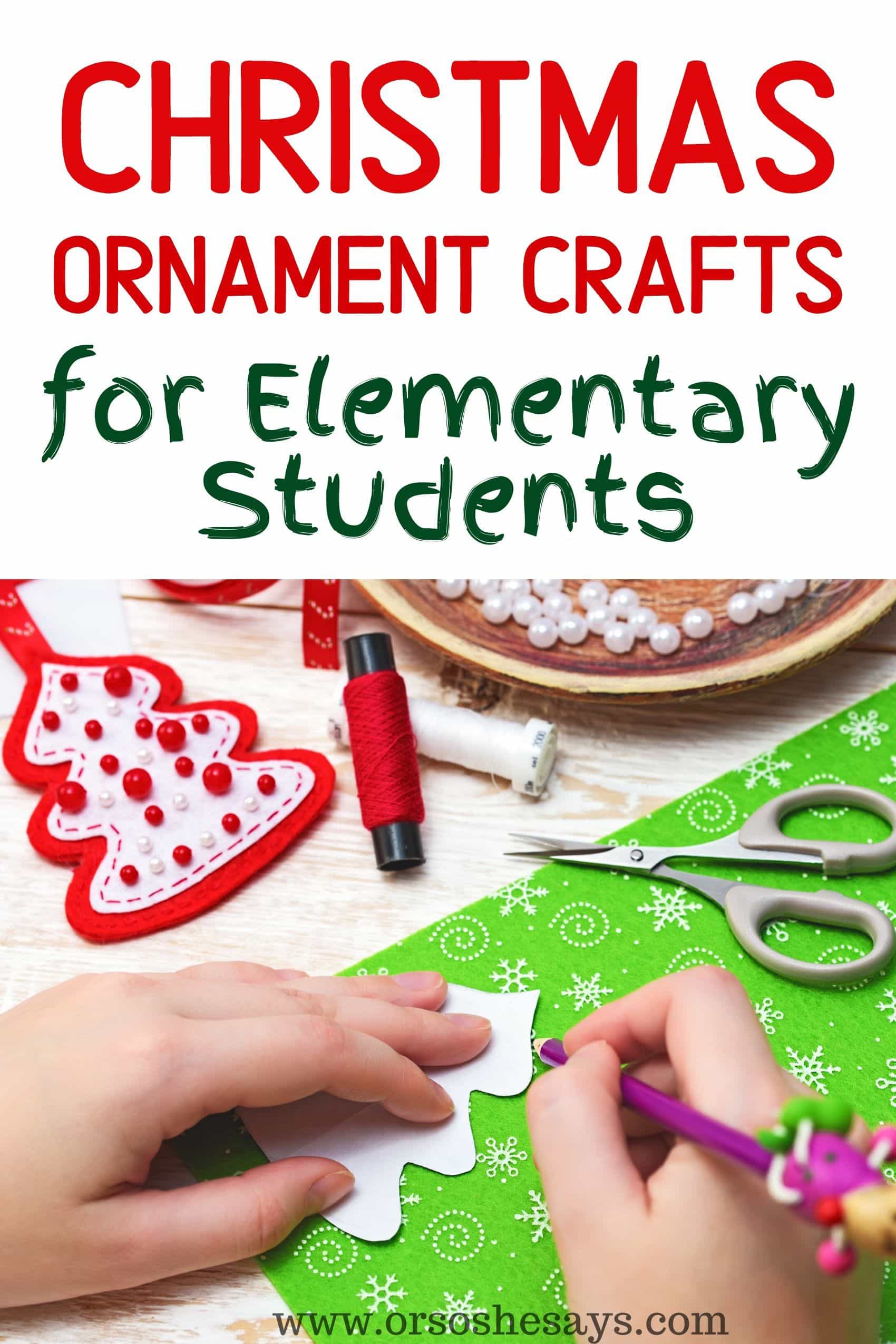 27 Christmas Ornaments For Elementary Students
This cute little paper angel ornament is the most perfect diy ornament craft for kids… cheap, easy, and something they can duplicate on their own.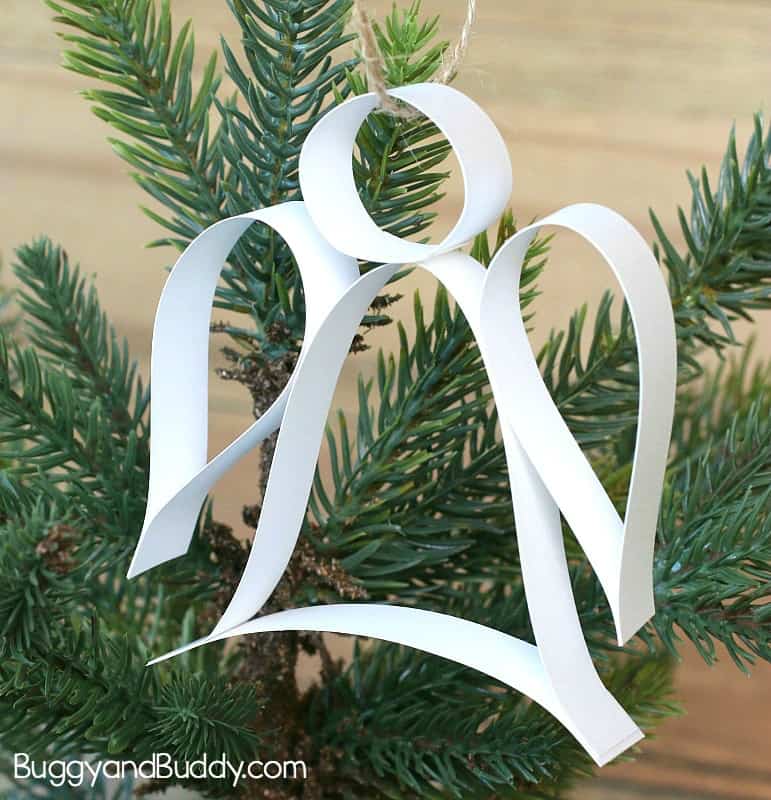 Have you tried doing string art yet? It's a lot of fun, kind of relaxing, and actually really easy. Kids will love the design options and different color string they can use to change the look.
What to do with all those baby socks with no match? How about sending them to the school for making some cute little sock Christmas ornaments. Awwwww, precious!
These are SO easy to make. They turn into these adorable little wreaths. Kids will have a blast making these ornaments! And it's always good to work on those fine motor skills, bam!
These wreaths make me cry a little with joy. All four of these would be fun to make. Have a variety of ribbons, buttons, and felt available for lots of creativity to happen.
This is the perfect way to personalize those Christmas ornaments. Have the kids find a favorite picture of theirs to use.
I have a confession. Those hard candy mints are not my favorite to eat, so it's good to know there's something they can be used for! Without a school oven, this could be a tricky ornament for kids, but it would be great for homeschool, a home skills class, or to make with the kids after school.
Yep, these are melted beads! And they turn out that cute! Kids will have a blast watching those beads melt into their favorite shape. Again, a good one for a school with an oven or homeschool.
These snowmen are a super fun and super cute way to add more lights to your tree! I'm sure the kids will love gluing or drawing the little face. They will look so cute on the tree, all lit up.
Now this is a Christmas ornament for elementary students that they can all handle making. SO simple! And they turn out so cute!!
Ooooo, these are so elegant looking! And guess what? They're just tattoos! Of course, they don't have to be elegant looking. In fact, the kids would probably love doing something super Christmas-themed. A huge bonus about these diy ornaments is the easy clean up!
How cute is this idea? Not only will kids love to make these ornaments, I could see them being excited to see them every year. Go ahead and touch, play, shake this one all day. Then hang it back on the tree when done
Take a look at this beautiful snow globe ornament. I love the simplicity of it and it comes with an easy tutorial to follow. This one may be better for older children.
The color options on this DIY ornament are endless. They are made by melting crayon shavings onto the ornament. The kids are sure to love creating this one.
Oh the smell of cinnamon in the house. Now the students will have the opportunity to smell it all month long with these cookies hanging on their tree! And the best part of all is you don't have to cook them!
I can't get enough of these little sleds! The whole class will have a blast making these. Don't you love when you DIY something that turns out so good. You can't go wrong with this craft!
Fun and simple are the key words here. And when something fun and simple turns out like these trees how can you NOT make them?! Have a variety of Christmas colored cloths available for the kids to cut for their tree.
Parents cannot have enough pictures of the kids, am I right? These Christmas ornaments will be so fun for the kids to make and parents to receive! I'm pretty sure the kids will have a blast turning themselves into little ornaments.
I'm totally in love with these rustic ornaments. Find the sticks outside as a class, or have the students bring them to school, then create some fun shapes together! They turn out so awesome!
Can you believe these are just clothes pins?! OMGoodness they turn out incredible! Kids love painting and you can help glue and all together you can hang them on the classroom tree and eventually let them take them home! We all love when things work out so smoothly.
Do you have any Hello Kitty fans in the class? How about Ninja Turtles? This fun tutorial will inspire you to create with felt! The kids are sure to think their tree is super cool when it holds their favorite characters.
Homemade cinnamon ornaments bring me back to being a child, making them with my mom, and enjoying the smell all season long. They smell amazing, coming out of the oven! Will work best for homeschool or in a home skills class that has an oven.
You have to check out these felt ball wreaths… they're adorable! You may have seen them sold on Etsy before, but they're perfect for making yourself, or with the kids.
Heaven knows we all have plenty of empty toilet paper rolls kicking around the house… and, if you don't at the very moment, just wait another hour. When it comes to Christmas ornament crafts for elementary students, this totally fits the bill.
Back to pom-poms… for younger kids, rather than stringing them, gluing them on cardboard would be much easier. And again, a photo ornament is always a winner with mom, dad, or grandparents.
It would be fun to teach the kids the "Legend of the Candy Cane" and then make these. They're super cute and something I would actually want on my tree! Plus, they're super affordable, which is always important when making Christmas ornament crafts for elementary students.
There's no candy-stealing from these little homes! Kids can light draw their design in pencil first, then fill in with paint. Have some dishes of treats set out to munch on, slightly recreating the feeling of making real gingerbread houses.
Pin This Image to Save Post (or the image at the top of the post)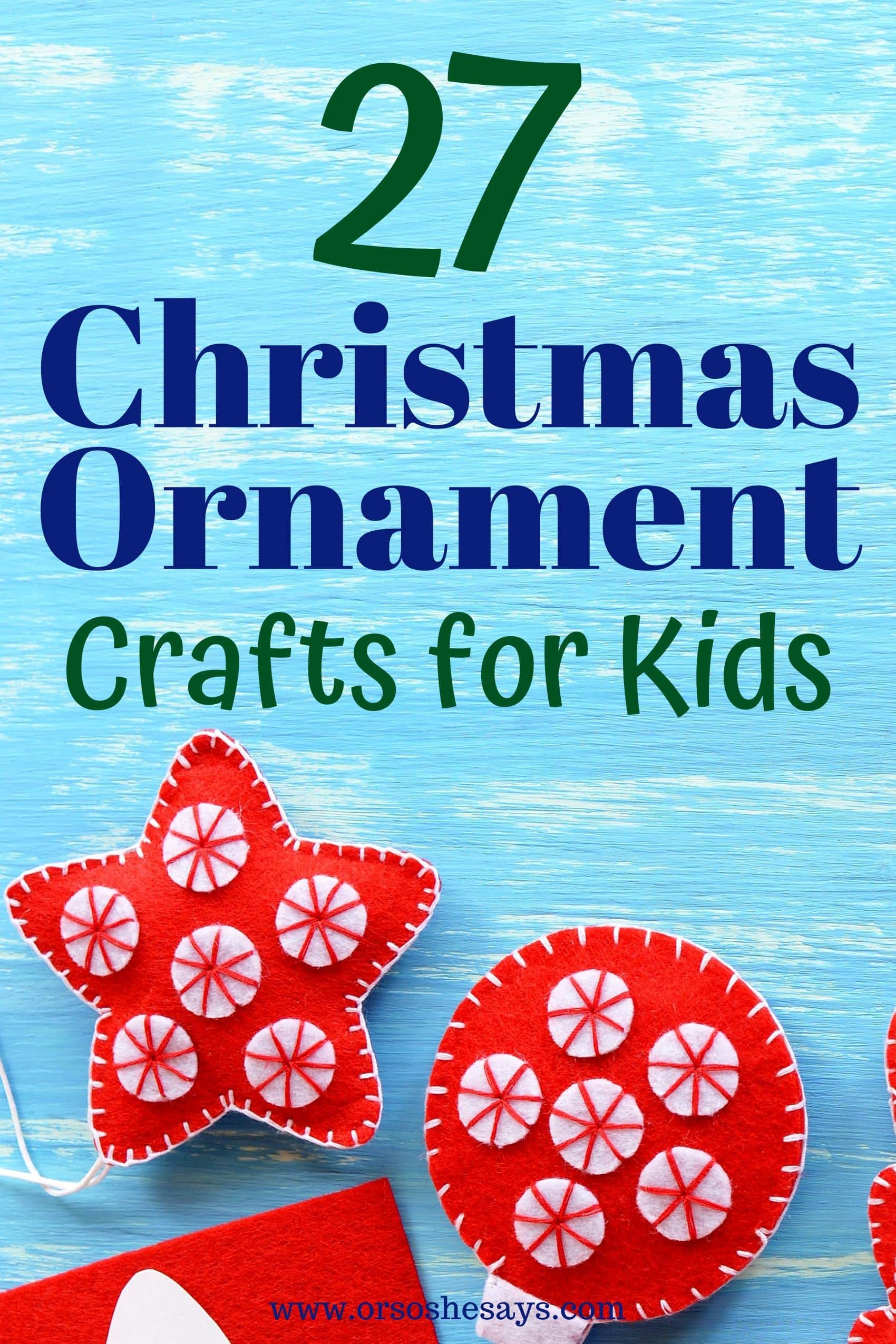 If you loved these DIY Christmas ornament crafts for kids, check out:
33 Popular Christmas Movies for Families
Bed for Baby Jesus ~ Christmas Lesson for Kids