There are many traditional and modern Christmas stories that teach about love, giving, hope, and faith. But, my very favorite story of Christmas is the one that started it all-the Nativity. The birth of the Savior of the World was absolutely crucial to our salvation. And yet, he came to Earth in a humble and quiet way. The tiny Christ child was a gift to us all. His story is part of our story as well. You can read the Nativity account in the Bible. The familiar verses of scripture tell about shepherds, angels, stables, and stars. Make the scriptures come to life with this simple Nativity play script for children. It is a perfect 10-minute production that helps you include small children and older children in the performance experience.

A few years ago, I searched the internet for a good Nativity script to use with some puppets that my kids and I created. I couldn't find one that I loved. So, I made up my own! I am sharing it with you so you can enjoy the sweet spirit that comes with reenacting the first Christmas night with your family. This script can be used for a puppet show or for a live action play.
Simple Nativity Play Script for Children ~ Totally Free!
You can download and print this traditional Christmas nativity play script PDF for free.
A Savior Is Born: Nativity Play
Scene is dark. Narrator begins speaking.
Narrator: And it came to pass in those days, that there went out a decree from Caesar Augustus, that all the world should be taxed. And all went to be taxed, every one into his own city. And Joseph also went up from Galilee, out of the city of Nazareth, into Judæa, unto the city of David, which is called Bethlehem; (because he was of the house and lineage of David:) To be taxed with Mary his espoused wife, being great with child. And so it was, that, while they were there, the days were accomplished that she should be delivered.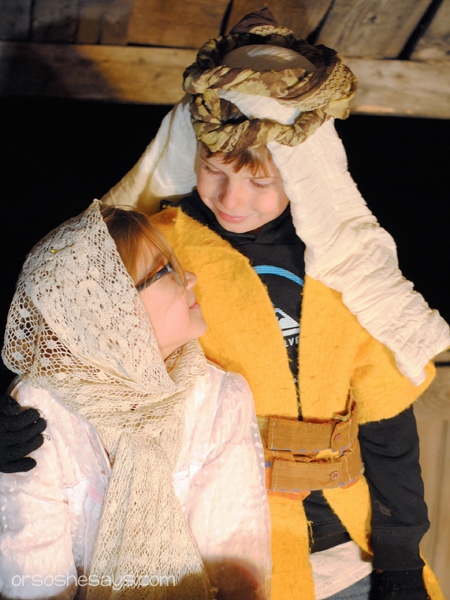 Baby Jesus is placed in the manger.
Narrator: And she brought forth her firstborn son, and wrapped him in swaddling Baby Clothes, and laid him in a manger; because there was no room for them in the inn.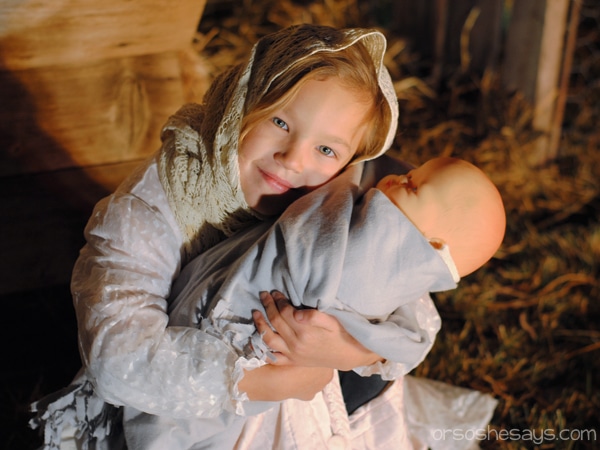 SONG: SILENT NIGHT (first verse)
Enter Sheep and Shepherds.
Sheep: Baaaaaa, Baaaaaaa.
Shepherd 1: It feels like there is something special going on tonight.
Shepherd 2: I agree. Like there is something magic in the air.
Sheep: Baaaa, Baaaaa.
Narrator: And there were in the same country shepherds abiding in the field, keeping watch over their flock by night.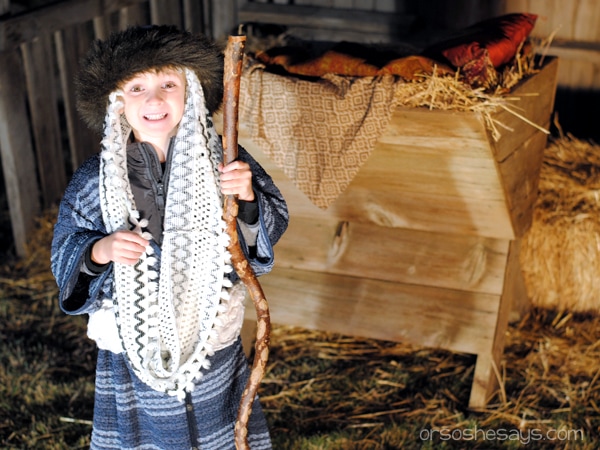 Single Angel appears in the field.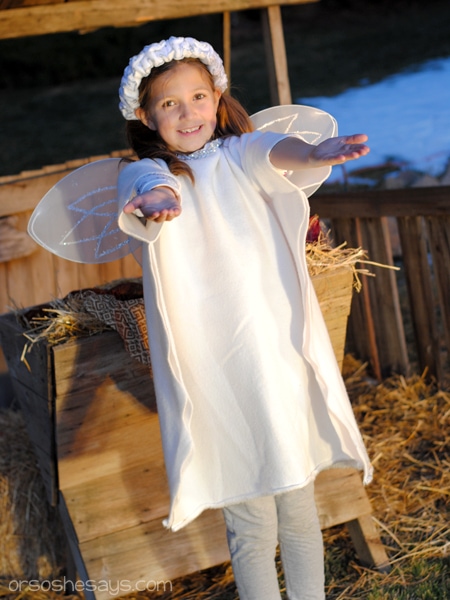 Narrator: And, lo, the angel of the Lord came upon them, and the glory of the Lord shone round about them: and they were sore afraid. And the angel said unto them:
Angel: Fear not: for, behold, I bring you good tidings of great joy, which shall be to all people. For unto you is born this day in the city of David a Savior, which is Christ the Lord. And this shall be a sign unto you; Ye shall find the babe wrapped in swaddling clothes, lying in a manger.
The Multitude of Heavenly Hosts Appears!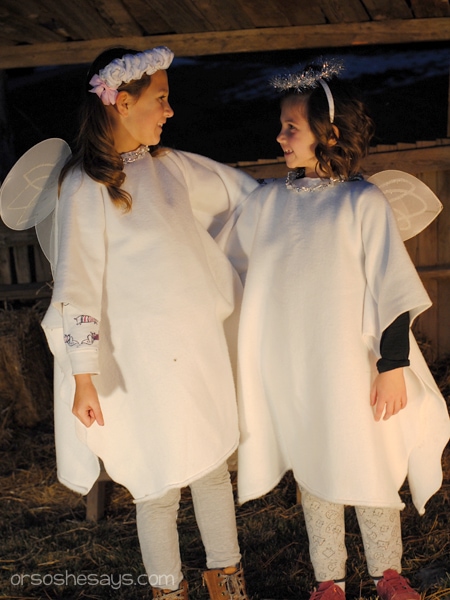 Narrator: And suddenly there was with the angel a multitude of the heavenly host praising God, and saying,
Heavenly Hosts: Glory to God in the highest, and on earth peace, good will toward men.
SONG: ANGELS WE HAVE HEARD ON HIGH (Chorus)
Angels leave the scene. Shepherds stay.
Narrator: And it came to pass, as the angels were gone away from them into heaven, the shepherds said one to another:
Shepherd 1: Let us now go even unto Bethlehem, and see this thing which is come to pass, which the Lord hath made known unto us.
Shepherd 2: Yes. What a wonderful night it has been. Let us make haste!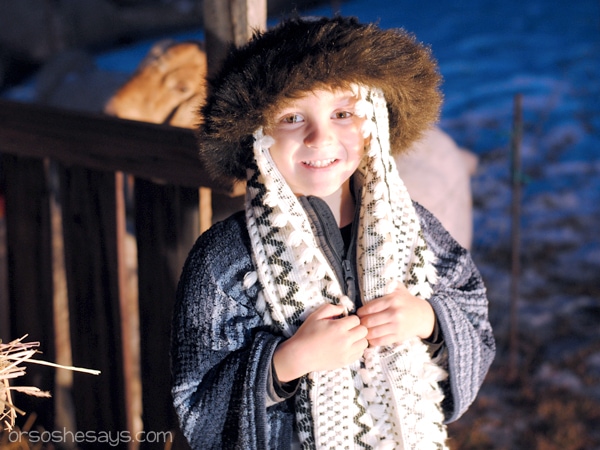 The shepherds "walk around for a moment." Then, baby Jesus is the center of attention. The shepherds stand by the baby.
Narrator: And they came with haste, and found Mary, and Joseph, and the babe lying in a manger. And so the prophecy was fulfilled. For unto us a child is born, unto us a son is given: and the government shall be upon his shoulder and his name shall be called Wonderful, Counsellor, The mighty God, the Everlasting Father, the Prince of Peace.
SONG: SILENT NIGHT
The shepherds leave the scene. The Three Wise Men Appear!
Narrator: Now when Jesus was born in Bethlehem of Judæa in the days of Herod the king, behold, there came wise men from the east to Jerusalem. They addressed King Herod saying:
Wise Man 1: Where is he that is born King of the Jews?
Wise Man 2: For we have seen his star in the east, and are come to worship him.
Narrator: And he, Herod, sent them to Bethlehem, and said, Go and search diligently for the young child; and when ye have found him, bring me word again, that I may come and worship him also.
Wise Man 3: Lets go and find the King. We will bring him these valuable gifts to show our respect and love.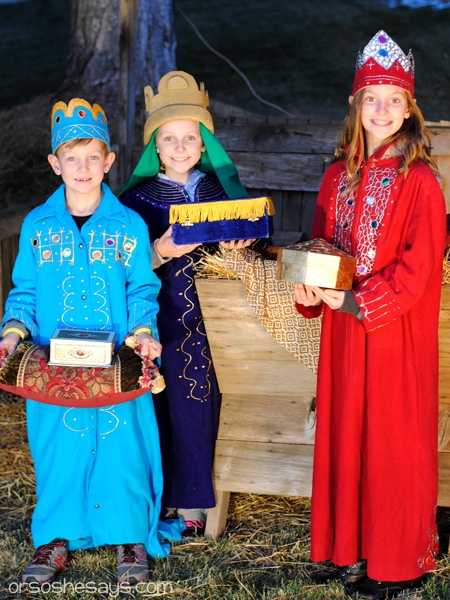 The Wise Men walk around the scene for a minute then, the baby Jesus appears. The Star of Bethlehem shines.
Narrator: When they had heard the king, they departed; and, lo, the star, which they saw in the east, went before them, till it came and stood over where the young child was. When they saw the star, they rejoiced with exceeding great joy.
Wise Man 1: The star has led us to him. Now, let us go inside so we can worship him.
Narrator: When they were come into the house, they saw the young child with Mary his mother, and fell down, and worshiped him: and when they had opened their treasures, they presented unto him gifts; gold, and frankincense, and myrrh.
The wise men leave so only the baby Jesus, Mary, and Joseph are left.
Narrator: More than 2,000 years ago, God sent Jesus Christ to be our Savior. Jesus Christ was born to save us from our sins, born so we can be born again and return to live with God someday. Let us rejoice greatly this Christmas season, for unto all of us a Savior is born!
The lights dim. The End.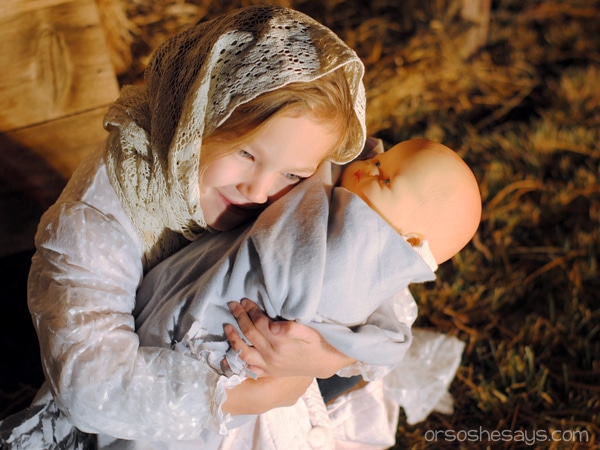 Narrated Nativity Script Conclusion:
There are so many blessings that we have in our lives because 2,000 years ago, in the city of Bethlehem a small baby boy was brought to Earth. He fulfilled His mission and lived a life of perfection. He loves me and He loves you. He suffered and died to save us. He is the ultimate rescuer. He heals our hurts and celebrates with our success. I hope you can feel His peace and joy this Christmas. If you are interested in drawing closer to Christ and learning more about His teachings, you can request a free Book of Mormon.
Pin This Image to Save for Later: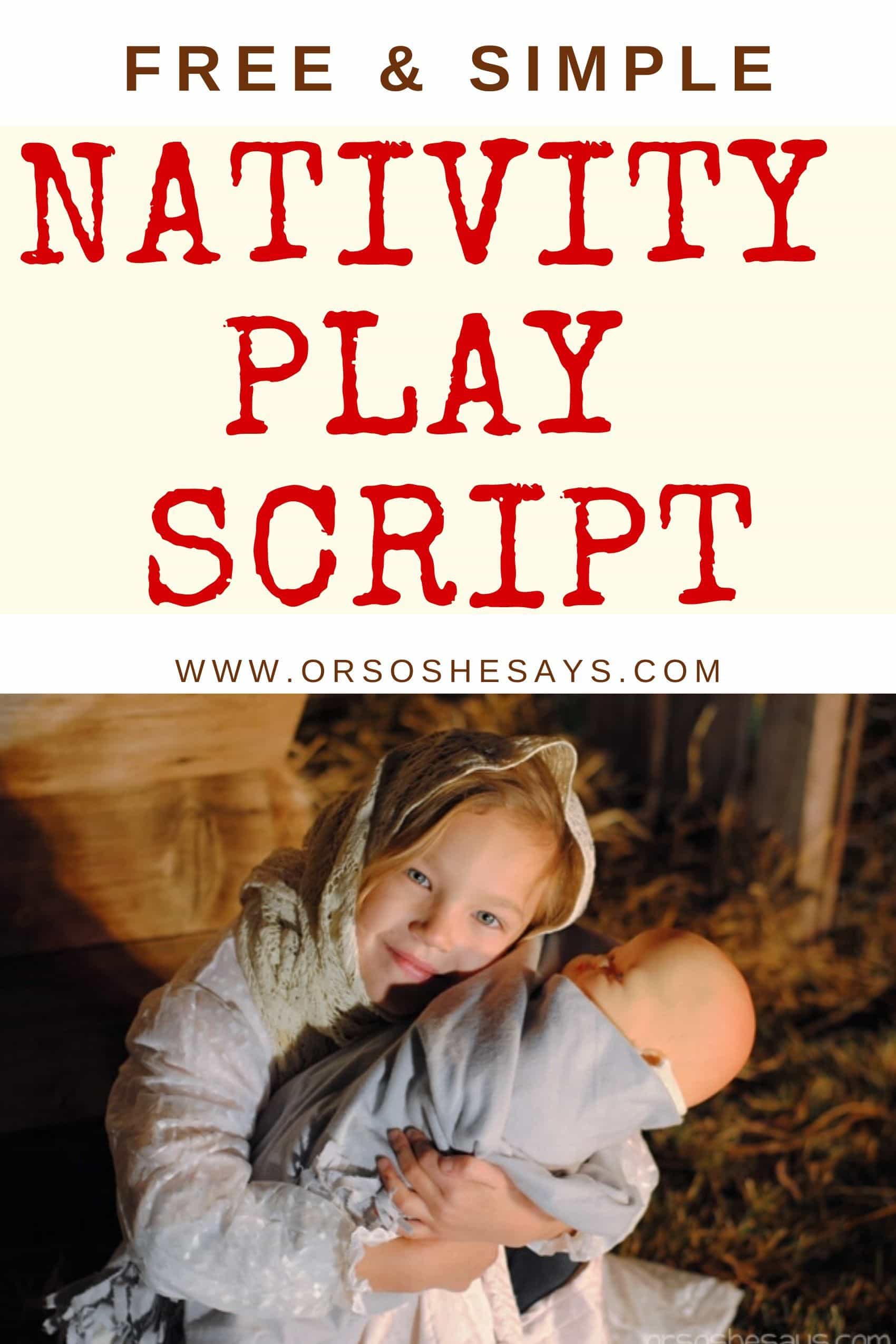 If you liked this simple nativity play script for children, check out: