Once again, we've got some insider tips from Disneyland! Today Adelle is sharing a copycat Disneyland pumpkin twist recipe that's perfect for the season.
Hi everyone! It's Adelle from Packed with Fun here sharing one of my favorite treats. 'Tis the season for pumpkin everything everywhere – including at the Disneyland Resort. My family recently went to Disneyland during Halloween Time and we got to try the famous, seasonal pumpkin twists. We loved them so much that I created our own copycat Disneyland pumpkin twist recipe when we got home.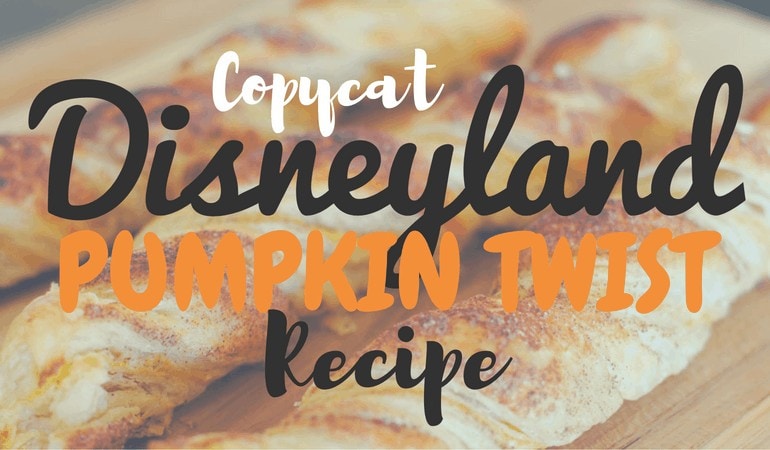 Since pumpkin season should last through the entire holiday season, I thought this would be a perfect treat to share. When you show up to your holiday parties with this copycat Disneyland pumpkin twist recipe, you're sure to feel like the fairy godmother. You can create this pumpkin-y goodness with a few really easy ingredients.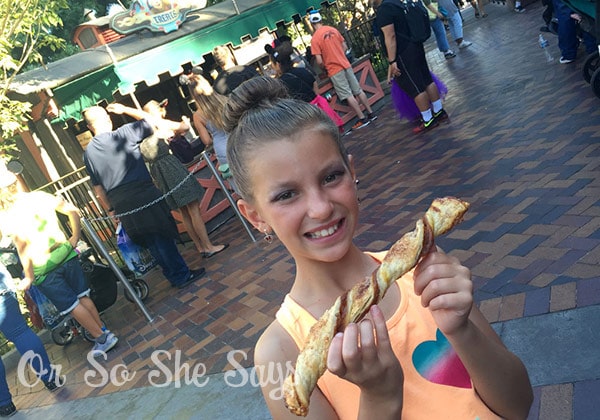 Here's all you need for the copycat Disneyland pumpkin twist recipe:
1 Box Puff Pastry Dough
1/2 Can of Pumpkin Puree
1/3 Cup Sugar
1 TBS Cinnamon
Dash of Nutmeg
Dash of Allspice
1 Egg
Egg wash (1 egg and 1 TBS milk)
2 TBS Sugar
1 TBS Cinnamon
You'll start with defrosting your dough. Also, I should mention that if you have a pastry recipe that you love, feel free to use that. I loved how easy this was, and it was the perfect consistency.
Once your dough is defrosted, you'll layout both sheets, unfold one and place it on a cutting board. Preheat your oven to 400 degrees. Set aside the dough for now while you make your Pumpkin Twist filler.
In a bowl, mix together the egg, sugar, cinnamon, pumpkin puree and allspice until it is completely combined. Now you get to spread the mixture onto the unfolded dough. You want to spread it across the entire sheet of dough in an even coat. I really enjoy the filling so I spread a lot on there!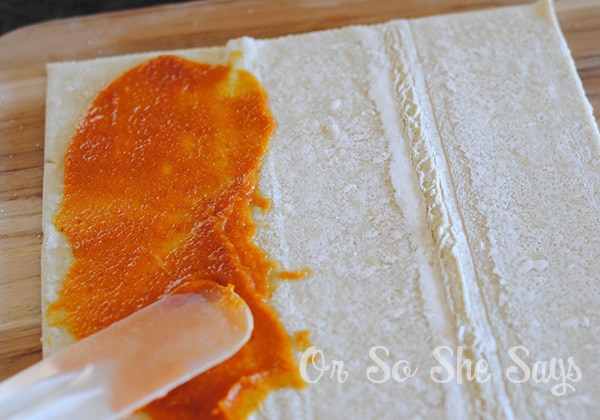 Now place your second dough sheet on top of the other with the filling. Once it is laid on top, use a pizza cutter to cut 1 inch strips in the dough.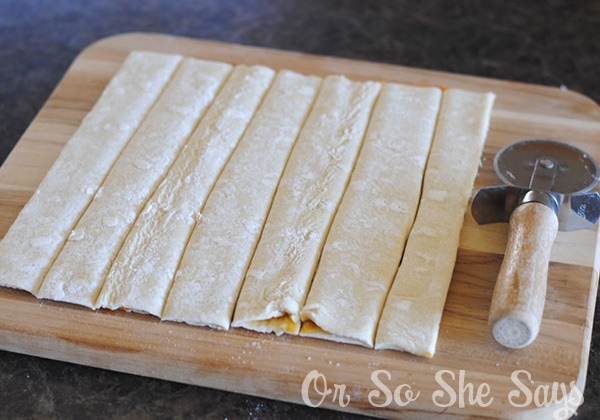 Grab a baking sheet and line it with parchment paper or spray your sheet with cooking spray. Either work great! Take each individual sliced dough and twist them into their swirly shape. I held on to each end of the dough and spun it until it was the twist I was looking for.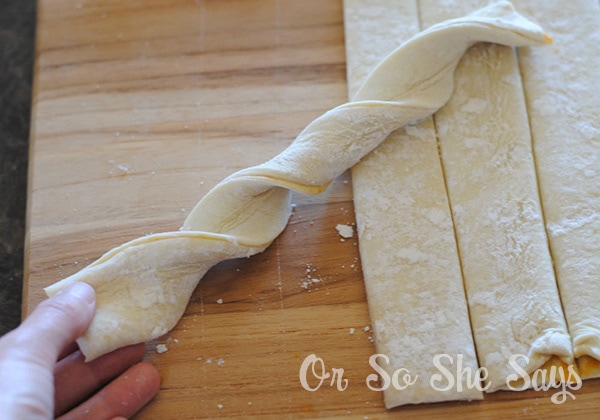 Grab a little bowl and whisk your egg and milk together to make an eggwash mixture. Once it is all mixed, spread the mixture on top of your twist until it has a pretty good coat. Now you can sprinkle to top of all of your twists your sugar and spices! Yum!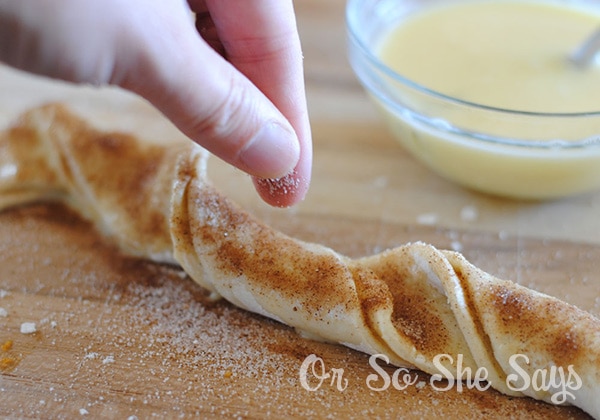 Place all of your twists on the baking sheet. Press down on all of the edges to secure the layers in place. Bake in the over for around 13-16 minutes. You will want the tops to be a nice golden brown and the twists to be puffed up.
All that is left is to enjoy!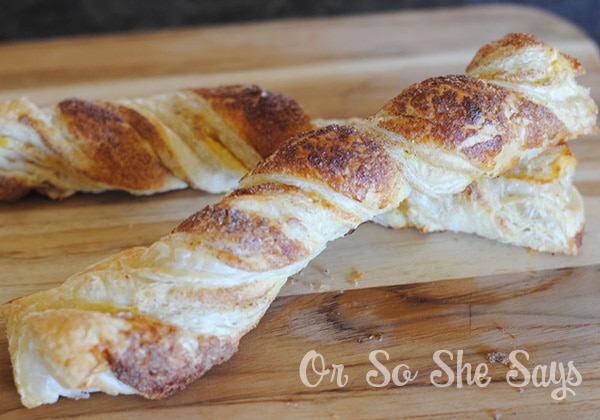 The only thing to get you more in the festive fall spirit is planning a trip to the Happiest Place on Earth! Fall is easily one of the most magical times at the Disneyland Resort and you aren't going to want to miss it. We already have 2017 prices available to get a head start on your Halloween Time Disney vacation. Book online at getawaytoday.com or give us a call at 855-GET-AWAY! As an added bonus for you Or So She Says readers, get an extra $10 off your Southern California package with the promo code: OSSS10.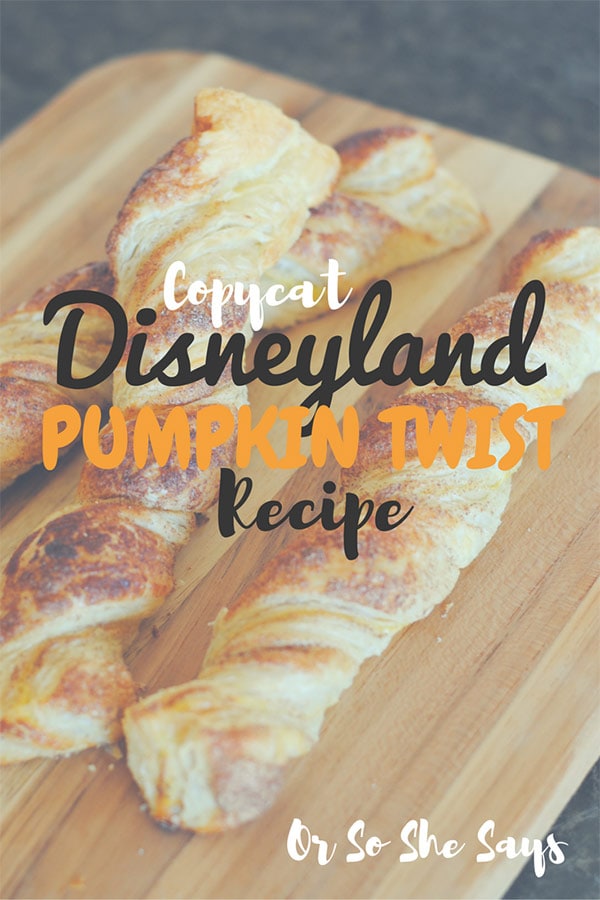 For more copycat recipes, check these out:
Harry Potter Inspired Pumpkin Pasties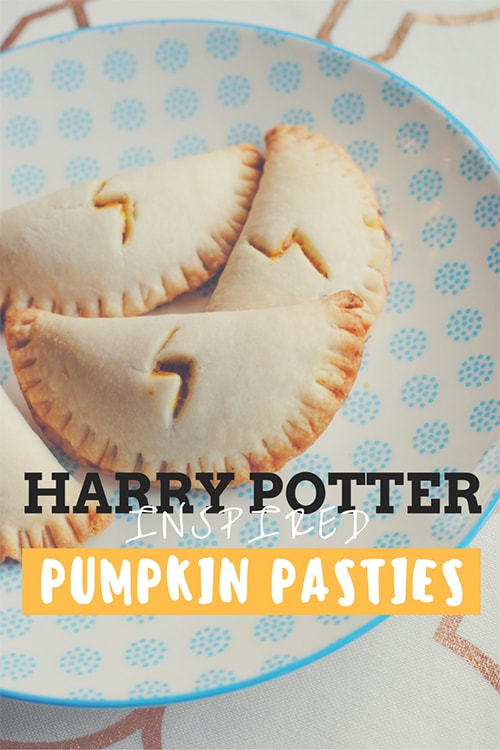 King Pao Chicken – Copycat Panda Express Recipe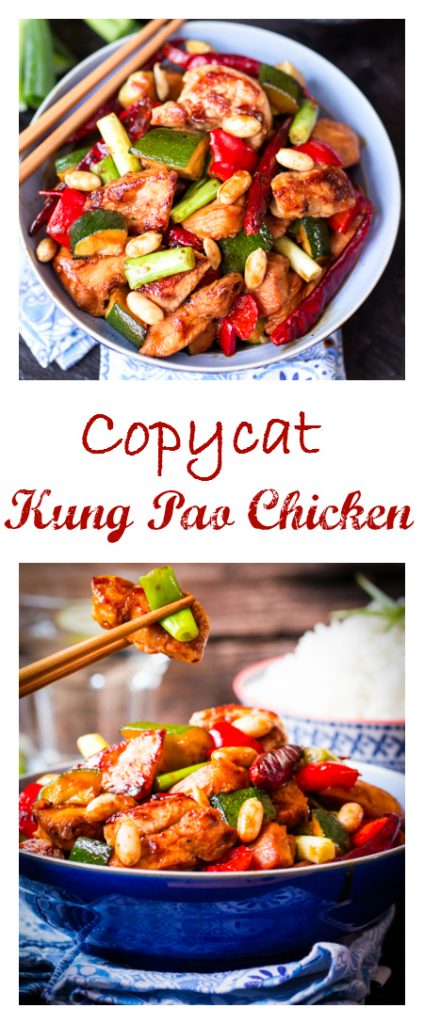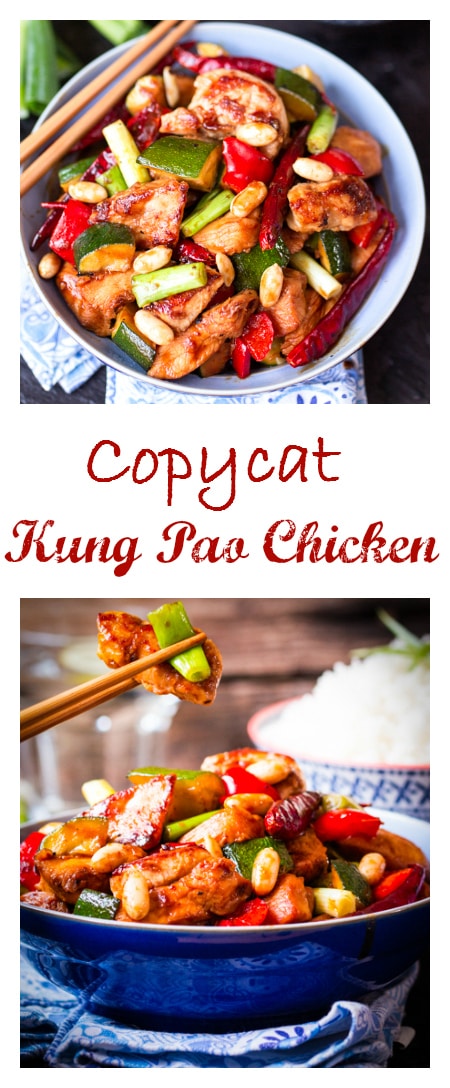 Copycat White Castle Burgers ~ Caden's Latest "Picky Eater" Recipe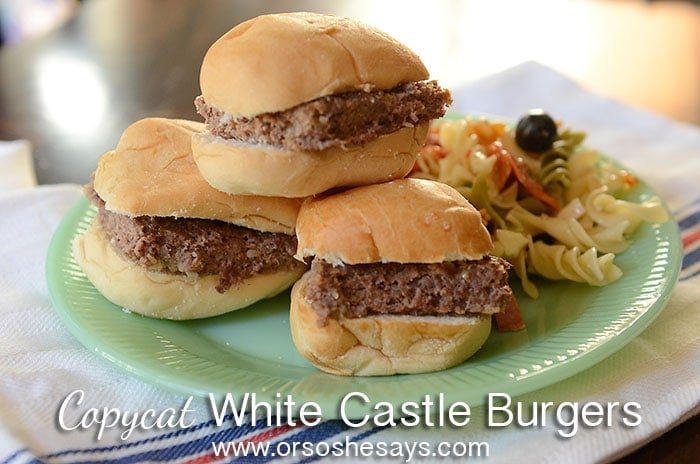 Save
Save
Save