Crock pot chocolate chip french toast just made breakfast so much better. It's bite size and fun to eat!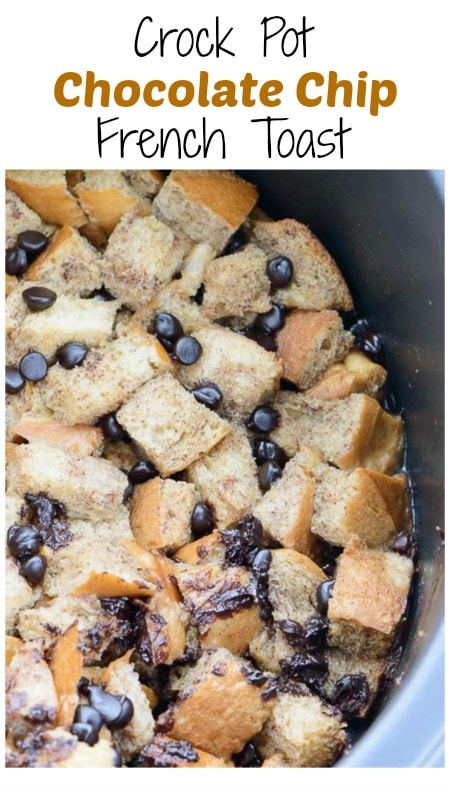 Hi, it's Jen here from Baked by an Introvert! It has been so warm here in Tennessee this past week. We broke down and turned on the a/c. I was honestly trying to hold off until May but even with the windows open and fans running, the upstairs was registering 85 degrees. It's hard to get any work done when you are feeling so warm. I sort of just wanted to take a nap at my desk, every day.
Also with the house feeling so warm, I was reluctant to use the oven or stove top. So I brought out the old trusty, my crock pot. In my opinion, this is the best invention ever. I love tossing one pot meals in and being able to set it and forget it. Life is so much easier with this gem!
Making french toast in the crock pot has become my new favorite. It's too easy. Basic ingredients go in, let it soak overnight, and then turn the crock pot on first thing in the morning. No fuss or frills about it.
For this recipe I tossed in some chocolate chips for good measure. This is my favorite dairy-free brand of chocolate chips: ENJOY LIFE. They're also nut-free, so they're a great choice for homes with allergies! With the sweetness of the chocolate chips, you really don't need syrup. But feel free to use some if you find the toast to be too dry.
The french toast will be done in four hours if you cook it on low. Or crank the crock pot up to high and it will be ready in half as much time. Either way you are going to come out with the most deliciously easy breakfast.
Ready Crock Pot Chocolate Chip French Toast
Ingredients
1

1lb loaf French bread, cut into cubes

3

large eggs

1 1/2

cups

milk

3/4

cup

packed brown sugar

1

teaspoon

vanilla extract

1

tsp

ground cinnamon

3/4

cup

semi sweet chocolate chips
Instructions
Lightly coat the bottom and side of the crock pot insert with cooking spray. Place the cubes of bread evenly into the bottom of the pot.

In a small bowl, combine the eggs, milk, sugar, vanilla, and cinnamon. Whisk until well combined. Pour the egg mixture over the cubed bread and toss to coat. Cover and refrigerate overnight.

Sprinkle the chocolate chips evenly over the top. Cook on low for 4 hours.
There are so many more crock pot recipes on the blog! Check out some of them below:
Slow Cooker Ranch Pork Chops and Potatoes