My 4-year old son came home from church a few Sundays ago with a picture he had colored of David and Goliath. He was so excited to tell me the story he learned from his teacher about rocks and a giant. As he told me the little kid version of the famous Bible story, he said, "Mom, I am small but I can do big things." I loved that, and thought it would be fun to share some of what he learned… David and Goliath lesson ideas for kids!
Jesus teaches us several times in the scriptures to be like children and to become as a child. Why? Because children are humble, teachable, pure, and full of love. They are capable of so much! They might be small, but they can do big things!
This Family Night Lesson is to inspire and motivate your children to be like David. They are not fighting real giants, but there is a spiritual war going on in this world and they are capable of winning the battle.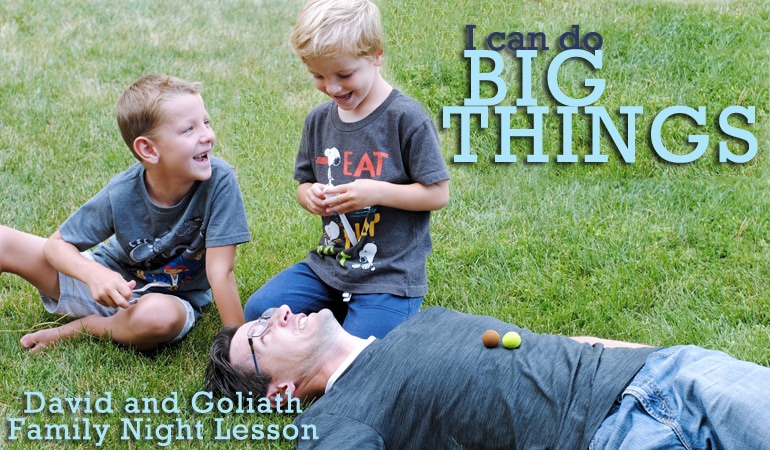 David and Goliath Lesson Ideas for Kids
Start the lesson by telling the Bible story about David and Goliath. You could read the account from Samuel, or use the story version written here:
David was a young shepherd boy. He was a good shepherd and cared about his little flock. One day, his father asked David to leave the sheep and take food to his brothers who were fighting with the Israelite army. They were away from home battling in a war.
When David arrived at the army's camp he was surprised to see a nine-foot giant! The giant was shouting at the Israelite army and being a bully! Every morning and night for forty days Goliath had challenged the army to choose one soldier to fight him. But, no one wanted to face the giant. They were scared. He was big and strong.
David was just a boy and not very big, but he trusted God. David volunteered to fight the giant. David had faith that God would protect him. He knew that his Heavenly Father was in charge of the outcome so, he was not afraid. He did not even wear armor or use special army weapons. Instead, he took his sling and gathered five smooth stones from the bed of a stream.
When Goliath saw David, he laughed and made fun of him. David responded to the teasing by saying, "This day will the Lord deliver thee into my hand." David also said, "Thou comest to me with a sword, and with a spear, and with a shield: but I come to thee in the name of the Lord of hosts, the God of the armies of Israel" (1 Samuel 17:45).
The young shepherd boy put one of his smooth stones into his sling and as Goliath approached, David slung the stone right at Goliath's forehead. The stone struck true and the giant fell to the ground, dead.
When the rest of the Philistine army saw that David had defeated Goliath, they retreated. Because David was so brave and he trusted God, he was able to end the war.
Isn't that an amazing story?! Who would want to defeat a giant? We might not have real 9-foot tall giants threatening our homes and families, but there are dangers in our world today that are just as scary and destructive.
David and Goliath Discussion Questions & Quotes
Ask the question: What are some evil things that might tempt us or take us away from living the commandments of God?
Alcohol
Drugs
Inappropriate TV Shows and Movies
Cheating in School
Immodest Clothing Trends
Inappropriate Snap Chats and Social Media Conversations
Laziness
Selfishness
President Thomas S. Monson, First Counselor in the First Presidency, said: "David went to the brook and carefully selected five smooth stones with which he might meet his enemy. … Just as David went to the brook, might we go to our source of supply—the Lord. What polished stones will you select to defeat [your] Goliath?" President Monson suggests choosing the stones of courage, effort, humility, prayer, and love of duty (see "Meeting Your Goliath," Ensign, Jan. 1987, 2–5).
I love these five stones that President Monson recommends us to have in our own spiritual battle supply. Talk as a group about how you can add these five virtues and actions into your own home. Make some goals and talk about ways to apply them to day-to-day life.
For example: You could use courage to invite a friend to a church activity. Or, use prayer to help calm your nerves before an audition or big test. Effort can be made to study the scriptures before bed for at least five minutes.
Talk about how doing these things can increase your spiritual strength and relationship with the Lord. Then, when you are strong and ready, it is time to face a giant…
Download the David and Goliath Lesson Plan PDF Here
David & Goliath Family Home Evening Lesson (2 Pages)
David and Goliath Activity for Kids
The purpose of this family night activity is to have fun together. It is silly and wild and physical. My boys love to wrestle with their daddy. The first thing they say when my husband walks into the door from work is, "It's wrestle time!" And then they pounce! Playing together is as important as praying together.
This lesson is focused on David and Goliath. Let Dad be the giant. He is big and strong!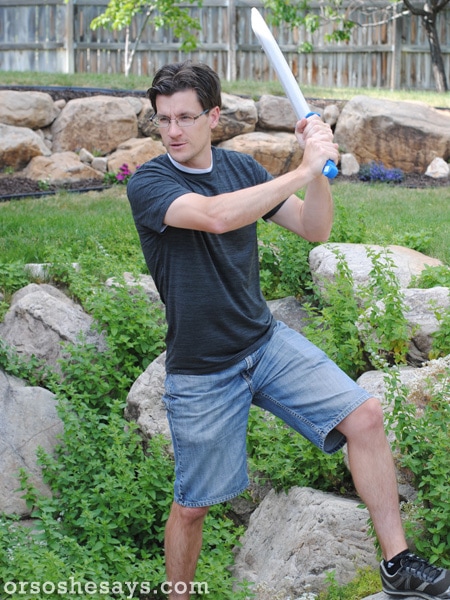 The kids get to represent David. Remind them of the good qualities that David had that helped him to defeat the giant. He was humble, trusting, and faithful.
For this activity you will need small foam balls and plastic spoons. I used little nerf type balls that we had in the toy cupboard, but you could also just wad up some paper into balls, use ping pong balls, or use marshmallows! Yum. The spoons are the "sling" and the balls are the stones that David found in the river.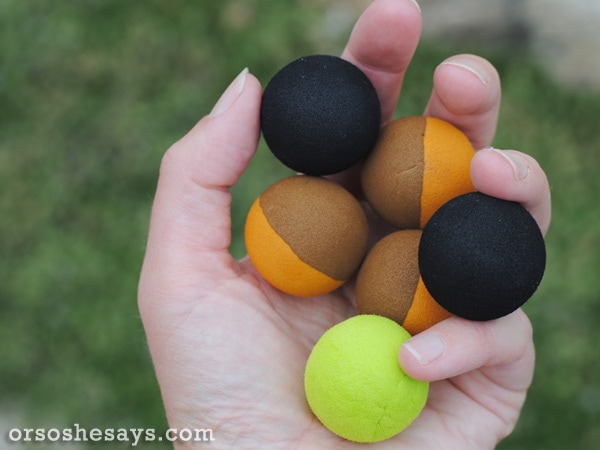 Give each child a spoon and some balls (whatever you choose to use is great!) and then let them attack their Daddy Goliath. Place the "stone" onto the spoon and then bend the spoon backwards and release. The ball will soar through the air. It is a lot of fun.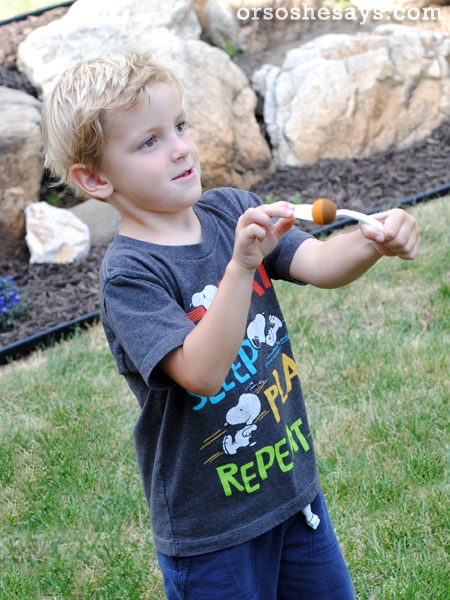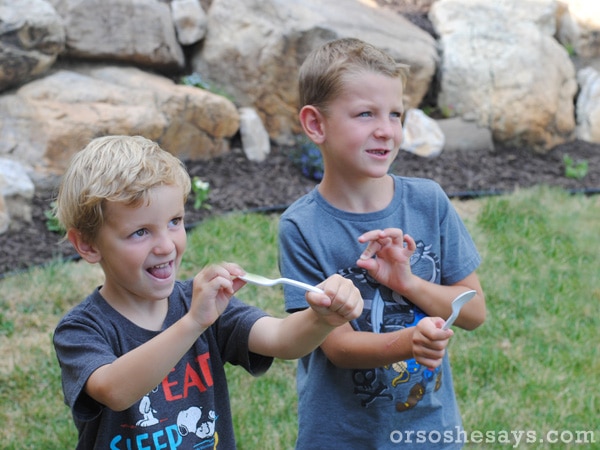 Daddy Goliath can use a foam sword to defend himself against the attack. But, the kids are sure to win in the end. They are on the Lord's side of the battle.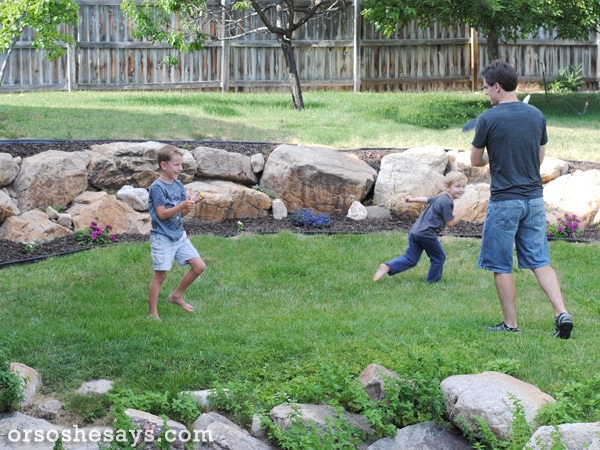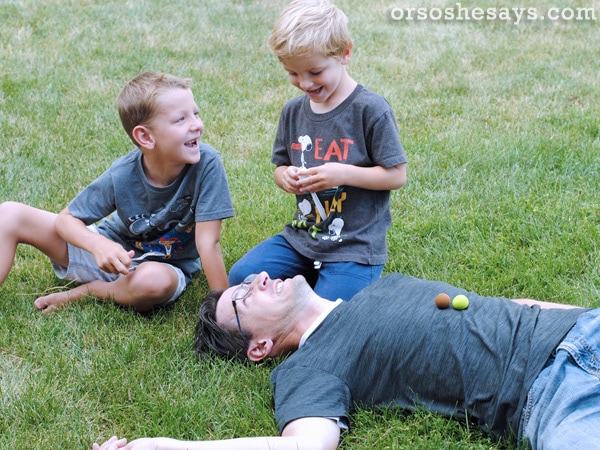 Even though kids are smaller than the giant, they can do BIG things. Size does not define their abilities. If we can learn to trust in God and follow the commandments, He will bless us to become strong. Strong enough to fight the metaphorical giants of the latter days.
Pin this image to save the David and Goliath lesson for youth:
(Or click the Pinterest button at the beginning of the post for more image options.)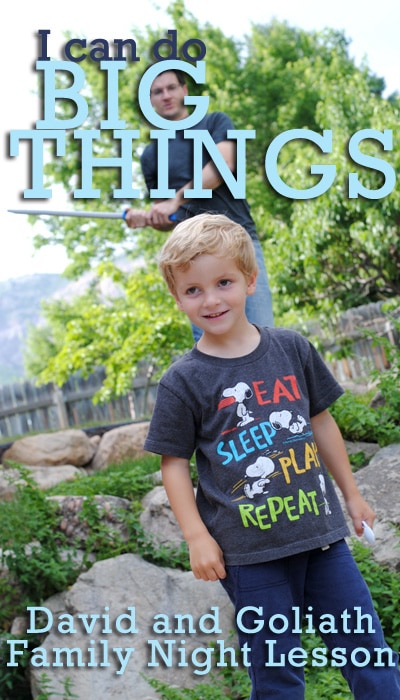 If you liked this David and Goliath Summary and Game, check out:
Join 180,000+ Others & Follow OSSS for Lots of Family Ideas!
NEWSLETTER (free most-requested family recipes download included!)
PINTEREST (lots of awesome family related ideas!)
Save
Save