This easy raspberry ice cream recipe is what dreams are made of… and, just because it's late in the summer doesn't mean it's too late to make this delicious dessert. One of my most favorite things is attending a family BBQ where homemade ice cream is being served. There's just something extra good about it that can't be matched by store bought ice cream. And, this no churn ice cream recipe is no exception. It will wow your tastebuds and impress your actual buds, when you serve it up at the next get-together.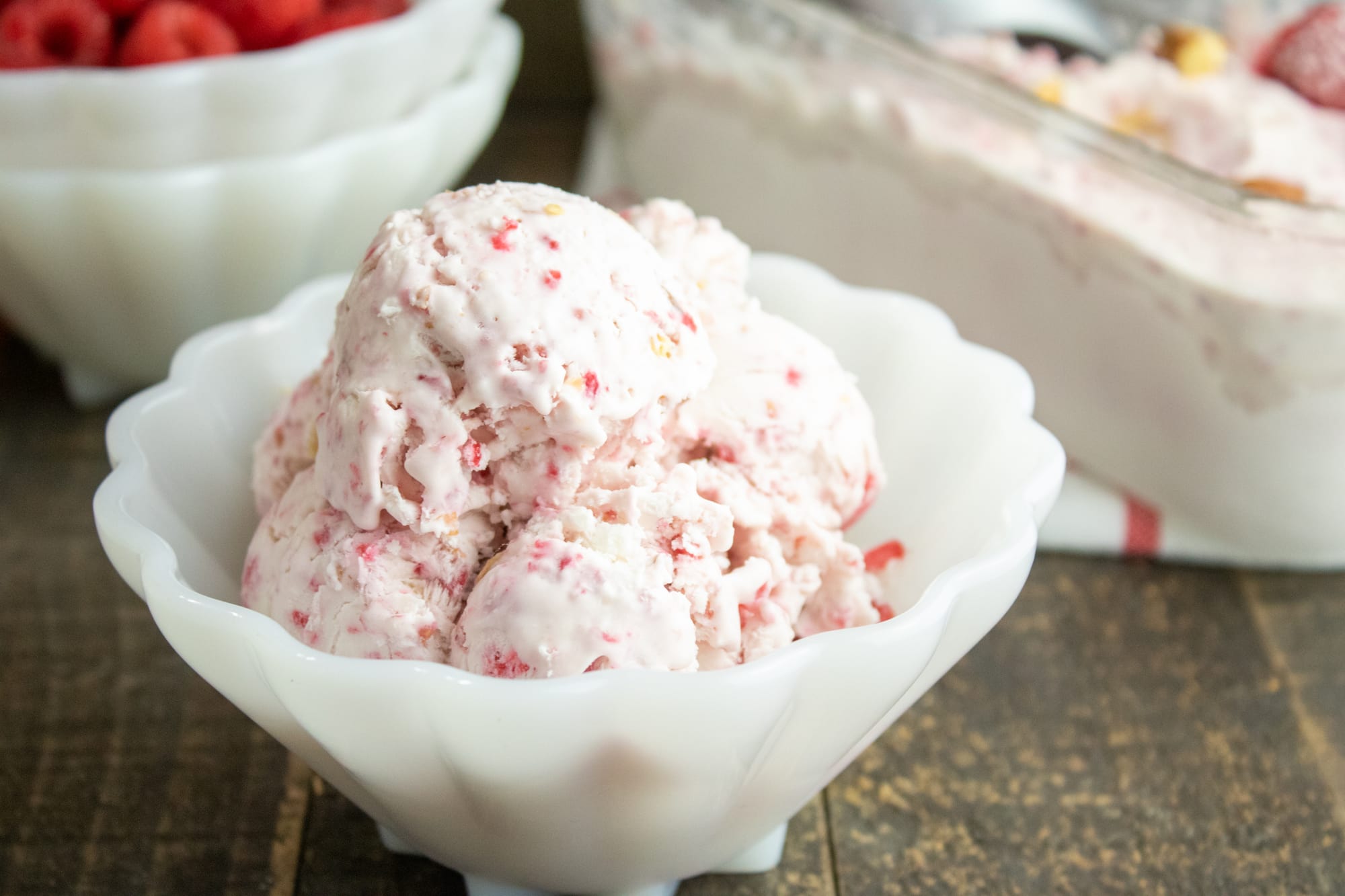 Easy Raspberry Ice Cream Recipe
A friend once told me that fruit is God's version of candy. I love that! And, if I had to pick one of God's candies to be my very favorite, it would have to be raspberries. Mmmmm… okay, then followed by peaches, strawberries, and nectarines. Heavenly!
I'm telling ya, preparing this recipe is a cinch. I love no churn ice cream recipes! All you need to do is mix the ingredients in your KitchenAid or Bosch mixer (my personal favorite), pour into a freezer safe container and freeze. The hardest part is just waiting the 6 hours or so, while it freezes. Sigh…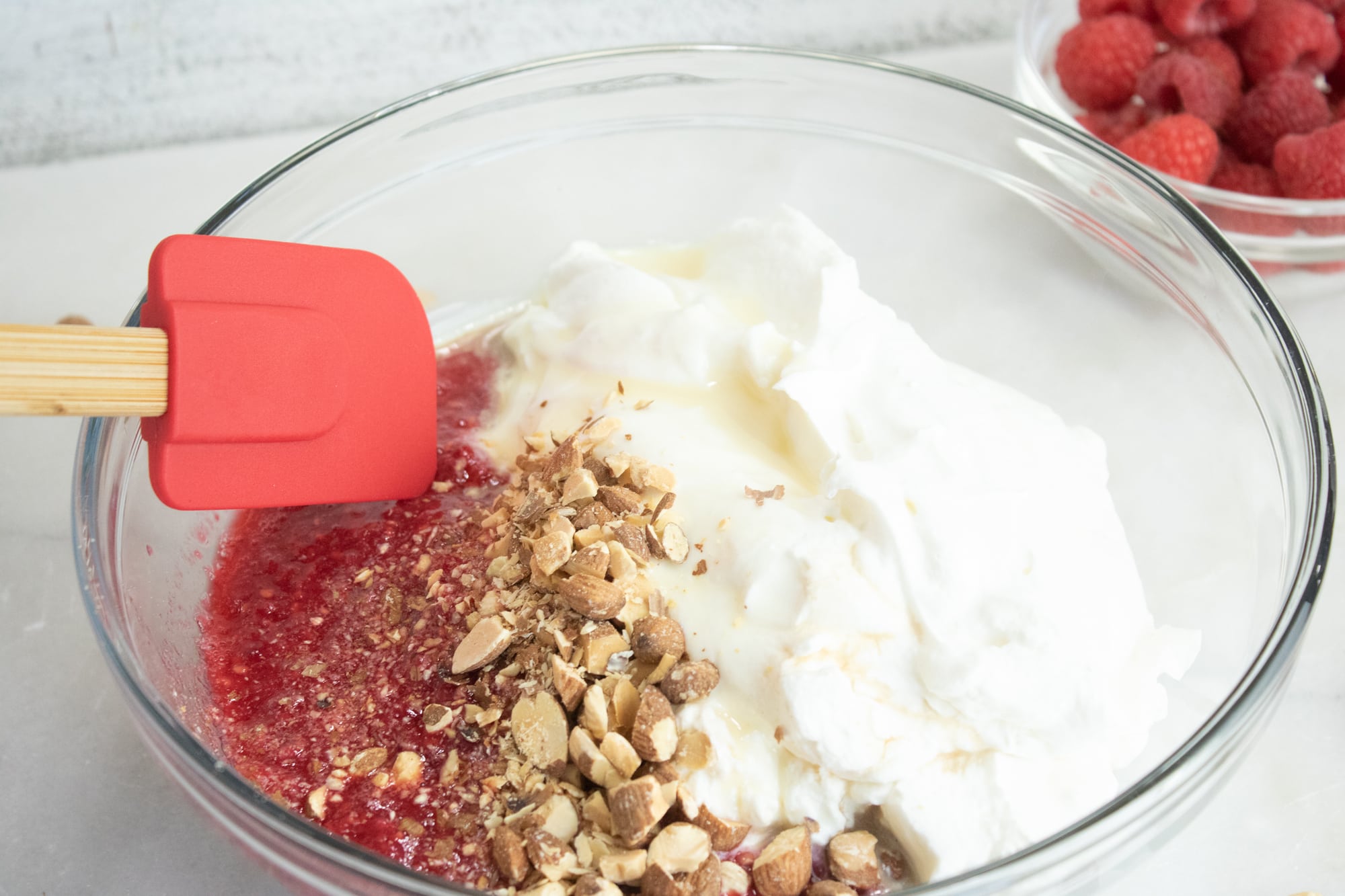 Obviously, the almonds are optional. If I was serving this to children, I may leave them out. But, if it's for adults… dump in the almonds! Be sure to double or triple the batch, depending on the number of people you're serving.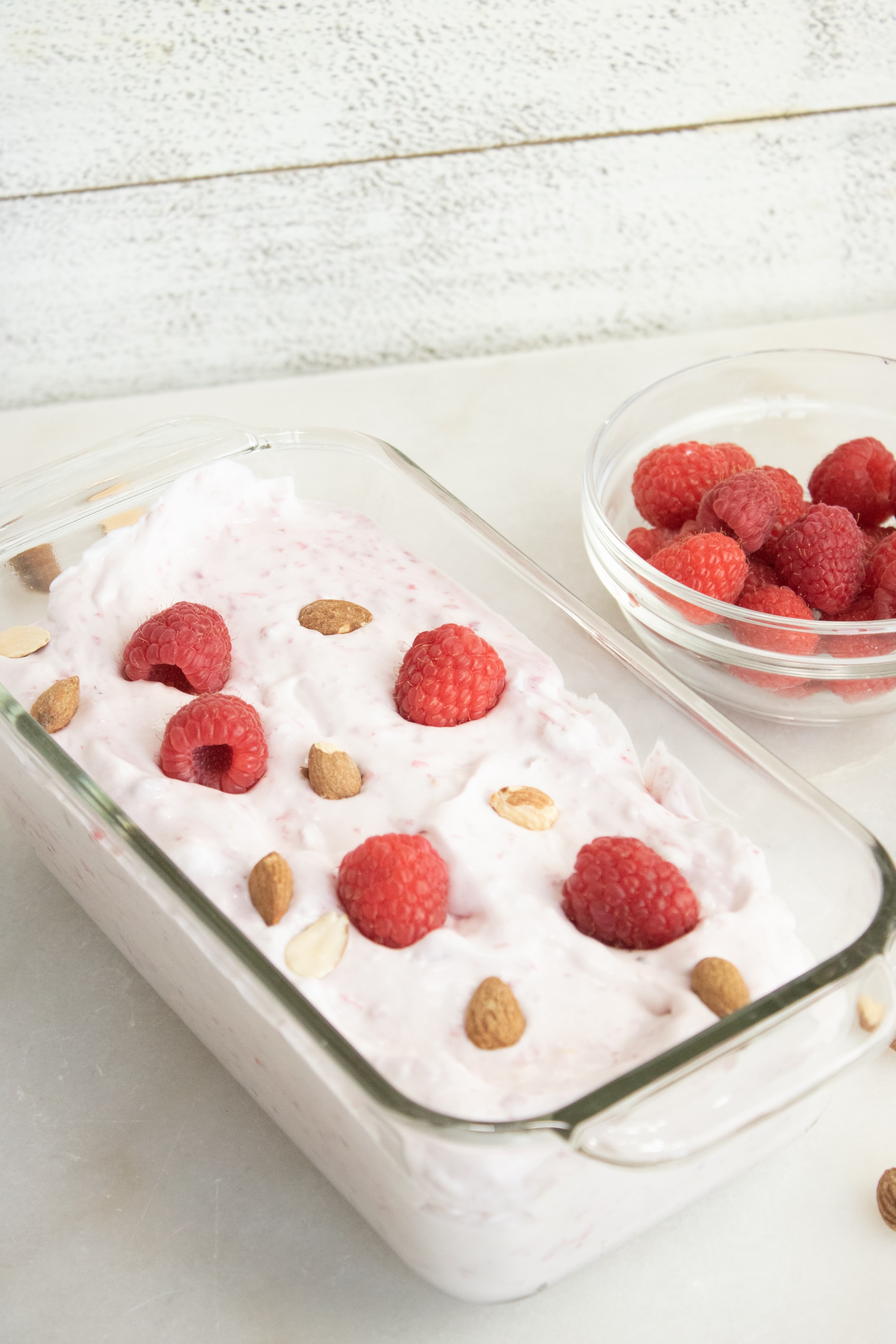 Isn't it beautiful?? I swear, this simple Raspberry Almond No-Churn Ice Cream will be gone in no time. So, enjoy the beauty while you can.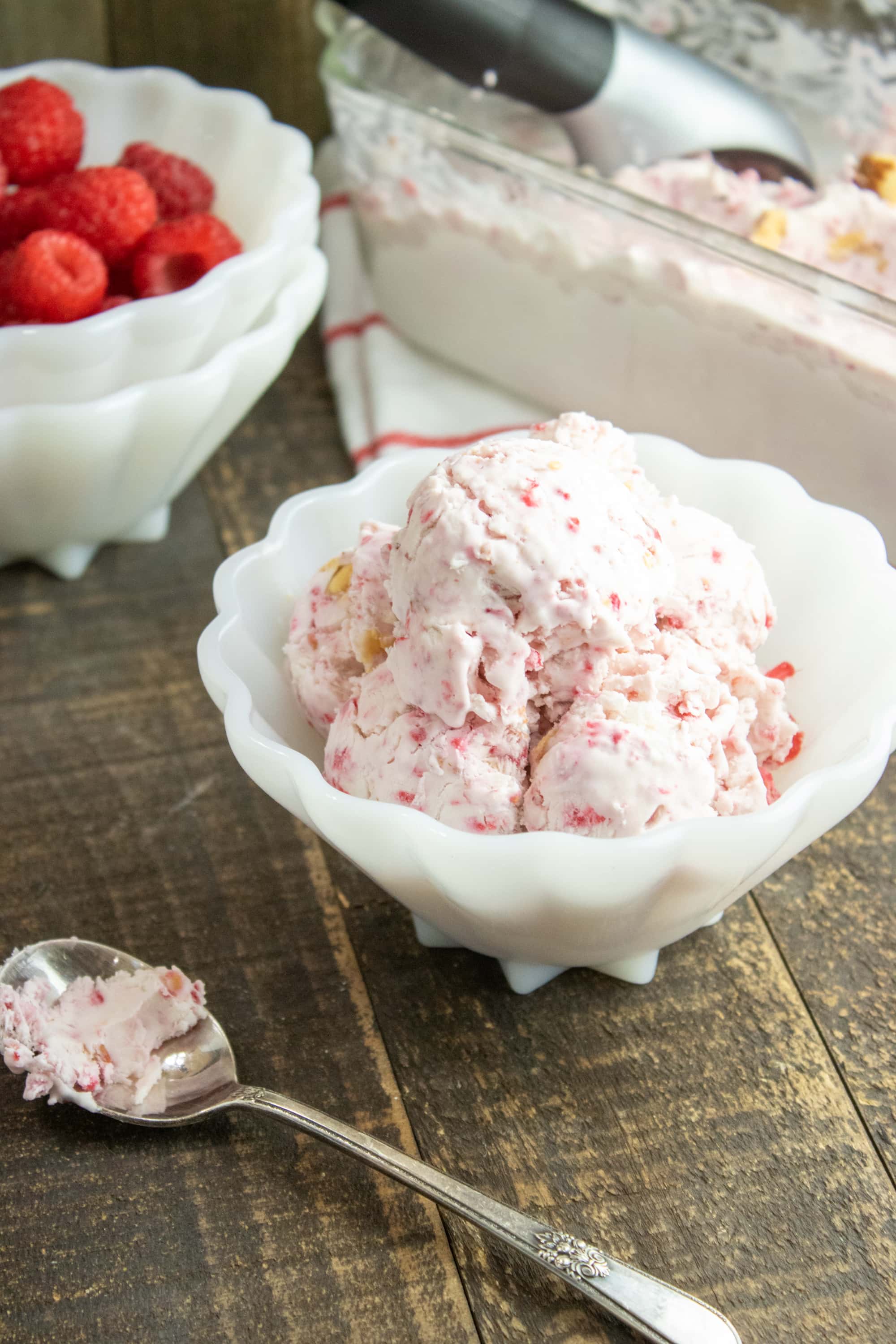 Raspberry Almond No-Churn Ice Cream Recipe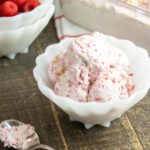 Raspberry Almond No Churn Ice Cream
This Raspberry Almond No-Churn Ice Cream is absolutely PERFECT for a hot summer day. Serve it at a family BBQ, party, or just make a whole batch of it for yourself... nobody needs to know. 😉
Ingredients
1

14 oz can

sweetened condensed milk

2

cups

heavy cream, cold

1/2

tsp.

vanilla extract

1

pint

raspberries, pureed

1/2

cup

chopped almonds
Instructions
Puree raspberries in food processor for up to 30 seconds.

With a mixer, beat heavy whipping cream until thick.

Stir in all other ingredients, until smooth.

Pour cream mixture into freezer safe container.

Freeze at least 6 hours, or overnight. Before serving, let sit out for roughly 10 minutes to soften.
Recipe Notes
Recipe shared on www.orsoshesays.com
Here are some other favorite raspberry desserts to try, that I think you'll love…
Pin this image to save the best homemade raspberry ice cream!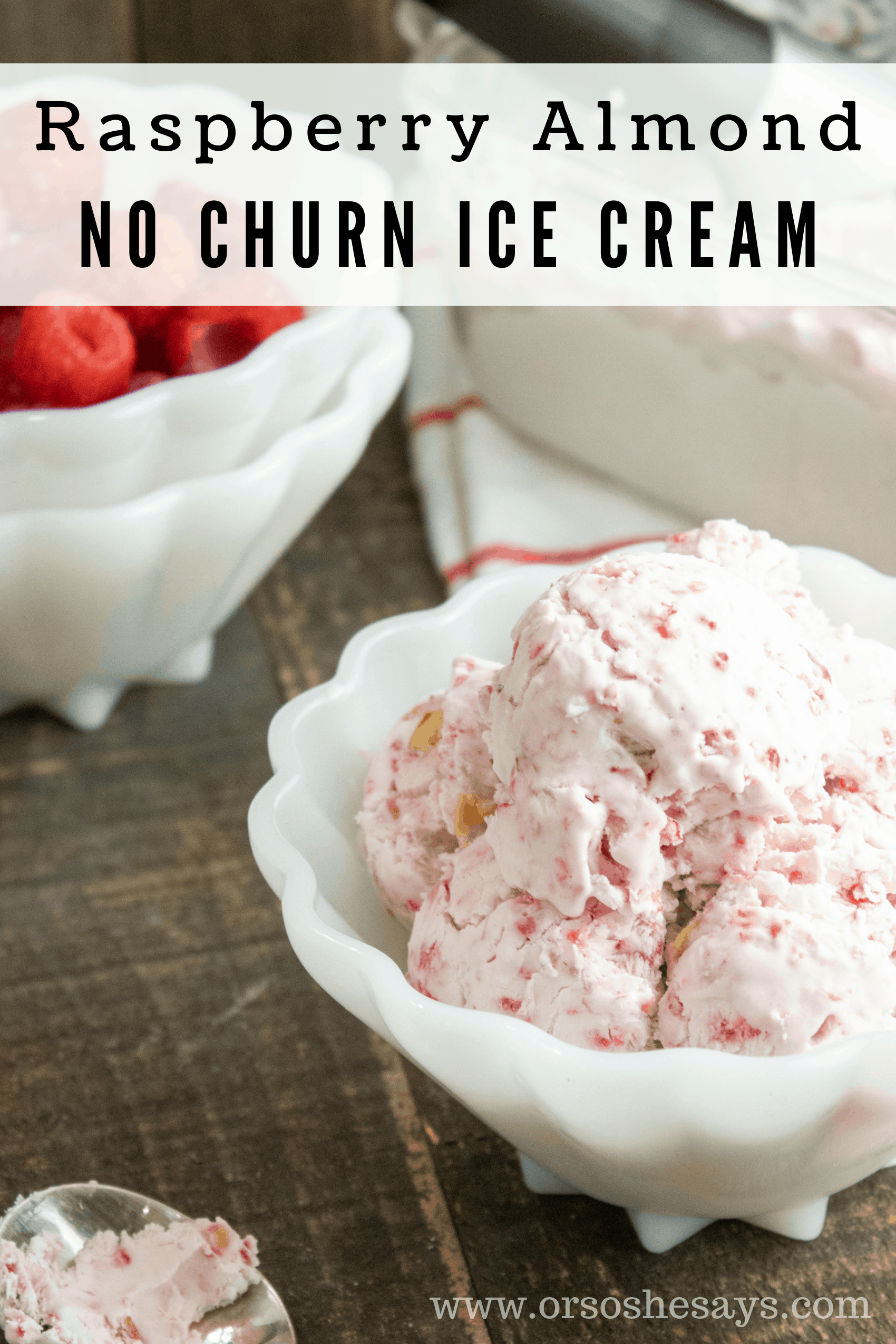 If you love this recipe for raspberry no churn ice cream, check out:
Join 180,000+ Others & Follow OSSS for Lots of Family Ideas!
NEWSLETTER (free most-requested family recipes download included!)
PINTEREST (lots of awesome family related ideas!)