We're back with our talented group of 10 blogger besties to share June's themed hop. Head on over to their blogs to see and save their projects after viewing ours. Last month's hop theme was citrus, remember Jana's Lemon Ricotta Gems? Pin this collage below, and make sure you come back on the 10th each month! June's theme is MASON JARS for this beautiful summer weather!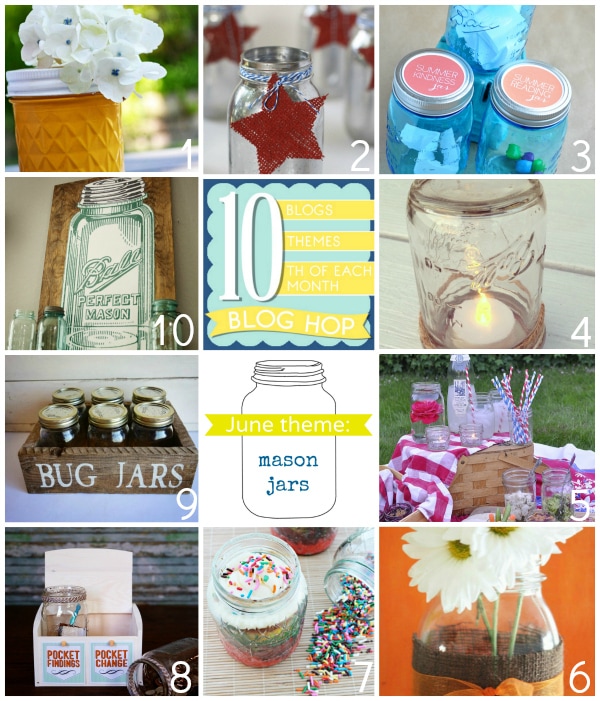 To see each contributors Mason Jar posts up close, join the Blog Hop!
1. Little Miss Momma sharing Quick and Easy Painted Mason Jar Vases
2 .Landee See, Landee Do is sharing DIY Mercury Glass Mason Jars
3. Thirty Handmade Days shares Kids Summer Jar Ideas + Printable
4. Simply Kierste is sharing an Easy Mason Jar Lanterns tutorial
5. Your Homebased Mom shares Mason Jar Picnic ideas
6. Lolly Jane shares some quick Mason Jar Vases
7. Six Sisters Stuff sharing a Rainbox Cake in a Jar recipe
8 .Eighteen25 sharing their Laundry Room Mason Jars
9. Or So She Says sharing a DIY Bug Jar Caddy
10. Capturing Joy shares Mason Jar Mod Podge Photo Art for the home
Now, on to our mason jar post, offered by 'Or so she says…' contributor, Brooke:
Hi! It's Brooke from Blissful Roots. Today we're talking bugs. I have three boys under the age of six, and when summertime hits, they're all about bugs. Rarely a day goes by in the summertime when I don't hear, "MOM! GET A JAR QUICK!" (sound familiar?). At the end of last summer I decided I needed a place for just bug jars. I was dishing out all my good jars for bug houses. So, when Mariel told me the theme for June's blog hop was Mason jars, I knew exactly what I wanted to do- finally make my bug jar caddy.
I have plenty of Mason jars at my house, and I like to use the pint and quart size wide mouth jars for canning, so I gathered my pint size regular mouth jars for the bugs. You can use which ever size you'd like. We don't ever catch anything that needs to be in a quart size jar (at least not yet, and I'm hoping it never happens), so the pint size is perfect.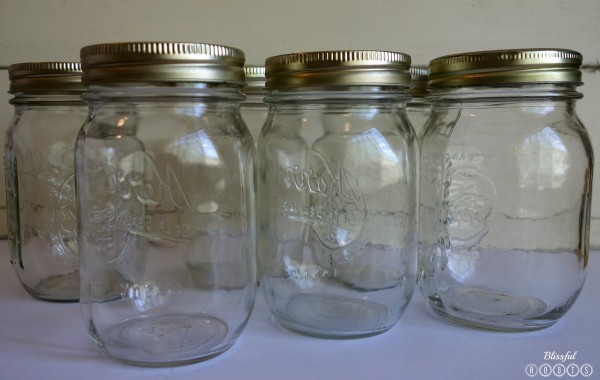 We had a snake (much to my dismay) a few days ago in one of our old jars. The holes were slightly bigger than these, and when we weren't looking, he slithered right through one of the holes and escaped (luckily we had the jar outside). I wasn't too sad about the vanishing act, but my boys were devastated! This time I made sure to make the holes really small. I just used a nail and hammer to punch a bunch of tiny holes. So now the jars are ready to go and so are the lids.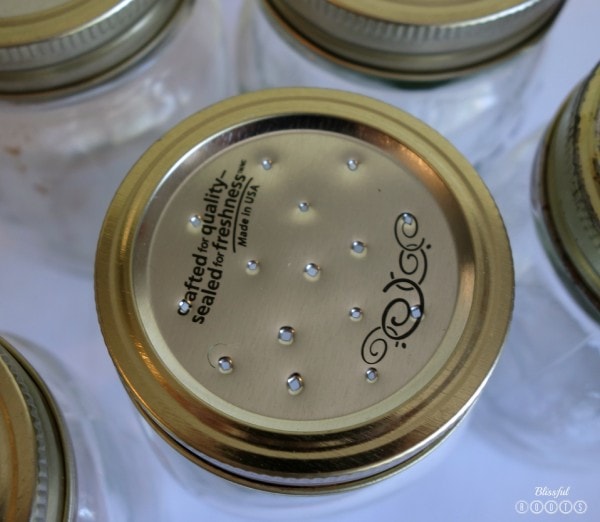 Now for the caddy itself. My handy husband whipped this up for me in no time. He just finished an entire coop for our chickens, so he was sure glad this was a small job. We used a piece of plywood (the bottom) from our coop project, and some old barn wood (the sides) from my in-law's wood pile. The box, the jars,everything was free (got to love that!).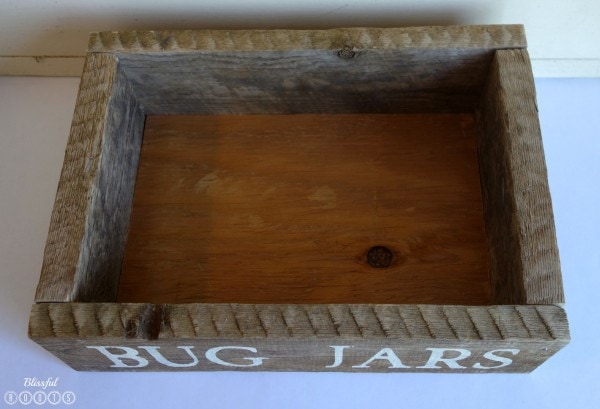 This caddy holds six pint size regular mouth jars. It would hold quart size jars too, they would just stand taller in the caddy. Here are the dimensions for the size of caddy I made. You can adjust the sizes if you'd like a bigger or smaller one.
I then used my Cricut to cut out the BUG JARS letters with vinyl, and then used the vinyl for a stencil to paint the letters on to the caddy with cream craft paint. The trick with this method is using a tiny amount of paint on your brush so it doesn't leak through. It almost felt like a dry brush as I was painting, but it sure helped keep my lines clean and crisp.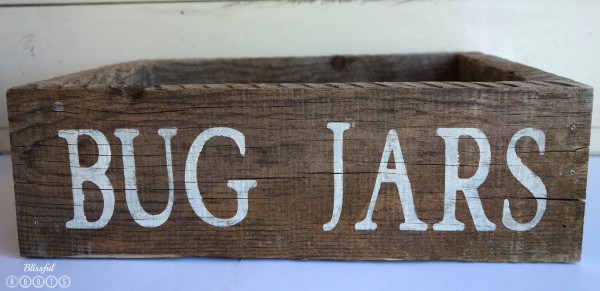 See how cute they all look nestled inside the caddy? We keep this on our back porch. Now my boys don't have to yell for me every time they find a bug. They know where to go, and the jars are all ready.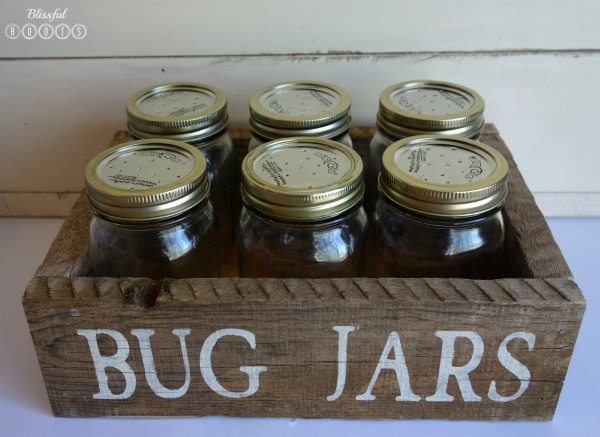 Besides the snake we had earlier, we've had beetles, snails (as seen in the appetizing jar below), ladybugs, spiders, and worms. We're only a week into summer vacation. I wonder what else we'll be housing over the next few month?! You've got to love little boys- slugs and snails and puppy-dogs' tails is right on the money (at least at our house it is)!
Thanks so much for letting me take a bit of your time. Come and see me at Blissful Roots anytime! Happy bug hunting!
Don't forget to stop by each month on the 10th- snag a button and place it on your sidebar so you'll remember!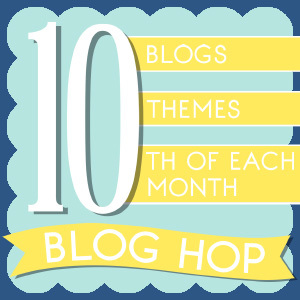 This post sponsored by: