Dan and I just celebrated our 13 year anniversary, on June 2nd. Yay!!! It happened to fall on a Sunday, the day we go to church, don't shop, eat out, etc. So, we celebrated on Friday. It was super fun. We decided to get an overnight babsitter and do a little stay-cation in Ogden, just 10 minutes from our house. We found a great hotel, walked the historic streets, saw a flick, and ate way too much food. I loved it!
Anyway, so since we ended up being home on our actual anniversary, I started to think about how it's sorta-like our family's birthday…so, why not celebrate with the kids?? It was a last minute decision, so I didn't have all the fixins I would have liked, but it still ended up being a wonderful night with the fam.
First, we made some cupcakes. What's a birthday party without cake??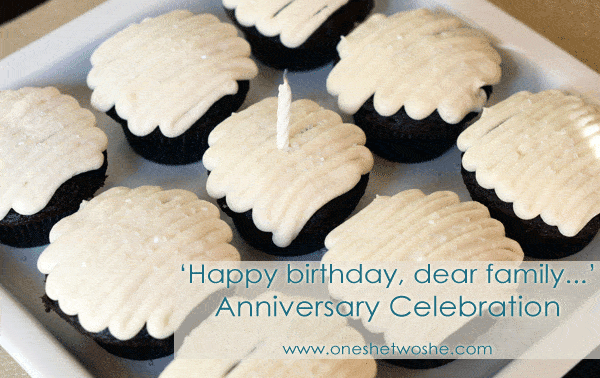 Then we piled on the couch and looked at old family scrapbooks together. I love doing that! There's something about reflecting back on good memories with the family that seems to lighten the mood and tighten our bond.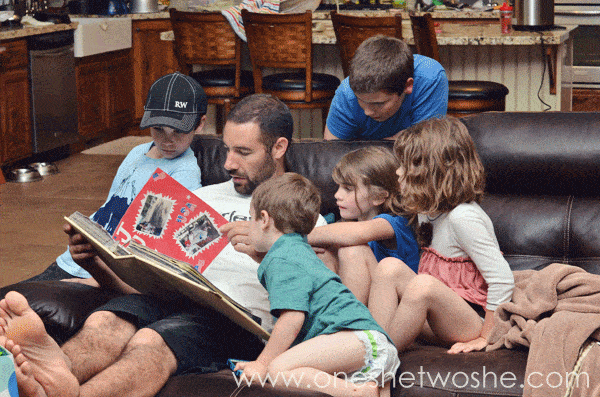 Afterwards, it was time for presents! But, not just any presents… everyone had to go to their room and find two things that they were willing to give away, and wrap them up. Then we gave them out white-elephant style! We took turns picking two presents. If we didn't like it, on our next turn, we could take something from someone else. Any item could only be taken two times, then it was frozen (the person holding it, got to keep it.)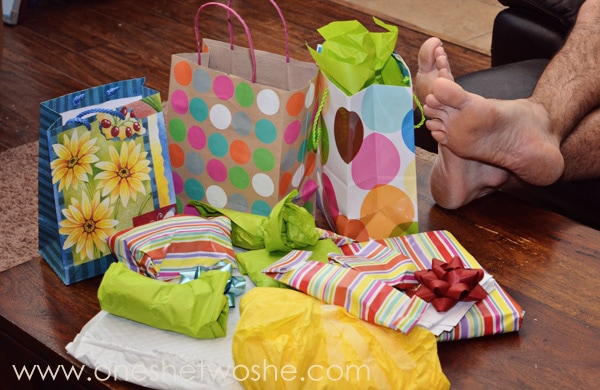 Shane got my present, Scentsy air freshener and lotion. He wasn't impressed.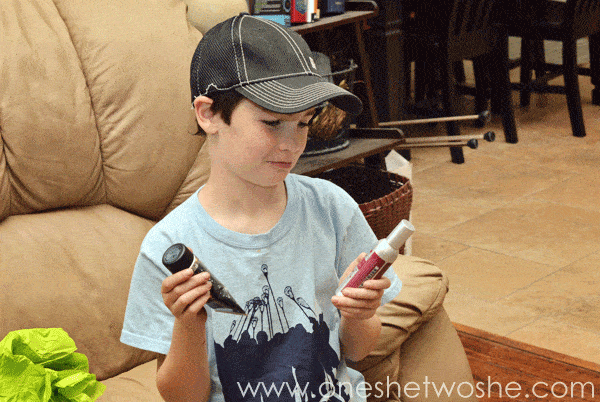 I was just happy holding my Benny-boy.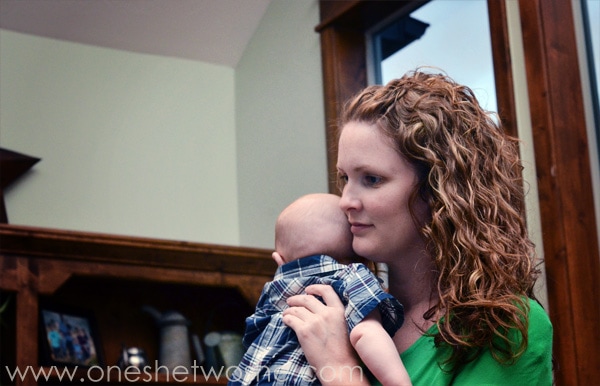 It's inevitable…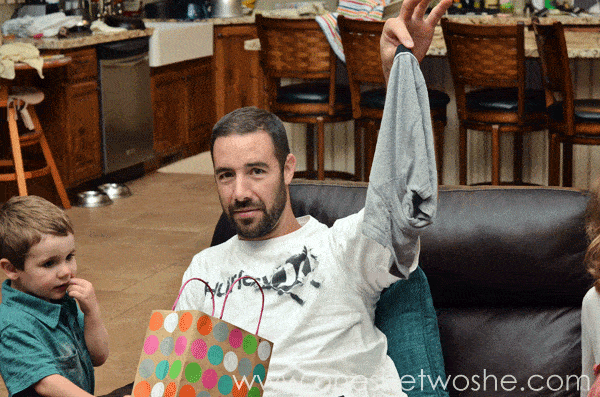 Oooh, Audrey got what the boys wanted… a pocket knife and laser pointer. She didn't keep it long. They were both quickly stolen, and she was fine with that.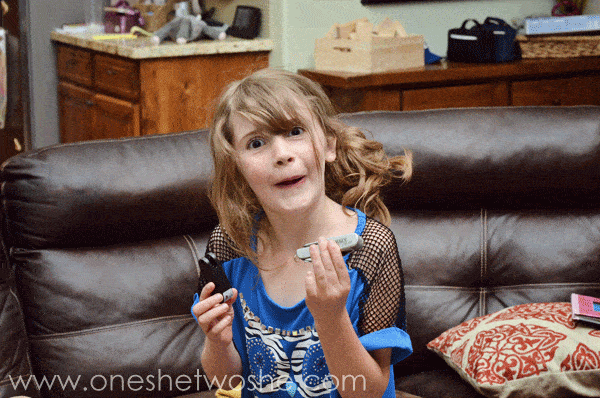 Joey got some blow up elephant I found behind the dryer.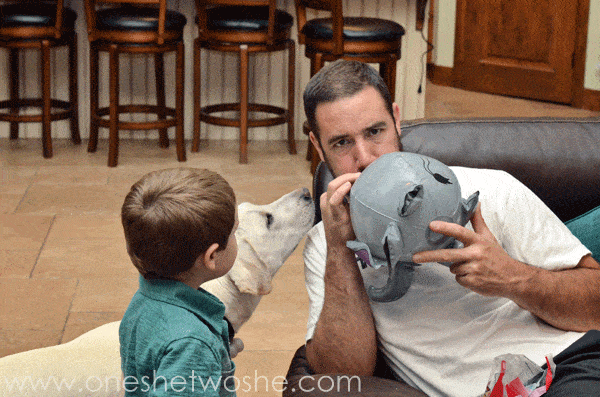 …fighting over the pocket knife and laser point.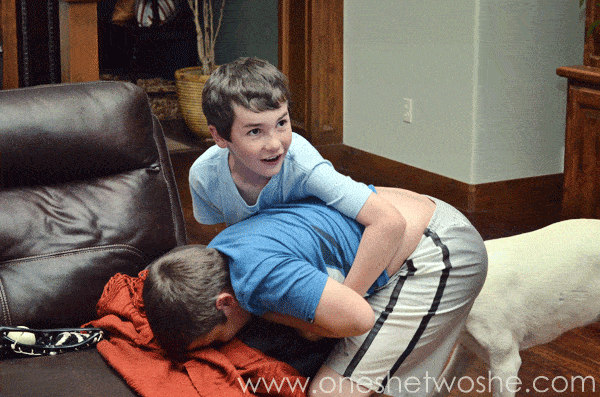 Good times. I know the kids will be begging to celebrate our family's birthday again next year. Of course, we ended the night be chowing down on cupcakes and singing 'Happy Birthday' to ourselves. Ben got his first taste of frosting, which he liked a little too much. Thanks, Dad.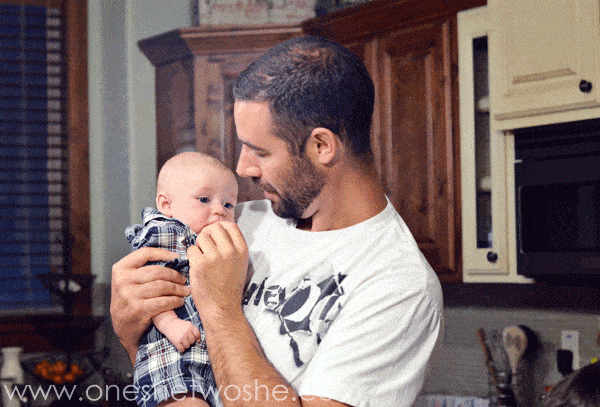 The end.
P.S. There's LOTS more great family ideas where this came from! For example, you might like: Educational BINGO, Motivating Kids to Clean, Family Night: Developing Home Skills.
Be sure to follow 'Or so she says…'. Enter your email address below, and you'll get posts sent directly to your inbox. And/or, find all the social media links on the right sidebar.
Oh, and if you want MORE ideas for your wedding anniversary, check out these posts: Fun Ideas for Your Wedding Anniversary and Wedding Anniversary Ideas Made Easy.