Hey there, and Happy New Year!! It's Carmella back again for another year of fun on OSSS. I hope you all had a very Merry Christmas and happy holidays too! My kiddos and I have settled into a nice Christmas break routine of lazy, pajama days that have involved lots of crafty projects too. And if you know me, those are my favorite kind of days. 🙂
Our ten year old is our resident artist, she' rarely ever seen not doodling something. Do you have one of those too??
Today I am sharing how to turn some of those precious doodles into personalized artwork you can hang on your walls… It's a DIY canvas art project that's a lot easier than you may think.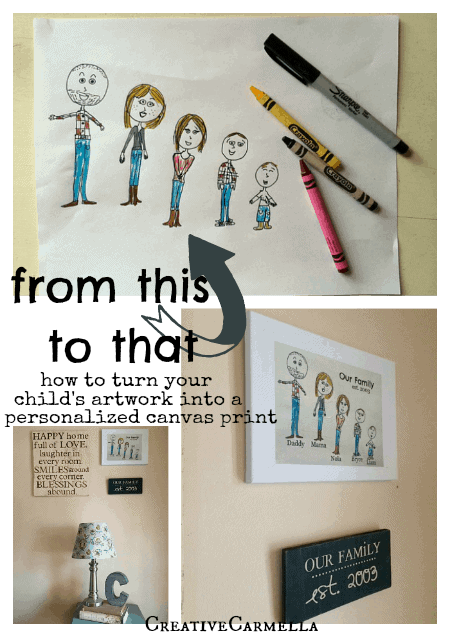 To start with, find a drawing or ask your kiddo to draw their own version of your family line up on a white sheet of paper.
You'll need to scan the drawing and save it as a .jpg file on your computer. Next, open it in a picture editing software; I always use PicMonkey for things like that. There, you can add lettering to your "family photo" to personalize it!
After you have added all that you want to the drawing, save it again to your computer.
Now, you are going to need to print the personalized drawing… on tissue paper! That's right, just cover a piece of card stock paper with white tissue paper and secure it with tape like this…
To print, place the tissue paper covered card stock, tissue paper side down and print the picture closest to the size of the canvas that you will be using.
Using Mod Podge, paint a thin layer onto the canvas. I'm not sure that it makes a difference, but I use matte finish for almost all of my projects like this…. but I am sure you can use what ever you have on hand.
Once you have the entire canvas covered with Mod Podge, place the tissue paper print on top and gently, working from the middle out to the edges, smooth out the print with your paint brush. Once it's in place, you can gently paint a layer of Mod Podge over the entire canvas again… and that's it!
I hung ours in our little entryway, it makes me smile every time I look at it!
I hope you will give this project a try too! It really is such a fun way to display your little artist's creations!
I would love to see your artwork if you try this too! Tag me @creativecarmella on Instagram or share it on my Facebook wall!
Thanks so much for reading, I'll see you again next month!