Hi everyone! I'm Nicky from Kitchen Sanctuary – a family friendly food blog where I share my recipe creations.
I'm delighted to be writing for Or So She Says. For my first post, I wanted to share this delicious Persian Chicken recipe. It's a great make-ahead recipe that you can freeze for later. Even better, it's ready in 40 minutes!
What is it about pomegranates that just make a meal look so enticing?
I think it's because pomegranates = sophistication.
They're the culinary fruit equivalent of diamonds.
I've been a bit obsessed with them in the last month or so. Even adding them to my hot smoothies.
My bottle of pomegranate molasses however, has – until now – sat in the cupboard, unopened, for about 2 years. I always meant to use it, along with the ras el hanout, the dusty jar of artichokes and that packet of strawberry Angel Delight (every adult in the UK ate this mousse-made-from-milk-and-powder throughout their childhood).
I was experimenting with some freezer friendly recipes outside of your normal soups, chili and lasagne and I hit upon this: A tender chicken stew made with ground nuts, stock and molasses. You can make it ahead and freeze it. Then simply defrost, re-heat and top with chopped parsley and pomegranate seeds to get a bright looking, fresh tasting meal that feels like you've just whipped it up.
It's got a sweet-yet-tangy taste to it with just a couple of spices in there – meaning it's mild enough for children and adults alike.
It looks like a recipe you've slaved over, but it only takes about 10 minutes prep and 30 minutes to cook. I've modified the dish slightly from the original Iranian recipe, adding some garlic, a little lime zest, and also using a combination of ground walnuts and almonds, rather than just walnuts alone.
Serve it over rice or cous cous for an easy dinner that everyone will enjoy.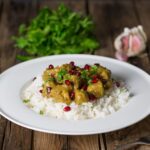 Persian Chicken with Pomegranate Jewels
Ingredients
2

tbsp.

butter

1

medium brown onion

peeled and diced

3

chicken breasts

diced

1

cup

walnuts

2

cloves

garlic

peeled and minced

1/4

cup

ground almonds

1/2

tsp

turmeric

1/2

tsp

salt

pinch

of ground black pepper

1/4

tsp

cinnamon

zest of half a lime

2

cups

of chicken stock

2

tbsp.

honey

1/4

cup

pomegranate molasses
To Serve:
Seeds from half of a fresh pomegranate

Small bunch flat-leaf parsley

roughly chopped
Instructions
Melt the butter in a large frying pan/skillet and add the onions. Fry for 2 minutes and then add the chicken. Cook for 5 minutes, until sealed, stirring occasionally.

Whilst the chicken is cooking, place the walnuts in a food processer and blend just until they turn to fine crumbs. Don't over-blend or you'll end up with walnut paste.

Add the walnuts, garlic and ground almonds to the pan and cook with the chicken for 1 minute. Add in the turmeric, salt, pepper, cinnamon and lime zest, stir and cook for a further minute.

Add the chicken stock, honey and three-quarters of the molasses. Stir, bring to a gentle bubble and simmer for 15 minutes, stirring occasionally.

Taste the stew, add more molasses if needed. Cook for a further 5 minutes and then serve on top of boiled rice or cous cous.

Top with pomegranate seeds and chopped parsley.
Recipe Notes
To store in the freezer, allow the Persian stew to cool as quickly as possible, then place in a sealed tub and freeze for up to 1 month (don't add the pomegranate seeds or parsley).
Defrost in the fridge or at room temperature, then reheat in a pan until piping hot.
Serve topped with pomegranate seeds and chopped parsley.