Hello Everyone! This is Maria from Shopgirl again, and I'm excited to share a super fun and easy Halloween craft idea with you today! It's hard to believe that it's October already, and that the holiday season is just around the corner! These mason jar jack-o-lanterns would be a fun craft to do with kids, and they would also make for great little Halloween party favor containers if you filled them with candy (and not with a lit candle, obviously!) You can make the design as simple or as intricate as you like, and you can use clear or colored mason jars. Just a couple of minutes and a few craft supplies and you have a fun little fall decoration to put on your window sill or to give away! Here's how to make these…
YOU WILL NEED:
Mason jar (size and color of your choice)
Black all-purpose paint, water & paintbrush
DIRECTIONS:
First, make sure that your mason jar surface is completely clean, so wash it with some hot soapy water! Then, come up with your design, and either paint it on freehand, or if you don't want to do that, draw it on a piece of paper in black marker, then place it inside the mason jar and attach it using some tape, and then trace that with your paint brush, and remove the piece of paper from the inside once you are done. Let the paint dry completely, then place your candle in and light it! Or stuff it with lots of candy, place it in a cellophane bag, tie with some fun fall-themed ribbon and give away as a party favor or gift!
For more fall inspired ideas, check these out:
Pumpkin Flower Centerpiece (find it HERE)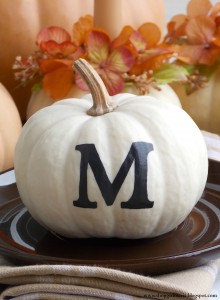 Monogrammed Pumpkin Fall Table Setting (find it HERE)
Pumpkin Sugar Cookies (find them HERE)
I hope you all have a wonderful month of October, and that you enjoy all the fun preparations for the upcoming holiday season! Happy Fall Crafting, and I'll be back in November with some more fun ideas to share with you all! Until then, come on over to visit me at Shopgirl!