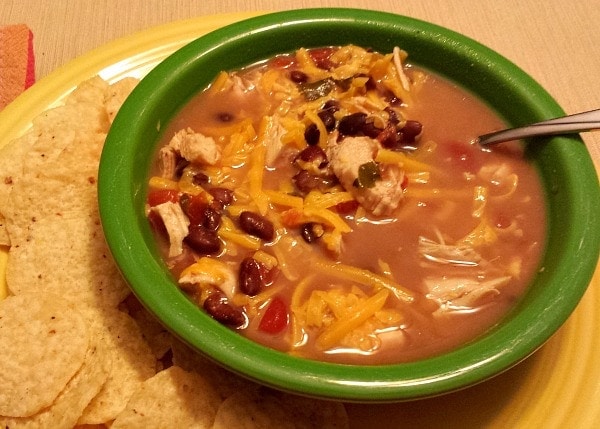 Hi everyone! I'm Victoria from Creative Home Keeper, a blog where I share tips and tricks to live with more intention and simplicity. I'm married to a great guy and together we have 3 adorable kids, the last who was born recently on New Year's Day!
Since I'm a busy mama with a preschooler, toddler and now a newborn, I wanted to share with you one of our family's favorite winter recipes using the greatest kitchen appliance every invented (in my opinion at least) … the slow cooker.
Oh how I love the slow cooker!
I love the simplicity of throwing all the ingredients in during the morning hours, setting the timer and walking away allowing it to slowly cook a savory and mouthwatering dish to be ready just in time for dinner.
I probably use my slow cooker at least twice a week, even more now that my days just got a lot busier!
One of our family's favorite winter recipes is this easy slow cooker Santa Fe Chicken Soup recipe. Not only is it packed with flavor but it's also pretty frugal to make too which is always a plus in my book! I love easy, delicious, crowd pleasing recipes that uses simple ingredients, many of which I usually always have on hand in my pantry, freezer or refrigerator.
Best of all, even though it's packed with lots of protein from the chicken and black beans, and is warm and comforting for a cold winter's night, it's light and refreshing too. This soup definitely fills you up but is the perfect "lighter" soup to eat this time of year when so many are making resolutions to eat healthier.
What makes it feel lighter is the savory chicken broth (you can use either homemade or store bought… I use both based on what I have stocked up) mixed with the simple dried herbs of garlic salt, cumin, onion powder and dash of mild chili powder, topped with the juice of a freshly squeezed lime and chopped cilantro. Flavorful, nutritious yet light and filling.
To add to the flavors of the broth, the heart of the soup includes chicken breast (you can also use tender chicken thighs too), black beans, one can of diced tomatoes drained (or one medium plump tomato chopped), and a can of Rotel. You could also add some corn too if you wish, but since I like to top my soup with crushed tortilla chips, I leave the corn out.
Santa Fe Chicken Soup is light yet filling and super comforting on nights when the temperature is cold. I like to make a big batch in the slow cooker and then freeze the leftovers (if there are any) in individual serving dishes for easy lunches.
For a creamier soup you can top with your favorite shredded cheese or even sour cream. And like all good Mexican dishes, this soup is best when accompanied with heaping piles of tortilla chips, either whole to place spoonfuls on to or crushed and mixed into the soup itself.
This crow pleasing soup is one of our family favorites and I'm more than thrilled to be sharing it here with you too. I hope you enjoy!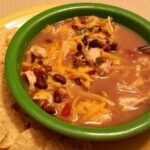 Easy Slow Cooker Santa Fe Chicken Soup
Ingredients
2

chicken breasts

2

cups

black beans

1 15

oz

can of petite diced tomatoes

drained

1

can of Rotel tomatoes

1

TBSP

dried cumin

1

TBSP

dried garlic salt

1

TBSP

dried onion powder

1

tsp

mild chili powder

1

carton of chicken broth

juice of one lime

1

bunch of freshly chopped cilantro
Instructions
Place the chicken, beans, tomatoes, Rotel, dried herbs and chicken broth into a slow cooker and stir to incorporate.

Secure the lid and cook on low for 6-8 hours.

Before serving, remove the chicken and shred with a fork and return back to the soup. Squeeze the lime juice over the soup, being careful to not add any of the seeds. Sprinkle the freshly chopped cilantro over the soup and stir well.

Ladle the soup into serving bowls and top with cheese or tortilla chips if you wish.
Recipe Notes
To freeze, place in freezer safe bowls leaving a few inched of head space to allow for expanding. Stores well in the freezer for about 4 months. When you are ready to cook, simply thaw overnight in the refrigerator and heat up, or you can use the microwave to quickly thaw and warm the frozen soup.