Good morning! I'm SO over-the-moon excited to be here today sharing my very first guest post as an OSSS contributor for 2015 – I'm looking forward to sharing here on the fourth Thursday of each and every month! If we haven't had the pleasure of meeting yet, I'm Kristi, the gal behind making it in the mountains where I share all sorts of budget friendly DIY projects as we work to transform our builder basic home into a rustic mountain retreat.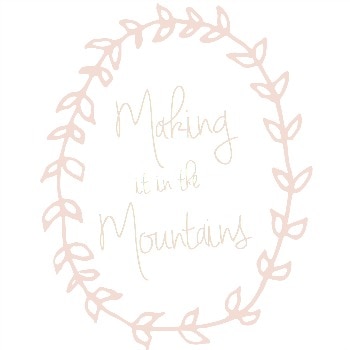 ---
My very favorite French Onion Soup!
I know, I know … everybody claims that their recipe is THE BEST, right? I promise friends, this one is the real deal! It's the best French Onion Soup I've ever had! I mean EVER! Cross my heart, hope to die. But don't take my word for it – go ahead and try it for yourself. It's SO easy to make that there's really no excuse not to.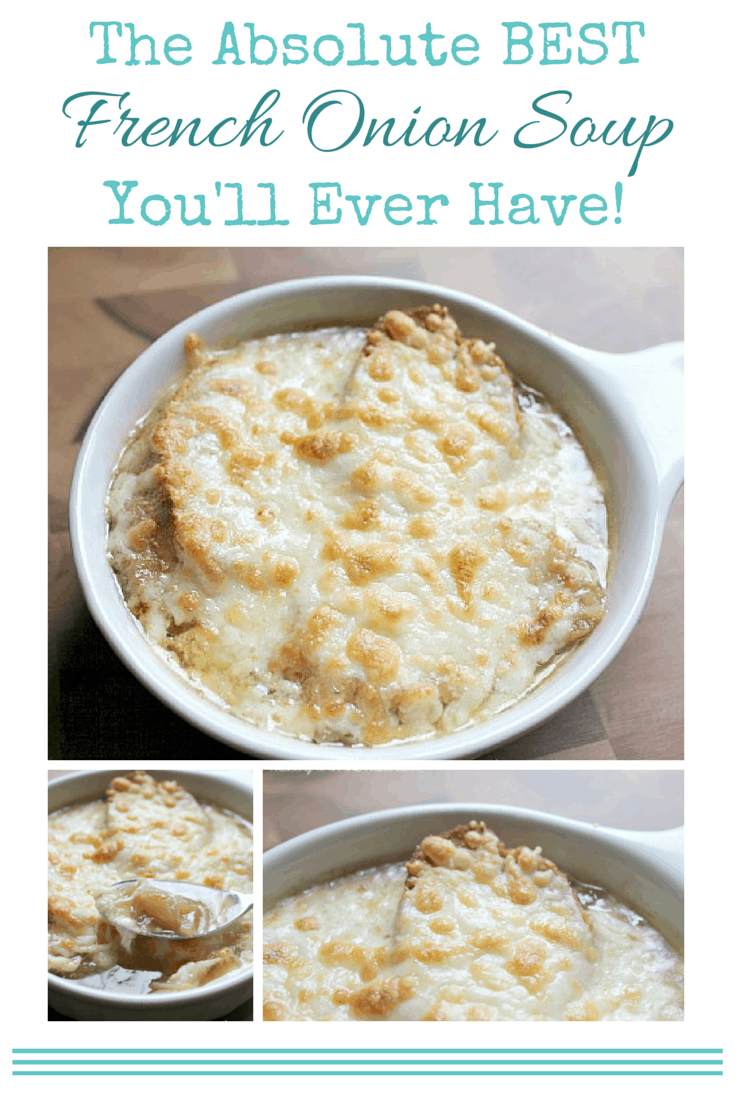 FRENCH ONION SOUP
serves 4 to 6
Caramelized Onions:
1/4 cup butter
2 tablespoons vegetable oil
4 large onions
1/4 cup water
sprinkle of sea salt and freshly ground pepper
Begin by slicing your onions. I like to use a mandolin because it makes SUCH quick work of the slicing and helps me to keep them all perfectly thin, but you could absolutely do this with any old knife too. I'll admit, I'm a bit of an big old onion slicing wimp, so whenever I make this recipe, I pull out my trusty swimming goggles (which I own only for slicing onions by the way, because at 30 years old, I still don't know how to swim!). I most definitely look pretty goofy decked out for the swimming pool, but with these babies shielding my eyes from the onion's mighty scent, I'm able to avoid shedding even a single tear. Go on, try it! Who's laughing now?!
As you're slicing up that last onion, melt the butter and oil in a large stockpot over medium-high heat – the oil will help protect the butter from burning. Once you've made it through all of your onions, toss them straight into the pot with your water and the salt and pepper and finally, cover with a tight fitting lid.
Let it all cook until the onions become quite wet (approximately 10 minutes). Then, remove the lid, and continue cooking over medium-high heat until all of the water has evaporated, making sure to stir them often so the onions don't have a chance to burn. Once the water has evaporated, lower the heat to begin to caramelize the onions. The trick here is to cook them low and slow for about an hour or so, stirring once in a while to ensure they don't stick to the bottom of the pot.
Soup:
1/2 cup of brandy
4 cups of chicken stock
leaves from 2 sprigs of fresh thyme (or 1 teaspoon of dried)
sprinkle of sea salt and freshly ground pepper
any sort of crusty bread
2 cups of shredded Gruyere or Emmenthal cheese (I like to use both)
Once the onions have reached a deep, golden colour and have shrunk dramatically, pour in the brandy, turn up the heat and cook a few more minutes. Add the chicken broth and, once simmering, add the thyme leaves, sea salt and pepper. Continue cooking for 15 minutes or so.
While everything is simmering, get those bread slices toasted up – you can do this in your toaster, or I find it easier to do it all at once in the oven by spreading it on a baking sheet and cooking it at 425 for 5 minutes.
To serve, preheat the broiler in your oven. Ladle the soup into oven safe bowls until they are 3/4 full. Then, cover the soup with your toasted bread and finally, top each bowl with a big ol' mound of cheese. Broil for 3-4 minutes until the cheese has melted and bubbles.


That's it my friends! It really is SO easy to make and is sure to knock the socks off of anyone lucky enough to eat it!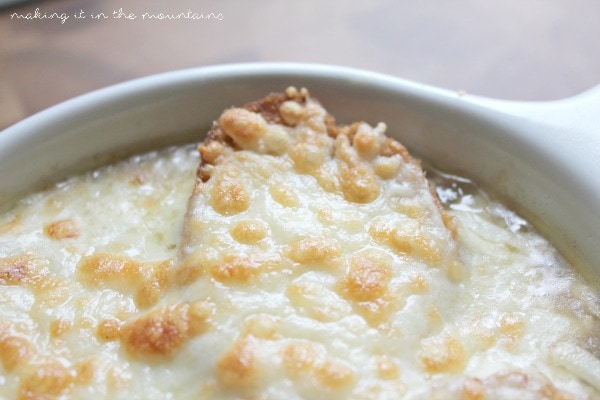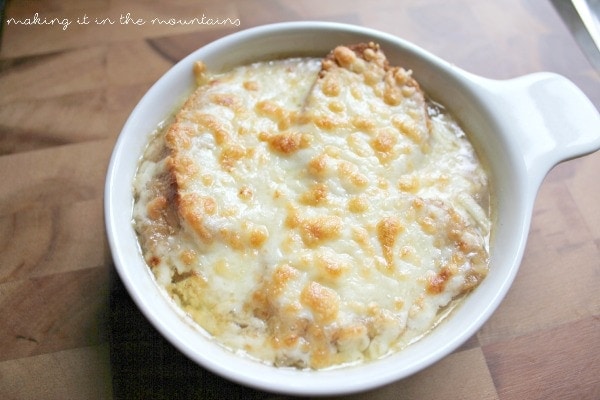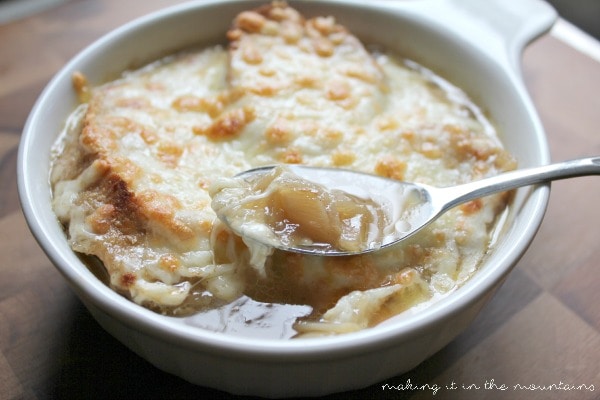 [amd-zlrecipe-recipe:406]
HUGE thanks to Mariel for inviting me to guest post for OSSS throughout 2015!
BIG things have been happening behind the scenes for making it in the mountains – be sure to pop by to read all about it and see What I'm Most Looking Forward to for 2015!
Wishing you SUCH a lovely day!!!
Recipes, please!! (& great family ideas too.)
Subscribe to get our latest content by email.