My family and I are huge fans of Mexican Food! Yum! So, I was super excited to discover a fun foodie-blog,
Married To A Mexican
. Tina makes it so easy for all of us gringos to learn how to make some really good, authentic Mexican dishes. She's shared a fun, kid-friendly recipe on our blog before,
Fried Ice Cream
. Thanks, Tina! But, here's one of my super-duper favorites from her site…Enchiladas Verde de Pollo, I make it all the time!
And, as long as you have the stuff…it's super easy! Remember how we talked about cooking lots of chicken in the crock pot, shredding and freezing it in baggies??
Here's the post
. Anyway, this is a perfect meal to pull out a couple of those bags. Using a rotisserie chicken is also super easy and works great for this!
So, my directions are just slightly different from Tina's but everything turns out the same. This way just worked better for me.
You will need either a rotisserie chicken or about 3 cups of shredded chicken, 5 tomatillos, 2 serrano chiles, 1 jalapeno, 1/2 cup of cilantro, 1/2 onion, 3 cloves garlic, salt, corn tortillas, and queso fresca. Also, whatever you want for toppings and on the side (rice, beans, tortilla chips, salsa, olives, lettuce, sour cream, guacamole, etc.)
Heat your oven to a warm setting…not to bake the enchiladas, just to keep them warm until you are ready to serve. Peel the crusty layer off the tomatillos and boil with the peppers until the tomatillos turn a darker green…you'll know. If you like less spice, use one serrano chile rather than two. But, I like two!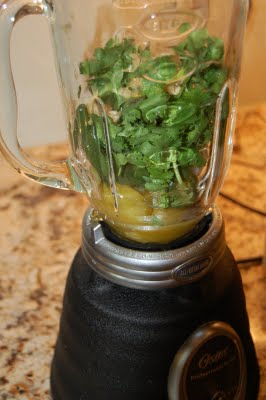 Put the tomatillos, chiles, and jalepenos in a blender with 1/2 cup of cilantro, 1/2 onion, and 3 cloves garlic until you've got a nice sauce. Add a teaspoons of salt, to taste.
I like to pour my tomatillo sauce into a smaller measuring pitcher, so that I can stick it in the microwave to heat it, as needed.
Soften your tortillas by boiling them in hot oil for just a handful of seconds. Set aside. You might need to heat your chicken up so that's it's warm…as in, stick it in the microwave. I usually cover the plate of chicken with plastic wrap, while heating, to help keep the chicken moist.
Place a strip of chicken on the softened tortilla and roll up. Warm up the sauce. You can either pour the sauce all over the top of the enchiladas in a dish and stick in the warm oven until you are ready to serve OR just keep the plain enchiladas warm and then pour the sauce on individually, when serving.
Break up your queso fresca and crumble on top of the enchiladas. Top with whatever you like! Serve with rice, beans, chips, etc. If you love authentic Mexican food, you will love this! There are lots of great sides and dessert's at
Married To A Mexican's
blog that would be great with this! I served this with Lil Luna's
Spanish Rice
.
Enchiladas Verdes de Pollo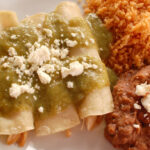 Enchiladas Verdes de Pollo
Ingredients
Rotisserie chicken or 3 - 4 cups shredded chicken

5

big tomatillos

1 - 2

serrano chiles

1 = mild, 2 = medium hot

1

jalapeno

1/2

cup

cilantro

1/2

onion

3

cloves

garlic

1 - 2

tsp.

salt

corn tortillas

Queso Fresca

A must! Find it at most grocery stores by the grated cheese, cream cheese...

Any toppings you want: lettuce

tomatoes, olives, sour cream, etc.
Instructions
Peel crusty stuff off tomatillos.

Boil tomatillos, chiles and jalapeno until the tomatillos turn a darker green.

Place them in the blender with the cilantro, onion, and garlic. Blend. Add a tsp. or two of salt, to taste.

Warm up the sauce in a pot.

Meanwhile, make a hot oil bath to soften the corn tortillas.

Dip the tortillas for less than 10 seconds and place a strip of chicken on them and roll up.

If you want to serve immediately...put on individual plate and pour sauce on top. Top with the queso fresca and any additional toppings.

If you aren't ready to serve individually, line up the enchiladas in a baking dish, pour the sauce on top and place in a warm oven.