Hello, it's Dan again! Thanks for letting me join you for another Sunday post.
I have thought back on the following event often. It is one of those events which makes me cringe to this day. But there is a lesson to be learned on following the straight and narrow.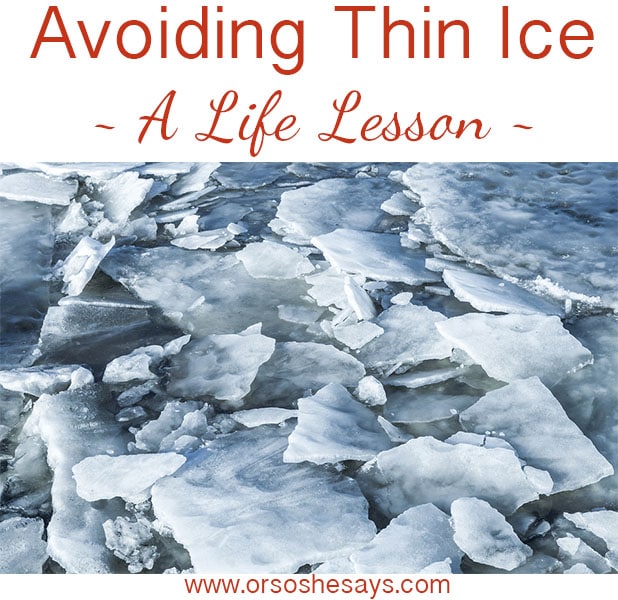 My father was an officer in the Air Force and as a result our family moved quite a bit during my childhood. One assignment found us stationed in Oslo, Norway. The 11th to 14th year of my life was spent in this wonderfully rugged and beautiful country. Though I went to an American School, I was a part of our church-sponsored scout troop. Norwegian scouts afforded me many wonderful and unique scouting experiences. One of those that was probably most indelibly impressed on my mind was our high-adventure camp at the base of the Galdhøpiggen glacier fields, which house the highest mountain peaks in Norway. We had spent months preparing for the camp. We had plans to canoe glacial lakes, spelunk the caves dug out from the mountain side from the retreating glacier and planned the crowning event to be a hike on the glacier itself. The mental pictures I conjured during the planning for the event were spectacular.
When the day of the glacier hike arrived, what I had imagined the glacier to look like and what I saw were very different. From a distance it really didn't look like much. Appearing to be no more than a snow covered ski slope stretching up a mountain side. I remember that it really didn't invoke any sense of awe. That's a glacier? Big whoop. I was expecting those huge glacial ice-shelves I had seen on National Geographic. You know, the ones that slough off huge sections of themselves with a thunderous crash? What stretched before me was nothing like my expectation and, frankly, I was disappointed and already discounting the "high adventure" portion of this hike.
At the base of the glacier we received instructions on how to safely navigate the ice field. The instruction was given in Norwegian, and whereas my skill with the language was marginal at-best, I am certain I missed some of the finer points. What I did gather is that we were to be tied together in groups of 7-8 scouts with 10 foot section of rope between us, that we need to walk in as straight of a line as possible, that we needed to follow the path of the guide group and that we needed to stick to the blue snow and stay off of the red.
Red and blue snow?? I remember wondering if I had heard that correctly. I inquired of another scout who told me to take a closer look at the glacier before us. Sure enough, I noticed a blue-ish tint to the glacier with veins of ever-so-slightly red-hued snow spreading over it in a lightning shaped pattern.
The hike was initially uneventful. Truth be told, it was a bit dull. At first each following group stayed pretty well within the same path the guide took, forming a relatively straight line and keeping off the red snow. Yeah, that lasted about all of 5 minutes. Before long the draw to misbehave became too strong for our weak- willed juvenile minds. At first, jokingly a few began to play "chicken" with the trails of visibly red snow. Then others began to walk in what I can only describe as the furthest thing from straight line as possible. This, of course, devolved into a rather rousing game of "crack the whip" where some within the line attempted to pull the others off course making those (particularly in back) get tossed around and lose their footing. The guide was mostly unaware of the shenanigans behind him as he was far enough ahead and focusing on his footing to really pay us any mind when it finally (and inevitably) happened. Someone in my group began to walk on the red snow daring the others to follow suit. Suddenly, it became red snow open season. We all took turns proving our stupidity in this manner.
The thin red layer gave way with a whooshing sound. The sleepy glacier had opened its jaws and swallowed a scout whole! The pull of his weight falling through the thin ice of the glacier dragged another scout tied closest to him into the crevice in short order. The rest of us were able to collectively keep from being sucked into the chasm by digging in our heels and pulling against the pressure of the rope. Gone was the fun-loving, care-free attitude of the group. We were literally playing a game of tug of war for our lives! With no little exertion and with the help of a nearby other (rule keeping) group we were able to pull those who had broken through to safety. What a pack of idiots we were!
It wasn't until after we had pulled the scouts to safety and collected our wits about us that we fully realized what potential horrors lie beneath the red snow. Our fellow scout had fallen into a crevice, thinly covered up with snow (the light filtering through it gave it the red appearance) which abruptly dropped about 30 feet straight down to an ice shelf. This shelf consisted of sharp spikes of glacial ice and then dropped off beyond that into an even deeper chasm which descended into inky blackness of which the depth was impossible to determine. The boys who had broken through had dangled helplessly above this precipice for a few moments of which I am certain must have felt like eternity. The rest of us were equally as shaken when we were in full view of the danger we had so haphazardly flirted with.
There is a powerful spiritual metaphor to the events of that glacier climb. Here are some of the lessons learned:
Recognize the Guide knows better than you. Tie yourself to Him or follow His lead closely.
Trust in your conscience. I believe that man is given the gift of conscience from God. Just as I knew my actions on the glacier were foolish at the time – I can also recognize when I am off course in my life.
Be aware of who and what you are linked to. I chose to be linked to a group of immature scouts during my hike. What and who am I linked to in this life pulls me in the directions of their choosing not vice versa. Be wary of those people and things that yank you towards the red snow.
Don't assume that you are exempt from consequences. We had all walked on the red-snow for seemingly long stretches with no apparent consequences. How often do we walk to the very edge of immorality (in all its forms) and hang our toes over the precipice? Don't see how far you can walk on the red snow before you plummet. Stay away from it altogether.
There is no soft landing from sin or wrong doing. It is always jagged, cold, and dark. That being said…
Should we fall, that is not the end for us. Our fellow scouts were saved. We all narrowly avoided a truly traumatic end. We have all been redeemed through the sacrifice of our Elder Brother Jesus Christ. He is our spiritual life-line. There is no chasm too deep, no void too dark where his love and mercy do not extend. Better that we not seek out peril, but when, not if, we fall, Christ has linked himself to us and has promised to pull us to Him.
I still skirt too close to the red snow in my life at times but as I have grown older, I have better been able to recognize the times when I am setting myself up for a fall. I am thankful for a Savior who has given me a course to keep me safe but also assists me in pulling out of peril when I have broken through the thin-ice.
For more inspiration, feel free to check out the following posts on OSSS:
The Tender Mercies in Our Lives
Why Are Your Favorite Bloggers Mormon?