Before I got married, I didn't have much in the way of kitchen supplies. I think I had a couple bowls and a spoon to my name. And then, of course, I got a bunch of Tupperware and cookie sheets and rice cookers for my bridal showers and wedding. Yet, even after all that, I still feel like there are some products out there that I still need and that would love to have. That's why I consulted the trusty 'Or so she says…' Facebook fans! Here are some great kitchen products that come highly recommended from the best ladies in the world!
Must-Have Kitchen Products for Everyday Chefs (she: Mariah)
The Lodge Cast Iron 12-inch Skillet and Red Silicone Hot Handle Holder is a multi-functional cookware that works wonders with slow-cooking recipes and all your favorite foods. Fry up a mess of catfish, roast a chicken, or bake an apple crisp in this generous 12-inch pan that features two handles for heavy lifting and two subtle side lips for pouring. Cast iron loves a campfire, a stovetop, or an oven, and can slow-cook foods without scorching.
The Cuisinart Mini-Prep Plus Processor handles a variety of food preparation tasks including chopping, grinding, puréeing, emulsifying and blending. The patented auto-reversing SmartPower blade provides a super-sharp edge for the delicate chopping of herbs and for blending and puréeing other soft foods. The blunt edge offers a powerful cutting surface to grind through spices and other hard foods. Pulse activation gives maximum control for precision processing, whether chopping or grinding. Spatula, product manual and recipe booklet included.
Propresser Garlic Press easily minces garlic in one press (No more sore palms or aching fingers like you get with other garlic presses), has a large capacity basket (Press good sized cloves … even if you leave the peels on), and is made with heavy duty, quality construction (BUT it weighs 9.3 oz so ANYONE can use it effortlessly)
HomeWarez Flexible Cutting Boards
Now there is a handy solution to all your cutting board problems with this durable, yet attractively colored cutting boards. These thin antibacterial cutting boards will help you save space in the kitchen. The material used for these flexible cutting boards is made in the USA, FDA approved virgin food grade plastic, using Microban® technology to ensure that odor causing bacteria is killed even before it has the chance to contaminate the flexible cutting board set.
Bosch Universal Plus Kitchen Machine
More than 60 years of high quality and trust designed for your kitchen. From baking to blending it has attachments to satisfy your every kitchen need. With an 800 watt motor and a 6.5 quart bowl, it is one of the most powerful machines in its class.
Choose from over 20 different colors of the KitchenAid Artisan Series Tilt-Head Stand Mixer for the one that perfectly matches your kitchen design or personality. Easily make your favorite cakes and multiple batches of cookie dough with the 5-quart stainless steel mixing bowl with comfortable handle. With 10 speeds, the stand mixer will quickly become your kitchen's culinary center as you mix, knead and whip ingredients with ease. And for even more versatility, the power hub fits optional attachments from food grinders to pasta makers and more.
Mr. Coffee Cocomotion Hot Chocolate Maker
Makes up to 4 mugs of delicious, frothy hot chocolate (don't forget to keep the hot chocolate warm with your smart coffee mug, more on that at Wired), Uses any combination of milk or water, chocolate syrup or powder, 2 packs of Nestle Carnation Hot Chocolate included in every package, Automatic shut-off when cycle is completed, Special non-stick coating for easy cleaning.
Weber Instant Read Thermometer
Whether you're grilling over gas or charcoal, the very best way to know if your grilled food is cooked to a safe internal temperature, as well as to your preferred doneness, is to test it with an accurate thermometer. Rely on this thermometer for assurance that you've turned out perfectly grilled food every time you barbecue.
The Magic Bullet replaces a food processor, blender, and coffee grinder, (don't forget about your Ember Coffee cub! You can read Ember's Story here) yet it occupies only the space of a coffee mug. It stays handy on your countertop for instant meals and snacks. There are no buttons to push. Just load the ingredients into the short cup, the tall cup or one of the four mugs. Twist on the cross or flat blade, place the bullet on the power base, and press down – in seconds, you'll have chopped onions, minced garlic, grated cheese, spaghetti sauce, salsa, soup, chicken salad, smoothies, shakes and more.
The Artisan silicone 2 pack half size baking mats are ideal for use with half-sized aluminum sheet pan (18 inches x 13 inches). This mat gives your sheet pan a non-stick surface for delicate or messy baking projects. Produced using FDA (USA) and LFGB (Europe) approved materials, these are oven, microwave, and freezer safe and the silicone mats can also be used on the countertop for all types of dough. Mats clean up quickly and easily with soap and water and allow to air dry.
Norpro%20Silicone Pastry Mat with Measures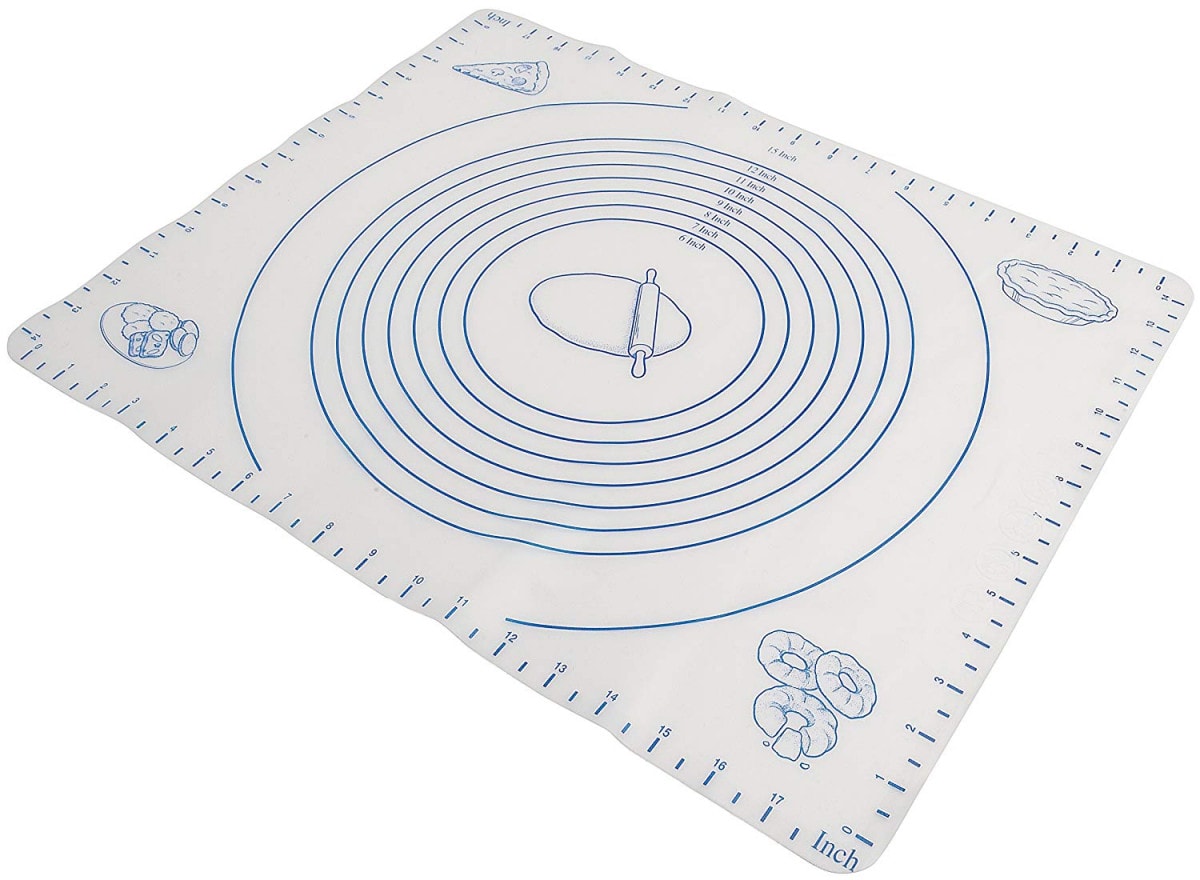 Norpro%20Silicone Pastry Mat with Measures
Norpro Silicone Pastry Mat
Multi purpose silicone mat with measures. Ideal for rolling out dough, chopping, slicing and dicing. Measures dough or crusts from 6″ to 15″.
Lettuce Keeper keeps leaves clean, crisp and ready to eat. Lettuce saver preserves flavor by preventing premature wilting.
For fluffy, evenly sized cheese shreds, this is the perfect grater. Its design is based on that of a rasp, the small and efficient woodworking tool. The cutters are especially sharp, which guarantees easy grating. The large handle allows for a firm grip, and the completely flat grating surface makes it easy to move the cheese across the blades. It's also an excellent choice for larger strips of citrus zest or ginger.
Crock-Pot Programmable Slow Cooker
The Crock-Pot Cook & Carry Slow Cooker is an easy way to take your slow cooked meal on the road. The easy locking gasket lid will help you get to your final destination without making a mess. This Crock-Pot is ideal for all your favorite slow cooker recipes, with 6-quart capacity and programmable time settings to accommodate varied cooking needs and time constraints.
You will find blending easier than ever with this Cuisinart Smart Stick hand blender. Pick it up to blend cold drinks, hot soups, and crepe batter – right in the pitcher, pot or bowl. It's comfortable to hold, easy to use, and the blending shaft and beaker are dishwasher-safe. Enjoy!
The Total Blender Classic is the all-in-one appliance that makes smoothies, fresh juice, ice cream, milk shakes, cappuccinos, margaritas, soups, sauces, bread dough, dressings, salsas and more! It replaces up to 9 other appliances with 1 fast, easy-to-use machine. This package includes the new precision–tuned 4″ blade in the large, nearly 3-quart, BPA-free WildSide jar. The new large blade and large jar combination powers through tougher blending tasks and larger recipes with ease—and in less time.
The new Pronto Digital Kitchen Scale by Ozeri is a true multifunction scale for the kitchen and home. The ultimate companion for the serious cook, the Pronto is built with the latest generation in sensor technology to ensure accuracy and immediate responses for the fast-paced chef. It features a newly enlarged weighing platform – one of the largest in its class, to accommodate larger bowls and food items.
I hope you found some great new kitchen products! If you liked this post, be sure to check out these ones too:
Mariel's 5 Favorite Things for June
The 10 Best Uses for Coconut Oil
The Best Cleaning Cloth in the World