If your summer is anything like mine, it's HOT OUTSIDE!! My kids are constantly begging me to take them somewhere to go swimming, set up the sprinklers outside, or go to the local splash pad. Anything to be able to get wet with cold water! I decided to do a little research and track down the coolest and BEST rated products that are all about water fun for kids! …and, maybe adults too. 🙂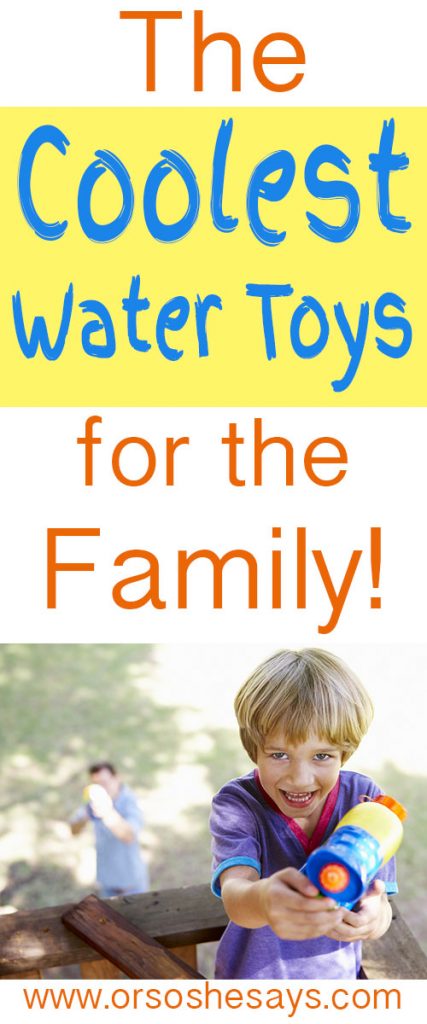 Okay, my boys would be all over these Bunch O Balloons! They're all about pelting each other with water balloons and to be able to have a ton of the filled in just a minute or two would be the icing on the cake! These get great reviews, only issue I see is that a few people said they are somewhat strong and don't always break when they hit someone. But, knowing my boys (and husband)… they'll break. Oh, and they're a little pricey. So, I would save these for a special water war occasion. 🙂
Speaking of water balloons, this 3 person water balloon launcher really takes things up a notch! I can see this being a blast at a family party, especially if you had TWO of them and everyone split in teams. Oh, baby. A couple notes: There are different distance launchers available and most people recommend the 100 yard launcher as it's easier to stretch back and can launch closest to the actual said distance. The launchers with a higher distance are said to be harder to pull back and better for really strong adults. Also, several reviewers suggest having an adult around to help out.
Two of the most favorite kid's sprinklers out there are the Fire Hydrant Sprinkler and the Melissa and Doug Blossom Sprinkler. Both get GREAT reviews and are a cheap and easy way to get the kids outside and having fun.
It's filled with water and launches about 4 stories in the air… this Water Rocket has outdoor fun written all over it. All you need is a bike pump and water, and you're set! Reviewers love how AMAZING it works and that it's such a great price, just $15 bucks. They suggest using an empty 2 liter, rather than the bottle that comes in the kit. Note: after launch, the water empties out, so it's lighter and safer for the ground-folk upon fall.
This Rainbow Ring Inflatable Play Center is a great price ($55) and customer favorite for toddlers. I'm really thinking of getting this for my little boys. With their older siblings always out and about, they often get stuck at home. This would be a fun way to get them outside! Reviewers highly recommend using an electric pump to blow this up. They mentioned it takes FOREVER with a foot pump and don't even think about using your mouth…
There's a lot of water guns out there. But for the quality, ease of use, and the great price (just $10 bucks!), this is the reviewer favorite: The Nerf Super Soaker FreezeFire. I foresee a crazy Family Night in the future. I would love one for everyone in the family!! These sell out fast, but Amazon usually has several sellers offering them. I just went to buy 8 of them but some sellers restrict how many you can buy, so I had to buy from a few different ones, which was fine, as Amazon just combines it into one order.
Slip n Slides never seem to last longer than a couple uses. But, these Wahii WaterSlides are made of a durable, slippery, UV protected plastic, that are said to be better than a roll of hardware store plastic, hence the higher price. I can't vouch for that. But, I do know that people are having a BLAST sliding down these things! The slide comes in both 50 and 75 feet. Simply squirt some dish soap (or baby shampoo) down the slide, run some water down from the top, and start sliding! These are great for parties or to bring to local parks for big parties. It's recommended to not leave it on the grass longer than 48 hours straight, otherwise you risk damaging your grass. I've actually done one these before with a large youth group, it was super fun! I've even heard of people lining the bottom of the slide with these inflatable bowling pins, to make a fun bowling game out of it!
Hope those give you some great water fun for kids ideas!!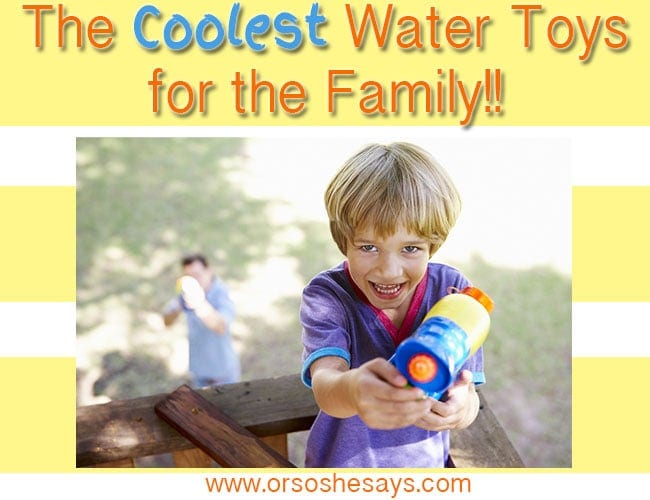 If you liked this post on Water Fun for Kids, I bet you'll like these ones too!!