There's a place, here in Utah, called Gardner Village. It's where women go, with their girlfriends, to escape poopie diapers, dishes, and laundry. It's the cutest place, with little gift shops, a restaurant, bakery, candy store, and ducks…I love the ducks walking around! My best girl, Paula and I, can be found there…oh, every few months, munching on a bit of heaven…namely, Fried Avocados. It's served as an appetizer and we each get our OWN plate. No sharing avocados. It's like sharing expensive chocolate, shampoo, and husbands. Just doesn't happen. Anyway, these fried avocados make all of our troubles go away. All the sudden, our kids are cute again, our husbands are the "best ever," and we've never felt as pretty. Magical.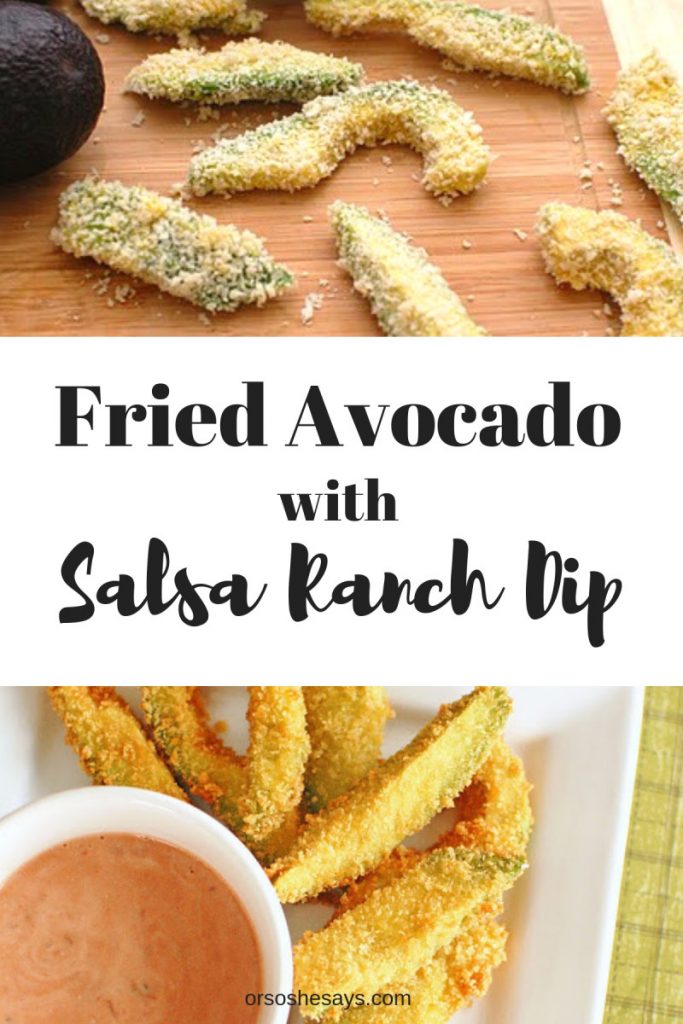 So, in an effort to incorporate this magic into my every day life, I knew I had to figure out how to make them at home. Paula is mad cause I made them without her, but I couldn't wait any longer. She's preggo and moves realllllllllllllllly s.l.o.w.l.y. By the time she made it to my house, I would be beating my kids, hating my husband, and feeling ugly. I needed some avocados. And, surprise, surprise…they were so easy to make!
Okay, you need some fresh, perfectly ripe
avocados
…not too hard, not too mushy. You also need a couple eggs, something to bread them with (such as Panko or bread crumbs), salsa, and ranch dressing.
Get some oil heating on the stove. You want your oil to be around 350 degrees. You can use a deep fryer, pot, or dutch oven. I just pour in a couple inches of Canola Oil.
Pour some breadcrumbs in a bowl, and whisk a couple eggs in another bowl.
Chop your
avocados
and dip them, one at a time, into the whisked egg, then into the breadcrumbs. Set aside.
When the oil has reached 350 degrees, lower the breaded avocado into it and fry until golden brown.
Make a dipping sauce by mixing ranch and
salsa
. You decide how much…if you like more of a salsa flavor, add more salsa than
ranch
, and vice versa. I prefer more ranch…so, next time I think the dipping sauce will be a lighter color than pictured. That's it! Eat up and let the magic begin.
Fried Avocado with Salsa Ranch Dip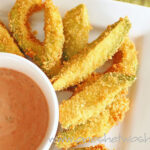 Fried Avocado with Salsa Ranch Dip
Ingredients
Avocado

Bread crumbs or Panko

Eggs

Salsa

Ranch Dressing

Canola oil
Instructions
Heat a large pot (or dutch oven, or deep fryer), ½ way filled with oil (or more), until it reaches 350 degrees. Try to maintain the temperature the entire time, by using a thermometer.

Slice up your avocados.

Dip them in a bowl of whipped eggs, then into a bowl of bread crumbs.

Set aside, until oil is hot.

Using a slotted spoon, lower the coated avocado into the hot oil, and let fry until the bread crumbs turn golden.

Remove and set on paper towels, to absorb excess oil.

To make the dip, mix roughly 3 parts ranch dressing to 1 part salsa.
My kids LOVE avocados. And, now that I can make fried avocados at home, I should probably share. I had all of the kids hovering around me while I took the pictures. The minute I was done, they dove in…and literally, 5 seconds later…gone. Shane said, "this is my favoritist food, ever!"
These would be a perfect appetizer for the Superbowl!
Hamilton Beach (35033) Deep Fryer, With Basket, 2.8 Liter Oil Capacity, Electric, Professional Grade
Lodge 6 Quart Enameled Cast Iron Dutch Oven. Classic Red Enamel Dutch Oven with Self Basting Lid . (Island Spice Red)
Cooks Standard 12-Quart Classic Stainless Steel Stockpot with Lid
Polder Candy/Jelly/Deep Fry Thermometer, Stainless Steel, with Pot Clip Attachment and Quick Reference Temperature Guide
Lifver 15-inch Porcelain Embossed Rectangular Platter/Serving Plates, Set of 3, White
Other appetizer and drink suggestions:
And, a couple fun Superbowl posts:
Have a great weekend!