Today's Picks: Gifts for Babies and Toddlers
Pick #1
What little girl doesn't like to be "just like mommy?!" This Kidoozie My First Purse is ADORABLE and perfect for 1-3 year olds. Reviewers love that it's brightly colored, simple, and has the basic essentials for a purse. This cute little toy allows for realistic roleplay and includes just enough pieces to be engaging without being too overwhelming. Plus, maybe having her own purse will keep her out of yours! 😉
Bundle this gift with: This Little Tikes Shopping Cart would go great with this purse! She can do a little grocery shopping with her purse on her arm; SO CUTE! Don't forget the food: Melissa & Doug Let's Play House! Grocery Cans, Melissa & Doug Wooden Pantry Products.
Pick #2
I am really digging this Fisher-Price Sit-Me-Up Floor Seat. I have used a Bumbo for my kids in the past, but I think I would like this seat better! My baby girl has some seriously chunky, Michelin Man, I-want-to-squish-them-all-day thighs, and I have had a really hard time getting her in and out of our Bumbo! My son's thighs were not nearly as voluptuous and I remember having the same struggles. I like that the seat of this chair is fabric and the leg openings look a little more forgiving for bigger babies. I also love the teething toys that are attached!
Bundle this gift with: This Peek-A Who? board book gets awesome reviews and it's a great one for babies! You could also check out this Lamaze Clip & Go Firefly Freddie which would be fun to attach to the chair or to a car seat or stroller. Another option that is popular among babies in the 4-10 month range is this Infantino Textured Multi Ball Set.
Pick #3
My two year old son LOVES to be my little helper. Anytime I start vacuuming, mopping, sweeping, etc. he HAS to help! It makes it kind of hard to mop with a toddler in front of you trying to push the mop in another direction! Now, don't get me wrong, I love that he is such a good and willing helper, but I think I would get a lot more done if he had his own set of cleaning tools. Enter the Melissa & Doug Let's Play House Dust, Sweep & Mop Play Set! This set is perfect for anyone with similar "helper struggles." The set includes a broom, mop, duster, dust pan, brush, and storage stand, is made with durable wood construction, and is perfectly sized for kids.
Bundle this gift with: If they're going to help you clean, don't let it stop there! Check out the Melissa & Doug Let's Play House Spray, Squirt & Squeegee Play Set and this Toy Dyson Ball Vacuum.
Pick #4
One thing I know for sure is that babies love lights, bright colors, and music. This VTech Rhyme and Discover Book has it all! This top rated little book features a variety of classic nursery rhymes that your child can sing along to and fun, colorful illustrations. It has buttons, lights, and movable parts on each page to keep babies engaged. Plus, it has a volume control/OFF switch to keep you sane! 😉
Bundle this gift with: This Fisher-Price Brilliant Basics Baby's First Shape Sorter is a favorite at our house, or these B. Toys B. One Two Squeeze Blocks are a great first block set for babies as they are squishy, chewable, and free of pointy corners.
Pick #5
One of my son's all time favorite toys is this Little Tikes Gas 'n Go Mower. Anytime my husband is out mowing the lawn, you can be sure to find my toddler right out there with him pushing his little Gas n' Go Mower. My neighbors are always commenting on how cute he is mowing the lawn with daddy! 🙂 This mower is pretty slick; the sounds are mechanical, so no batteries are required, when you push the mower the beads in front pop, the pull cord makes engine sounds, and there is a clicking key, moveable throttle, and removable gas can! Basically, it's a kid's dream come true.

Bundle this gift with: Get them some more tools for helping outside, like this G & F JustForKids Kids Garden Tools Set or pair it with the Goodnight, Goodnight Construction Site Book; top rated and another one of our favorites.
Pick #6
I'm not sure why kids love these bead mazes, but they do! They have these at my pediatrician's office and they are like magnets to the kids! I usually try to keep my littles away from such toys because to me they are just festering balls of disease, so I think if we had one at home my kids would love it! They could finally play with the toy that mom would never let them touch! I have my eye on this Melissa & Doug Classic Bead Maze. It's a good size but not too complicated for little ones.
Bundle this gift with: This cute Melissa & Doug Stacking Train or the Melissa & Doug Magnetic Wooden Fishing Game and Puzzle would pair really well!
Pick #7
How cute is this LeapFrog Number Lovin' Oven?! From counting and cooking to serving and sharing, it's the perfect preschool prep for little chefs. This oven makes learning to count and share fun! Kids can move the number slider to explore numbers, time and temperature, and when they place the pan on the stove it makes sizzling sounds. Your toddler can bake the bread, pizza and cupcakes on the baking tray and the light will blink off when the food is ready. They can slice and serve treats onto plates with the spatula to share, and when they're done, everything fits inside. Score!
Bundle this gift with: I've been wanting to get this LeapFrog Fridge Phonics Magnetic Letter Set for a while; reviewers love it for teaching kids their alphabet and letter sounds. This book, Five Little Monkeys Jumping on the Bed, is a fun one if you want to stick with a numbers and counting theme.
Pick #8
For the wee ones, I LOVE my Peke-buo diaper bag. I take it everywhere! It's small and compact with SO many practical features. I have never seen a diaper bag as well thought-out. Check out the images below… look at all of those features! This would make a great gift for a new mom or even for a baby (bundle it with a fun toy!)

Need MORE gift ideas for babies and toddlers??
Check out the She Picks! from past years:
Gifts for Babies & Toddlers 2011
Gifts for Babies & Toddlers 2012
Gifts for Babies & Toddlers 2013
Gifts for Babies & Toddlers 2014
Gifts for Babies & Toddlers 2015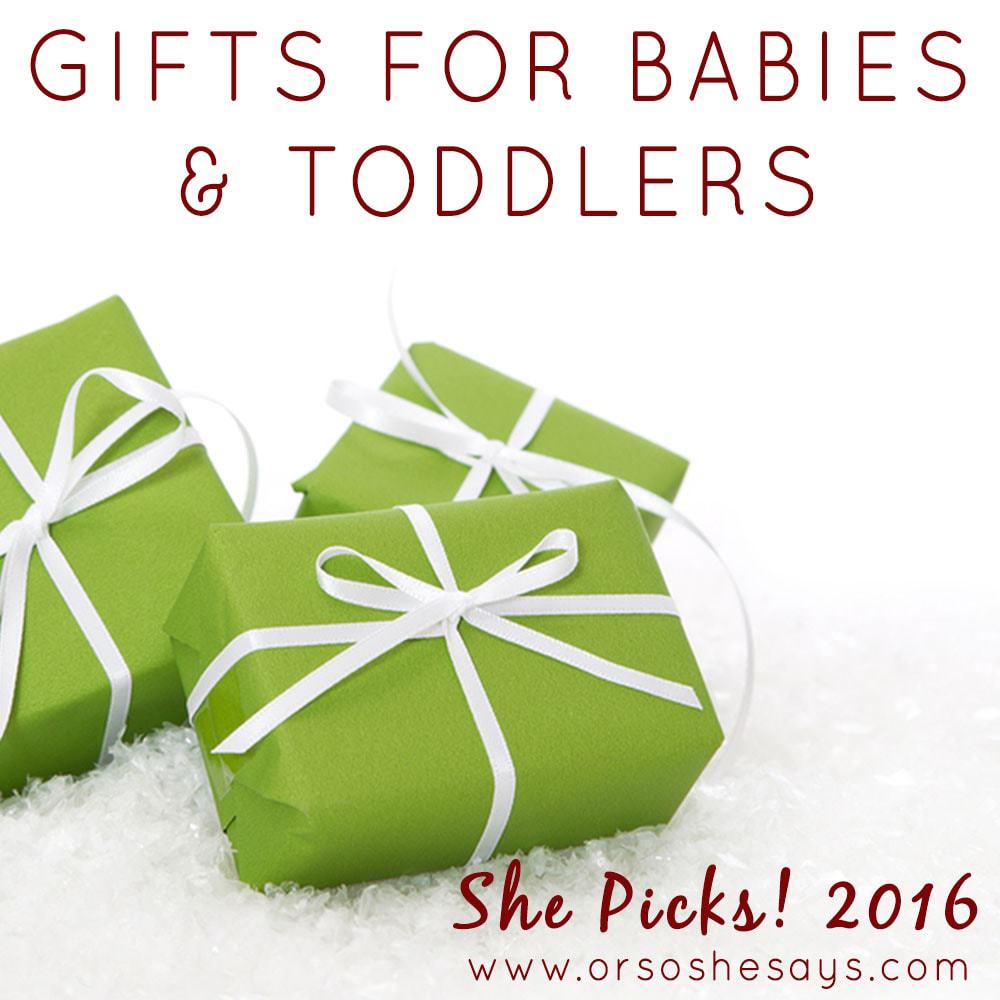 See ya back here tomorrow for even more She Picks!