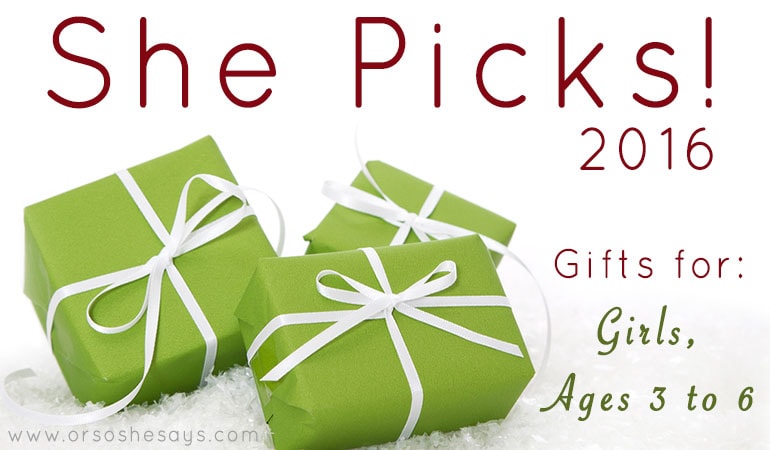 Gifts for Girls, ages 3 to 6
Pick #1
My little girl loves to mix up food and take orders for her restaurant (our play kitchen). We have a simple one from IKEA. Of all of the play dishes we have purchased, the Green Toys Tea Set and Dishes have held up best. We have had them for three or four years and they look like new! They are food and dishwasher safe, so she can even use them to serve up dinners and tea parties with real food. And, they are made in the USA from recycled milk jugs.
Bundle this gift with: a cute chef's set for a fun gift!
So many little girls love to dress up and put on pretend make up. I love how many pieces this Little Cosmetics set has for a really good price, and I love that it looks just like a grown up make up set. Gets FANTASTIC reviews too!
Bundle this gift with: some new dress up shoes or this fun play castle.
Pick #3
My daughter also loves anything to do with art and creating. She constantly asks if she can "craft" with my supplies. She would love a kit like this Crayola Creativity set. And I love that the paints and markers are washable!
Bundle this gift with: A nice sturdy Art Easel will give the kids a perfect place to work on their projects!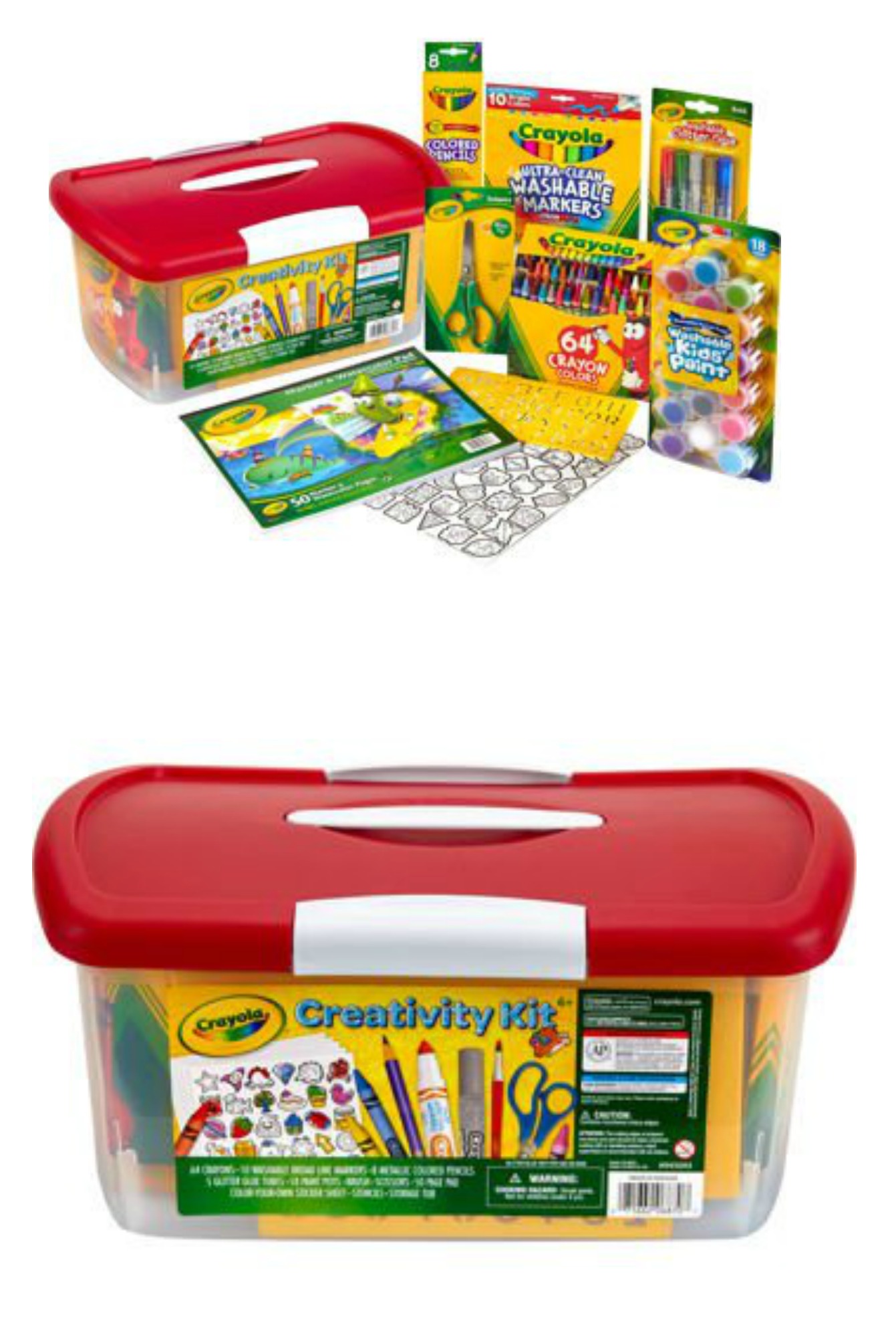 Pick #4
The VTech Touch and Learn Activity Desk looks like a great way to give your preschooler a place to do her work, just like mom and dad. It has great reviews and features songs, learning activities, an interactive screen that helps preschoolers learn how to write letters and numbers, over 160 vocabulary words, and more. The activity top flips up and turns into a chalk board or an easel for even more creative fun.
This seems like it would be perfect for playing school, so pair it with some fun Wipe Clean Activity Books.
Pick #5
The Osmo Coding Game looks like a fun way to introduce kids to coding and computers. Kids love playing on tablets, this is great way to have fun and learn at the same time. Just snap the blocks together to create commands and learn computer programming fundamentals in a simple way!
The Pizza Co Game also looks fun. And the Genius Kit would be great for practicing words, letters, and creative thinking.
Pick #6
I love to have some toys that are easy to take on the road to play with in the car or on vacation. Magnetic wooden dress-up dolls are perfect and I love supporting a startup, like Build & Imagine. Their Career Set has two dolls, with 12 career outfits to play with, all in a handy carrying case. I love the different career outfits (like video game designer or chemist) and how it's different than the typical fashion magnetic dolls that are everywhere. They also have coordinating houses and even a fun draw and build house to color.
Pick #7
I love subscription boxes! It is fun to get real mail, and kids especially love finding something just for them in the mail box. Subscription boxes are especially exciting and there are SO many options for different interests – art, science, STEM, preschool, books, etc.
Raddish Kids looks like a great box to introduce kids to foods and cooking skills. Ages 3-7 can create the included recipes with parent help, and older kids can start cooking on their own.
A few other fun subscription boxes: Green Kids Crafts, Surprise Ride (featured on Shark Tank!), or Gift Lit.
Need MORE gift ideas for girls, ages 3 to 6??
Gifts for Girls, ages 3 to 6 2011
Gifts for Girls, ages 3 to 6 2012
Gifts for Girls, ages 3 to 6 2013
Gifts for Girls, ages 3 to 6 2014
Gifts for Girls, ages 3 to 6 2015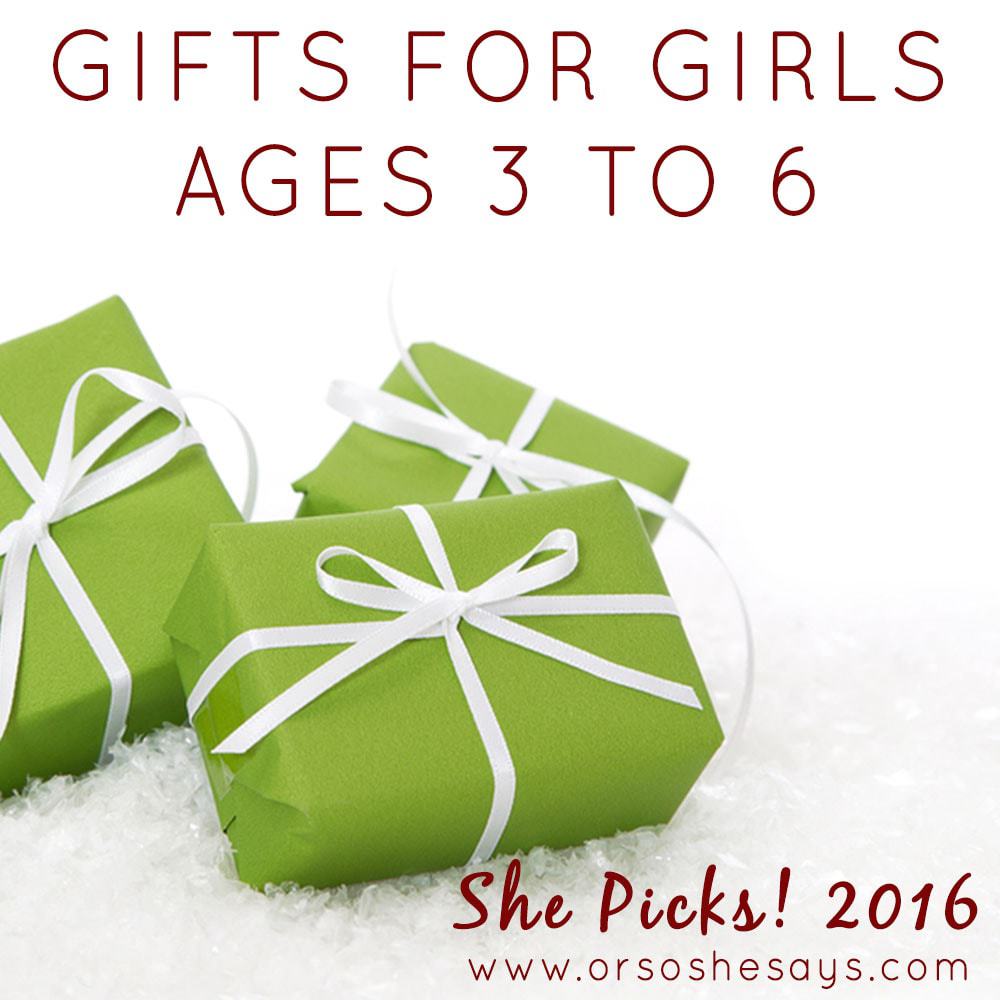 Did you miss these She Picks! posts from THIS year?? We recently shared: