Today's Picks: Gifts for Boys, Ages 3 to 6
Pick #1
You know how everyone loves magnets? Well, this magnetic building set is more unique than anything you've seen! It's extra fun because it comes with a magnetic playboard to make traveling with kids easier AND provides a solid foundation to build stronger structures. The snap on wheels help your kiddo design trains, cars, trucks, or even rolling robots. The sky is the limit! We love how the BizyBeez MagStix Wheel Set encourages creativity and imaginative play. It's great for all ages and abilities, but we think your 3-6 year old son will definitely have this MagStix Wheel Set at the TOP of his wish list! Oh, and we love their mission about truly helping families have more peace and joy. They donate 20% of their profit to children with special needs. So cool!
Pick #2
This toy box/play mat gets amazing reviews on Amazon and would make the perfect gift for any dinosaur-loving preschooler! The ZipBin Dinosaur Collector Toy Box & Play Set zips opens to reveal vibrant, pre-historic graphics on the play mat then zips back up for strong and study storage. It encourages your kids to use their imagination and then CLEAN UP. Score!
Bundle this gift with: This National Geographic Little Kids First Big Book of Dinosaurs and the Prextex Pack of 12 Plastic Dinosaur Figures. These dinosaur stuffed animals would be fun as well! They have a Triceratops, Stegosaurus, T-rex, Brachiosaur, Ankylosaur, etc. I love that they look realistic rather than cartoonish.
Pick #3
I just think this Seedling Littles Galaxy Rocket Adventure Cape Costume Kit is ADORABLE! Basically, it's a wearable rocket ship cape that your kid can decorate with planetary patches and rocket flames. I would love watching my son pretend to fly around the room and launch into space with this fun and NON-ELECTRONIC toy. From reviewer "MC": "This is a super cute, simple toy that leads to creative play. My three year old loved it the second it was out of the box (beautifully box by the way). I wasn't so sure at first as it has a home made simple vibe, but it's really nicely made. I'm so used to all the new toys with a million parts that I was like wait a minute. This is just Velcro and a rocket pack with patches. But his face totally lit up and he put it on immediately and was zooming around the house. I actually felt great giving my son a low tech present that enables creative play."
Bundle this gift with: This book, There's No Place Like Space from Cat in the Hat's Learning Library, is a top-rated pick for space-loving kids. Check out this Melissa & Doug Solar System Floor Puzzle and this Moon In My Room Remote Control Night Light, too!
Pick #4
This cool little toy is something I have never seen before! The Djeco Vehicles Tap Tap Toy allows kids to "build" their own vehicles using a corkboard, small nails, and a hammer. This set comes with parts to build a tow truck, bulldozer, police car, fire engine, and tractor over and over again. "Build, create and pound it in place. Kids pick up the hammer and do the work. Following the simple illustrated instructions kids locate the correct pieces and line them up on the corkboard work mat. With a wooden hammer and silver pins, they proceed to pound each pin through the pre-drilled holes. Vehicle construction is underway! With easy to understand cards children can create their very own vehicle." This toy is recommended for kids 4 and up but reviewers recommend you use your best judgement in deciding if your child would be able to use the small pins and hammer safely as the pins are sharp.
Bundle this gift with: This If I Built a Car book looks super cute and this Big Wheel Monster Bus is a favorite at our house.
Pick #5
How cool is this Play-Doh Touch Shape to Life Studio?? "After you download the Play-Doh Touch app on your smart device, it's time to Shape, Scan, and Explore! To start, simply shape a creation with Play-Doh compound, place it on the Studio, and scan it into the app. The creation will come to life right on screen, ready to explore and play! Unlock even more fun by making and scanning new friends with the character stampers to discover their unique personalities and worlds." My son would go crazy over seeing his creations come to life in an app game he can play!
Bundle this gift with: You've got to make sure they've got enough play dough to create with so be sure to snag this Play-Doh 10-Pack of Colors. For even more creativity get them this top-rated and affordable Play Doh Fun Factory Set!
Pick #6
The VTech Kidizoom Action Cam is like a GoPro for little kids! Recommended for kids 4+, this camera is super durable! It comes with a waterproof case and two different mounts that attach it to bikes, skateboards, helmets, and more! It takes photos and videos that can be reviewed right on the screen on the back of the camera (I love that!). It also includes kids games, fun photo effects, frames and filters. Plus, it's rechargeable which is a MUST for my kids who like to burn through batteries in one day…
Bundle this gift with: A SanDisk Ultra 32GB microSDHC Card is important if you don't want to have to keep deleting photos for your kids so they can take more. Give them tons of space for their photos/videos and spare yourself the extra work!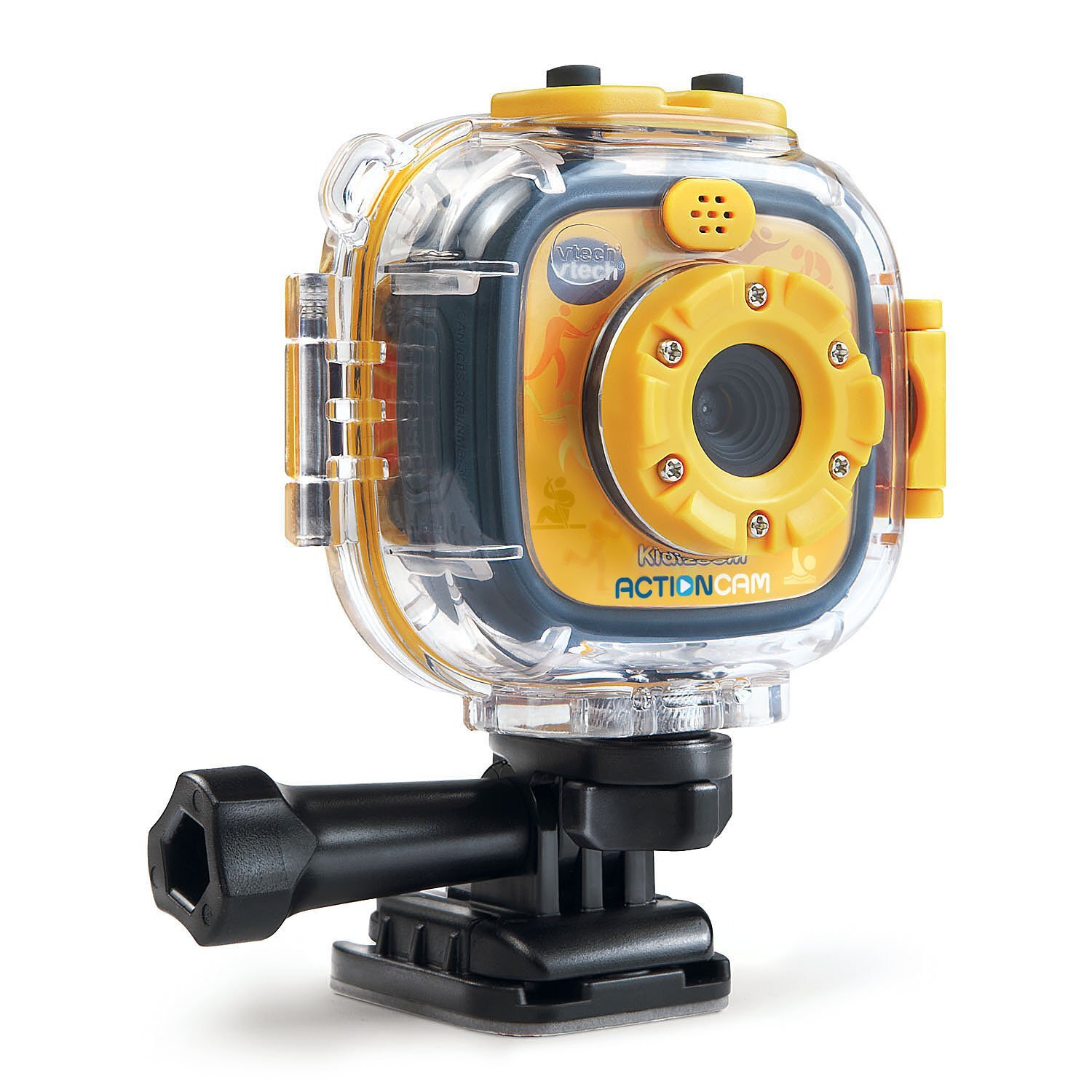 Pick #7
This Hot Wheels Ultimate Garage Playset has been a huge hit with my kids! Literally because IT IS HUGE! Tons of parking space, a race track, a spiral track with a hungry shark at the bottom, a repair shop, a gas station, a helicopter pad, two elevators, and more! This is every car-loving kid's dream! I even like playing cars with them when we play with this; it's so fun to see who's car will get eaten by the shark and who's car will be the fastest on the race track
Bundle this gift with: My son loves this Hot Wheels Mega Hauler and the price isn't bad at all! If their Hot Wheels collection is slim, check out this Hot Wheels 20 Car Gift Pack.
Pick #8
This Outdoor Explorer Set for Kids is another great gift option for curious young boys. Get them outdoors exploring nature with the binoculars, magnifying glass, compass, and a PeakPlus tactical flashlight all included in this one set. It comes with a carrying bag and none of the items require batteries! Plus, this set will save you a bunch of money; buying these toys separately adds up fast!
Bundle this gift with: This Backyard Safari Cargo Vest would make the perfect pair for the explorer set. If your child is into bugs this National Geographic Little Kids First Big Book of Bugs would be a fun guidebook for their outdoor exploring and don't forget the Backyard Safari Critter Shack for them to store and observe all of their little critters in!
Need MORE gift ideas for boys 3-6 years old??
Check out the She Picks! from past years:
Gifts for Boys, ages 3 to 6 2016
Gifts for Boys, ages 3 to 6 2015
Gifts for Boys, ages 3 to 6 2014
Gifts for Boys, ages 3 to 6 2013
Gifts for Boys, ages 3 to 6 2012
Gifts for Boys, ages 3 to 6 2011
Did you miss these She Picks! posts from THIS year?? We recently shared:
Gifts for Babies & Toddlers 2017
Gifts for Girls, ages 3 to 6 2017
Did you know Mariel and Mariah share even more gift ideas every single day on their She Picks! Facebook group?? It's true! And, we would love to have you join us and 6k other members. Just click HERE or the image below to join us.