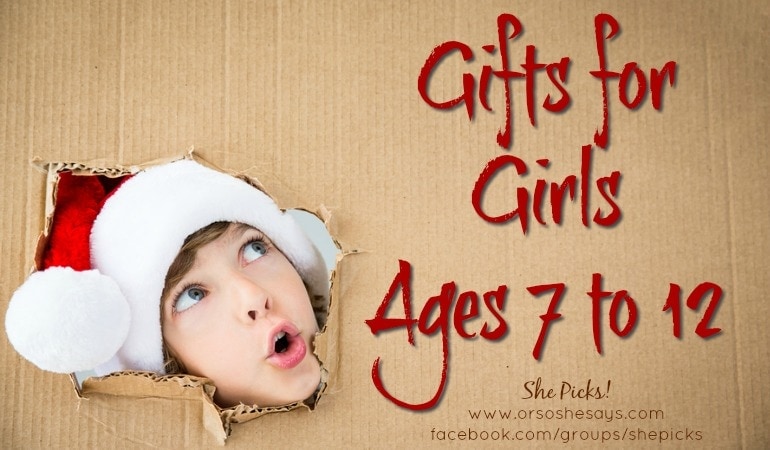 Gifts for Girls, ages 7 to 12
Pick #1
One of the hottest things this year have been the reversible sequin pillows and clothing. My girls love playing with all the reversible sequin shirts at Justice and they're dying for their own bed pillow. These things are mesmerizing! Run your hand back and forth and the sequins change colors… it's really cool! These are pillow covers, so be sure to buy the insert too.
Bundle this gift with: this Color Changing Aura Nightlight that gets GREAT reviews or a Faux Fur Saucer Chair (great price!)
Pick #2
Did you know there are rock painting clubs?? Me neither! Apparently, certain cities have clubs where you paint rocks, hide them in the city, then leave clues on a designated Facebook page for others to find them. Whoever takes it, can leave behind a painted rock of their own. I thought that was a fun idea! It doesn't look like anything is set up in my area, that I can find, but I think my girls would still love to paint rocks, and who knows… maybe they can get a little club started! This Hide & Seek Rock Painting Kit it the perfect way to get started. There are also some fun rock painting idea books available (see bundling ideas below.)
Bundle this gift with: The Art of Stone Painting book for lots of awesome rock painting ideas, a set of different paint brushes, additional rocks, or even more paint colors.
Pick #3
I've had my eye on these Cat Ear Bluetooth Headphones by Censi for my 9 year old daughter. She has a thing for cats and dinking around on her iPod… so, between the two, these are perfect!
Bundle this gift with: a fat stuffed cat, cat stud earrings, or some cozy cat socks.
Pick #4
The Big Book of Girl Stuff gets great reviews and I think both of my girls would love it! It's a book packed full of questions and answers regarding life at their age… such as babysitting, makeup, family and friend advice. It even has some fun ideas of things to do, because they're kinda over my suggestion of folding laundry.
Bundle this gift with: …something really girly? How about this super cool acrylic makeup/jewelry organizer that my daughter loves. Another idea is this fun nail polish set.
Pick #5
Both my 9 and 11 year old are always asking me to put their wallets in my purse when we go out… I'm like, "Get your own!" Well, maybe Christmas will come in handy… lighten my load a little. 😉 They both have a couple purses, but they're pretty juvenile. I think they would love something a little more 'grown up' but still girly. I'm loving these crossbody bags by Sakroots. I love crossbody bags for ease-of-wearing and they're safer to tote around (less likely to be grabbed away.)
Bundle this gift with: Purse essentials! This Rosebud Balm, Organic Hand Sanitizer, or these insanely cute coin purses.
Pick #6
Both of my daughters love creative writing. For homeschool, they are always begging me to give them 3 random words to create a story around. I think they would love to have one of their stories turned into a professional looking hardcover book with this Story By Me kit!! It would be a fun childhood memento too.
Bundle this gift with: a nice set of markers and a jar of story starters.
Pick #7
For homeschool this year, we've been studying how people lived in the mid to late 1800's. We've done several projects like making homemade butter, learning to crochet, and making homemade soap. I was super impressed with the soap making kit I found on Etsy from Make with Mum. It was a million times better than any kid's soap kit that you would find in a toy store. Even the sealed box that came in the mail smelled amazing, thanks to the essential oils and dried flowers inside. The quality of everything was top-notch and all of my kids had a great time making their own soaps.
Bundle this gift with: a gift card making kit, to have a cute card to present with their soap for their special recipient.
Need MORE gift ideas for girls, ages 7 to 12 years old??
Check out the She Picks! from past years:
Gifts for Girls, ages 7 to 12 2011
Gifts for Girls, ages 7 to 12 2012
Gifts for Girls, ages 7 to 12 2013
Gifts for Girls, ages 7 to 12 2014
Gifts for Girls, ages 7 to 12 2015
Gifts for Girls, ages 7 to 12 2016
Did you miss these She Picks! posts from THIS year?? We recently shared:
Gifts for Babies & Toddlers 2017
Gifts for Girls, ages 3 to 6 2017
Gifts for Boys, ages 3 to 6 2017
Did you know Mariel and Mariah share even more gift ideas every single day on their She Picks! Facebook group?? It's true! And, we would love to have you join us and 6k other members. Just click HERE or the image below to join us.