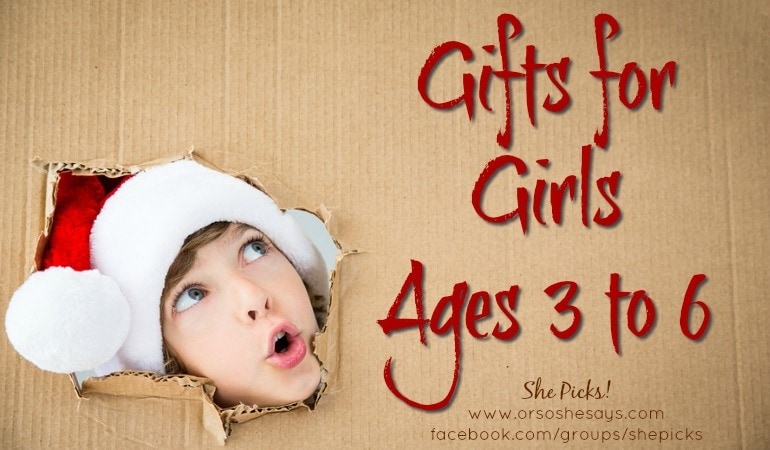 Gifts for Girls, Ages 3 to 6
Pick #1
These L.O.L. Surprise Dolls are a HOT item this year! You know those fun homemade gifts where you have to unwrap a ball and gifts come out along the way? That's what these are! By the time the ball is unwrapped, you have a cute mini doll with accessories… 7 layers of surprises. The ball also doubles as a storage container. I have a feeling these will sell out fast, so you may want to jump on it. Also, there are plenty of imitations out there, so be sure it says L.O.L. Surprise! and it's shipped from Amazon. Another place to look is Toys R Us and Kmart, where I found some of mine. Even my 9 and 11 year old want some of these!
Bundle this gift with: The Never Girls Collection book set (my daughters loved these books!) or this Alex Lip Gloss Making Kit.
Pick #2
So many girls love American Girl dolls, so it was fun to see that American Girls has a building block collection! The blocks are bigger and easier to put together than Legos. Even my older girls they think these Mega Bloks by American Girl look way fun. There are several sets available.
Bundle this gift with: an American Girl Sticker Book or this American Girl Baking Recipe Book.
Pick #3
I remember loving playing "doctor" when I was little. Doctors have so many cool gadgets! This 19 piece doctor kit with a light-up x-ray machine by Kangaroo gets fantastic reviews. Both girls and boys, ages 3 to 6, would get a kick out of this. Not only is it super fun, but a great way to get the kiddos using their imagination.
Bundle this gift with: a doctor jacket and the classic The Berenstain Bears Go to the Doctor book.
Pick #4
Oh man, this is cool. I love this idea! My kids have always loved their play kitchen, but this Melissa & Doug Star Diner takes pretend play even further. How fun for them to pretend to own a restaurant and take care of their customers. I love, love, love this! It's making me wish I could rewind time back to when my girls fit in this age group. Sigh…
Bundle this gift with: a Melissa & Doug Condiment Set, Waitress Outfit, and Seasoning Set.
Pick #5
VTech Go! Go! Smart Friends are super cute and unicorns have been the BIG thing this year, so this Twinkle the Magic Unicorn set would make a super cool gift. Twinkle walks, flaps her wing, and her horn even changes colors. The unicorn is bigger than you think too… or, at least bigger than I thought it would be. Check out the pictures on Amazon. Kids can create a whole kingdom of princesses, princes, magical creatures and more with the Smart Friends. There are so many to choose from!
Bundle this gift with: this sweet book, Uni the Unicorn or this Unicorn Scratch and Sketch Book.
Pick #6
If your little gal loves to play dress-up, these Classic Storybook Princess Costumes are a customer favorite and come in a 4 pack. There's also another set available with four other princess dresses, so their dress-up collection could really be something! Reviewers are impressed by the quality for the price, so that's definitely a good thing. 🙂
Bundle this gift with: Princess Dress Up Shoes, Dress Up Tiaras, and the adorable Today I'll Be a Princess book.
Pick #7
These Aquabeads are super cool and a great way to spark creativity and work on those fine motor skills. My 6 year old son has a similar kit that he looooooves. It's neat to see him working so hard on it and adding each new creation to his "collection." This set comes with 24 colors, jewels, beads, design trays, the pen, and hours of fun. Check out the bundling suggestions for some smart additions to this.
Bundle this gift with: More beads! This Mega Bead Set is perfect. Also, these 10 double sided template sheets will keep kiddos creating endlessly.
How about MORE gifts for girls, ages 3 to 6??
Check out the She Picks! from past years:
Gifts for Girls, ages 3 to 6 2011
Gifts for Girls, ages 3 to 6 2012
Gifts for Girls, ages 3 to 6 2013
Gifts for Girls, ages 3 to 6 2014
Gifts for Girls, ages 3 to 6 2015
Gifts for Girls, ages 3 to 6 2016
Did you miss these She Picks! posts from THIS year?? We recently shared:
Gifts for Babies & Toddlers 2017
Did you know Mariel and Mariah share even more gift ideas every single day on their She Picks! Facebook group?? It's true! And, we would love to have you join us and 6k other members. Just click HERE or the image below to join us.