Today's Picks: Gifts for Families 2016
Pick #1
My son has been begging to make homemade lollipops. I remember doing that with MY mom when I was little! I was looking online and saw lots of cute shapes on Amazon, but I kind of like these thicker old-school metal ones, more than the thin plastic molds that are so popular right now. There are lots to choose from in the shop. This is a perfect holiday activity to do as a family and you could even give some as gifts to neighbors, or let the kids share one with their friends.
Bundle this gift with: Everything you need to make lollipops, like Lollipop sticks, Lorann Oils Fruit Flavorings, and a Candy Thermometer.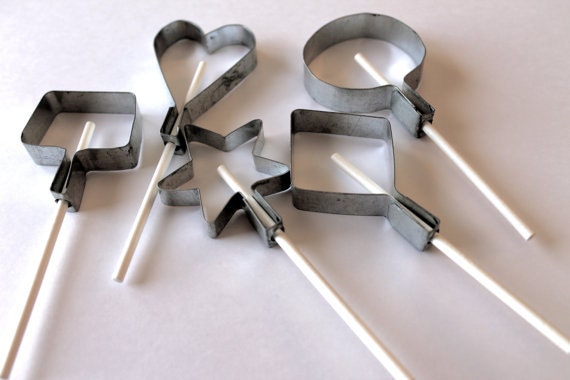 Pick #2
This SodaStream Fountain Jet Sparkling Water Maker is something we have and my family has had a lot of fun with it! There are several fun flavor additions and the result is much better for you than store-bought sodas. Don't forget to get some extra carbonators!
Bundle this gift with: Ingredients to make yummy Italian sodas, like this Torani Syrup and whipped cream. You could also get some cute Fountain Shoppe Classic Soda Glasses and these fun Reusable Color Striped Straws!
Pick #3
One of my in-laws' favorite outdoor games is called Kubb. We play it together at reunions, while camping, at family BBQs, etc. It's quick to learn, fun for adults AND kids, and a really great group game!
"Kubb is a unique lawn game involving strategy and skill. This team game can be enjoyed by both young and old. Toss the dowels underhand and topple your opponent's kubb blocks. Topple all of their blocks, then the king and your team is victorious!" ~Amazon
Bundle this gift with: This Personalized Picnic Blanket Tote would be a great addition to the game. Perfect for those who would rather sit on the lawn and watch the competition!
Pick #4
This might be called "Dad's" book, but it's really fun for the whole family! Dad's Book of Awesome Projects: Fun Do-It-Yourself Projects for Families gets great reviews. Inside, you'll find projects of all types, such as: painting, woodworking, baking, sewing, and more. "From Stilts and Super-Hero Capes to Tinker Boxes and Seesaws" this book sounds like it's packed with a ton of fun! Plus, many of the items you need for the projects can be found right in the home!
Bundle this gift with: What's a project without a good Hammer?? Also, you could throw in a Measuring Tape and Plier Set to make sure they have all the tools they'll need to create some awesome memories!
Pick #5
I recently stumbled upon this Bring Your Own Book Game and it sounds so fun and super unique! I'm seriously considering this one as a gift for my OWN family.
"Your old favorite book is now your new favorite game! Draw a category card, grab a book, and then quickly skim to satisfy the chosen prompt (and the judge!) with the most entertaining phrase. Can you find "a ridiculous tabloid headline" in that best-selling novel? How about "dating advice" in your well-worn cookbook? Since you can use any book, you can play with any group and find limitless potential on every page! Where will you discover "the title of the next hit party game?" Find out when you Bring Your Own Book!" ~ Amazon
Bundle this gift with: Some other fun family games, such as: Codenames (AWESOME reviews!), Sushi Go!, and Exploding Kittens (so popular right now!) It would also be fun to include this best-selling Nordic Ware Microwave Popcorn Popper. Can you say, GAME NIGHT?!
Pick #6
Give the gift of family fun with these Lucky Bums Snow Sleds! Get a few (depending on the size of the family) so that they can have races and so that everyone can enjoy the slopes!
Bundle this gift with: If there are babies or toddlers in the family check out these Paricon Toddler Boggan Sleds. Reviewers say they are PERFECT for little ones! Also, these Paricon Snowball Makers are my secret weapon in snowball fights. Don't forget the Stephen's Hot Chocolate; so many delicious flavors to choose from!
Pick #7
In my family, growing up, we had the tradition every year of reading The Night Before Christmas while passing around White Elephant gifts. Every time my mom would say, "the," we had to pass our gift to the person next to us. That would continue until the story ended. I think my kids would love the tradition too!! And, of course we couldn't pull it off without the book. I love this particular version because of the beautiful pictures!
Bundle this gift with: Some other great Christmas tales, such as: The Polar Express, The Christmas Story, How the Grinch Stole Christmas!, Room for a Little One: A Christmas Tale, Bear Stays Up for Christmas, and The Berenstain Bears and the Joy of Giving. You could also get this Super Soft Warm Winter Cabin Throw Blanket; it's perfect for cuddling up under while you read your new Christmas books!
Need MORE gift ideas for families??
Gifts for Families ~ She Picks! 2009
Gifts for Families ~ She Picks! 2010
Gifts for Families ~ She Picks! 2012
Gifts for Families ~ She Picks! 2013
Gifts for Families ~ She Picks! 2014
Gifts for Families ~ She Picks! 2015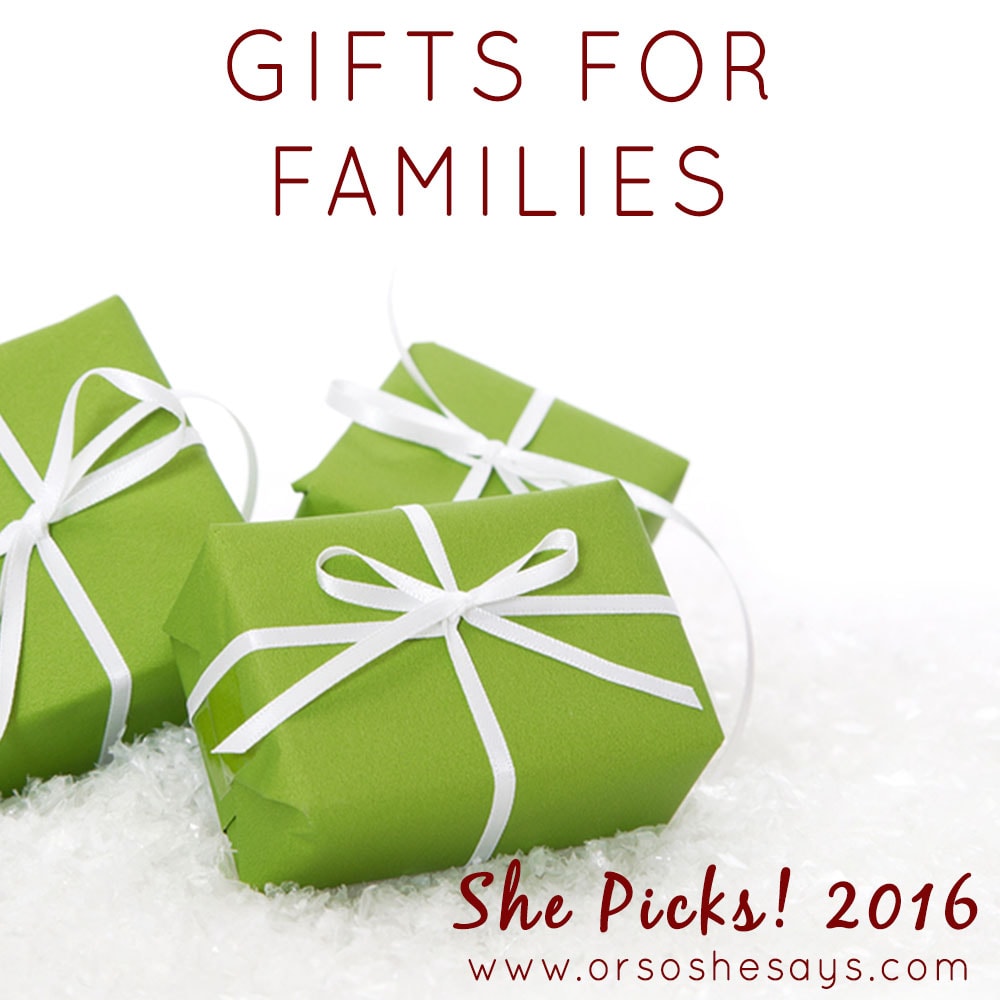 Did you miss these She Picks! posts from THIS year?? We recently shared: