Today's Picks: Gifts for Teenagers
Pick #1
A boy's teenage years are all about his journey to manhood, and every "man" needs a good multitool. This Gerber Suspension Multi-Plier is one of the top-rated multitools on Amazon AND it comes with a lifetime warranty! It folds down to make it only about 4″ long and is packed with 15 different handy tools.
Bundle this gift with: This book The Manual to Manhood: How to Cook the Perfect Steak, Change a Tire, Impress a Girl & 97 Other Skills You Need to Survive looks hilarious and actually helpful! You could also throw in some of my favorite gum: Trident Mint Bliss Sugar-Free Gum.
Pick #2
Have your teen throw out their old cardboard, over-the-door basketball hoop and get them this one! The SKLZ Pro Mini XL Basketball Hoop is the real deal. With an extra large, sturdy backboard and a steel, spring-action rim, this thing was made specifically with rambunctious teens in mind!
Bundle this gift with: The hoop comes with a ball, but some reviewers purchased this SKLZ Pro Mini Swish Foam Ball as well hoping to minimize any damage that might come to any nearby lamps or vases. 😉 You could also get your teen tickets to see one of their favorite basketball team's games!
Pick #3
If you've got a budding artist on your hands, you'll want to check out these Colore Watercolor Pencils. Basically, these are really high quality colored pencils that can be used both dry and wet. The artist can create a beautifully colored drawing and then blend and spread the colors with the included water brush or a damp sponge. Your teen will LOVE getting creative with this unique set!
Bundle this gift with: These Canson Watercolor Paper Pads would make the perfect canvas for their artwork. Also, this Ohuhu Electric Pencil Sharpener is top-rated, battery AND USB powered, and has a full year warranty; pretty good for a pencil sharpener!
Pick #4
This Nail Art 20 Piece Kit is an awesome gift for teens into cosmetology. It comes with basically everything they would need to create amazing-looking nails! This kit has great reviews and comes with a FREE nail art ebook!
Bundle this gift with: This SHANY Nail Art Set includes 24 nail polishes and is top-rated AND affordable. For more nail art ideas, get them this DIY Nail Art Book. One of these cool Tweexy Wearable Nail Polish Holders would be fun, too!
Pick #5
I laughed out loud when I found this pick; the Sonic Bomb Loud Dual Alarm Clock with Bed Shaker! The Sonic Bomb, AKA The Bomb, is perfect for those teens that are known for sleeping in until noon or pushing the snooze button a million times. "At 113db, this dual alarm is sure to rattle your windows and force your eyes open. And if that doesn't put your feet on the floor, the pulsating alert lights and Super Shaker bed vibrating unit will." If the sound is a little much for neighboring sleepers, your teen can just switch off the sound and wake to the powerful bed shaker. You've got to read some of the reviews on this baby! 🙂
Bundle this gift with: A funny graphic tee is always a safe bet with a teen; here are some of my favorites: Guess What? Chicken Butt Graphic T-Shirt, Blittzen Mens T-shirt Newton's 1st Law T-Shirt, I'm Not Arguing Just Explaining Why I'm Right T-Shirt.
Pick #6
*As featured on the She Picks! Facebook Page*
I recently stumbled upon these Create 365 Happy Planners; I immediately fell in love!! These beauties are NOT your average day planners. They are GORGEOUS, have awesome layouts, and are made to be personalized! Teens LOVE personalization! They come in a few different sizes- mini, regular, and big. There are also some seriously adorable accessories available to go with the planners such as stickers, washi tape, snap-in folders, extension packs, snap-close covers, sticky notes, etc.
Bundle this gift with: Any of these Happy Planner accessories would be a perfect addition to these fun planners!
Pick #7
The Polaroid ZIP Mobile Printer is such a fun gift for teens! This little gadget can easily print out any picture straight from your teen's mobile phone or tablet! Compatible with iOS & Android Devices, the Polaroid printer prints 2×3" full-color photos that feature a peel-back, sticky backing; perfect for lockers, journals, or mini photo albums.
Bundle this gift with: Make sure to get them some extra Polaroid 2×3 inch Premium ZINK Photo Paper!
Pick #8
*As featured on the She Picks! Facebook Page*
For the teenage bookworm in your life… look how fun these bookmarks are! The MyBookmark Crazy Bookmarks are handmade with polymer clay and hand painted. WHOA! There are lots of really cool options to choose from!
Bundle this gift with: These trendy Mermaid Tail Blankets would be fun, and of course you need to pair a bookmark with a great book! I consulted some real-life teenagers and here are a few of their top book picks: In Between, Cinder, Unbroken, I Am Number Four, Brown Girl Dreaming, The Selection.
Need MORE gift ideas for teenagers??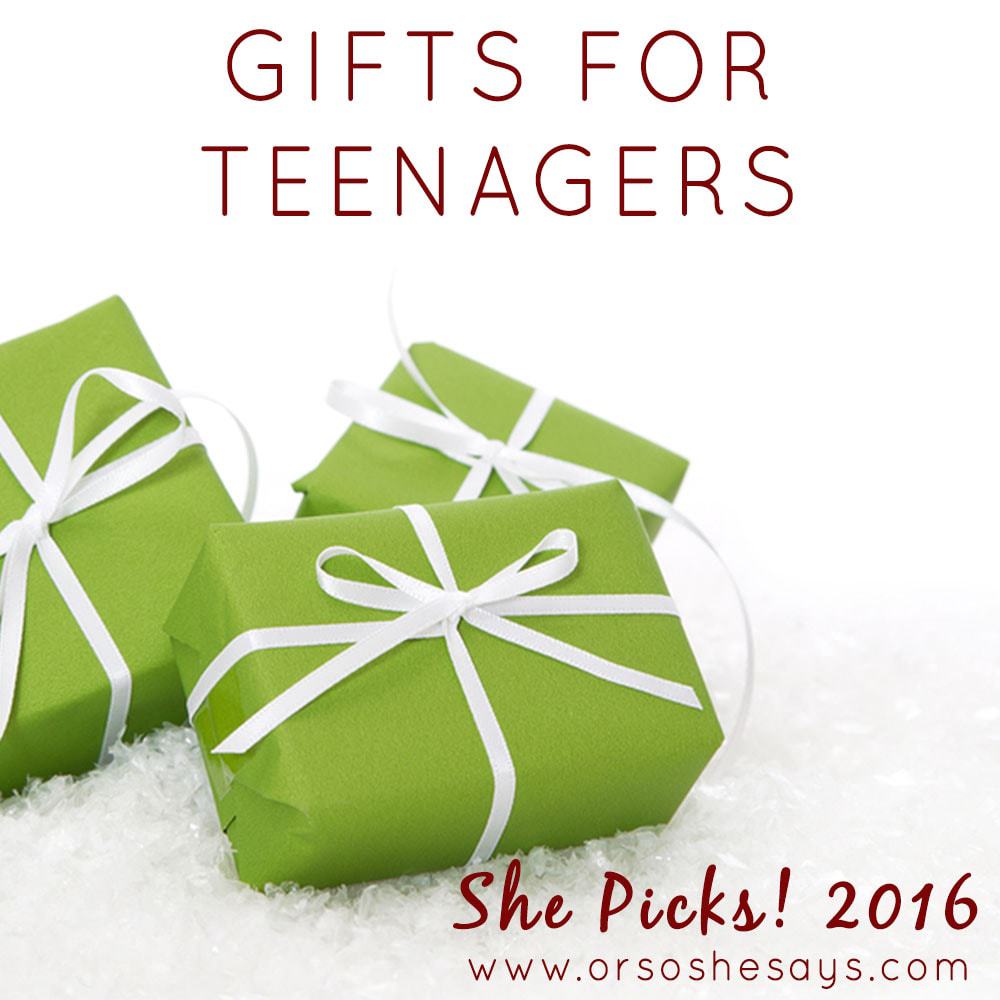 Did you miss these She Picks! posts from THIS year?? We recently shared: