Glowing Halloween Costumes are a great way to add a little extra safety to a spooky night! See how you can transform an existing dress-up into something glowy in today's post.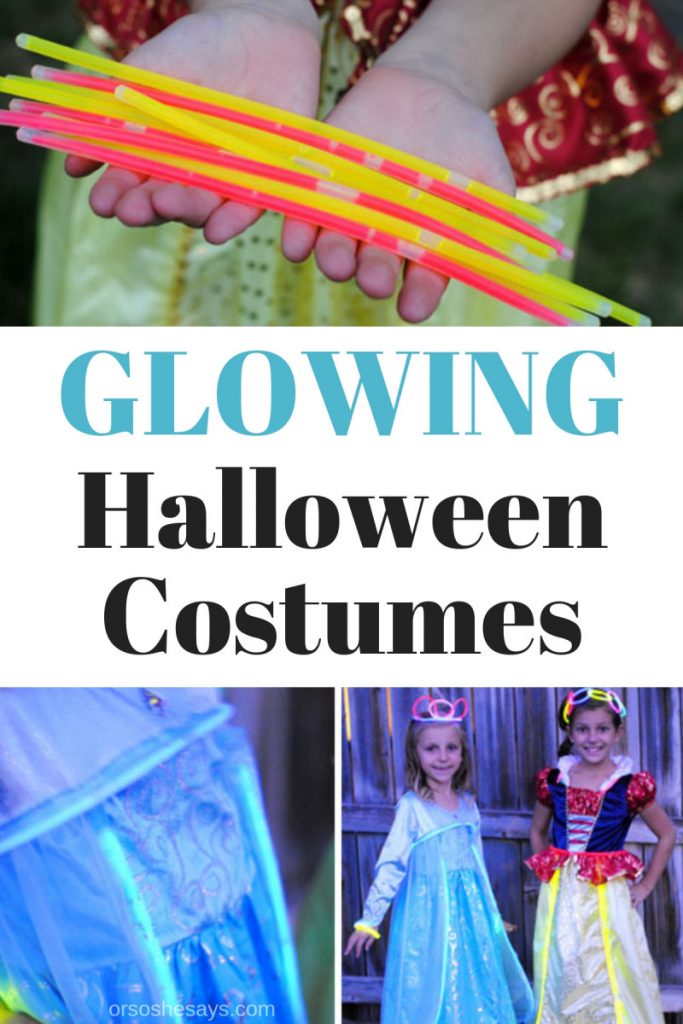 Hi everyone, it's Adelle from Packed with Fun, the official blog for Get Away Today!
It might sound scary, but now is the perfect time to start booking your Halloween Time Disneyland vacation which takes place September 9 – October 31, 2016!
So to get you in the spooky mood, we have are showing you our Glowing Halloween Costume tutorial to transform a princess dress into a glowing Halloween costume.
Today, you will learn how to transform a deluxe princess dress from Get Away Today into a glowing Halloween costume perfect for Halloween Time at the Disneyland Resort.
Here is everything you will need for your glowing Halloween costume:
About 20 Glow Sticks per Dress
A Princess Dress or Other Costume
1/4 yard of Sheer Fabric
The sheer fabric should match the costume. I used multiple colors for the princess dresses because I wanted the dress to look as natural as possible after I finished. So, for the Elsa costume, I chose a pretty turquoise and for Snow White we used red, yellow and white. Choose high quality fabric to make everything easier for you in the long run and look much nicer. You don't want it too thin or else it might rip when you push the glow sticks through it.
Cut the fabric into 2 inch strips. Fold the strip in half and sew it together to form a tube. Leave about 1/4 inch edge on the fabric. It will make the next step easier!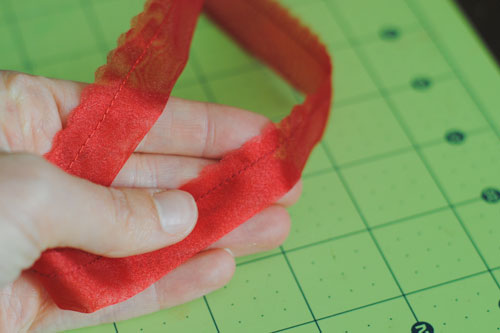 The strips will be added to the edges of the costume, or anywhere you want to add glow sticks. You want to leave the ends open, so that the glow sticks can slide into it. Fold the unfinished edge of the fabric underneath itself and then sew the tube onto the the dress.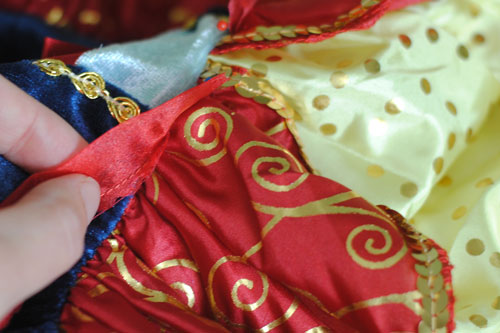 Once you have the fabric tubes sewn on all of the best places, it is time to have fun!
Crack the glow sticks and shake them to get the insides nice and bright. We picked colors to match the dresses.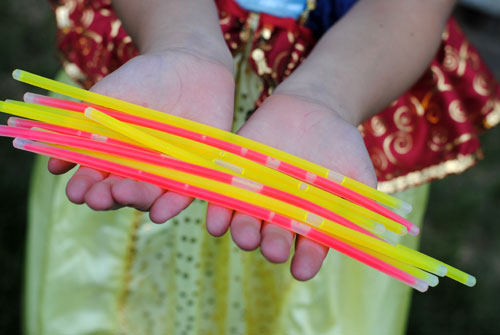 You can find glow sticks pretty much anywhere – Amazon, the dollar store, etc. But I advise buying them in bulk. It makes it so much easier because you will need about 20 glow sticks per dress. When you are ready to steal the show with your shine, hook the glow sticks together with the little plastic connectors that come with the package and thread them into the fabric tubes you just created.
Glow sticks typically last about 14-18 hours, so the costumes will glow all night with no problem. My girls loved them!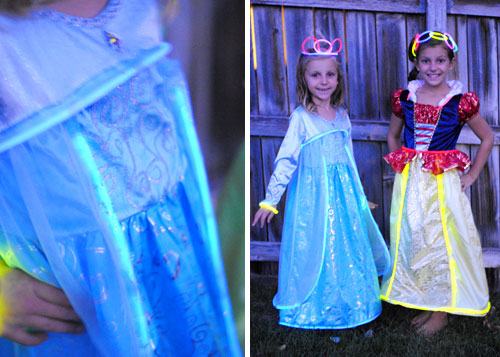 Wouldn't it be fun to completely light up Halloween Night at the Happiest Place on Earth? And as an added bonus – the kids would certainly be easy to spot with their glowing neon costumes. When the glow sticks lose their light, you can easily slide them out and replace them or leave them out. The dress is super fun with them our without them!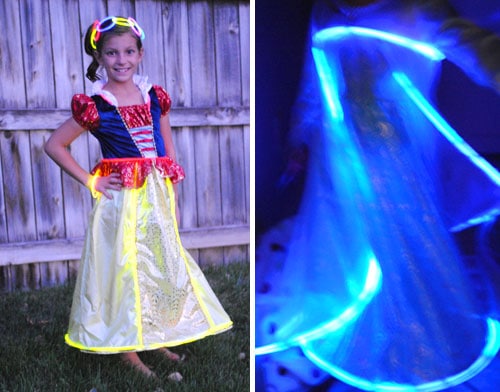 Get Away Today has the best Disneyland vacation deals around and glowing reviews! Be a part of the spooky Halloween Time at Disneyland in these fabulous glowing princess dresses! We currently have availability for the season, but you need to book now! Book your Disneyland package at
www.getawaytoday.com
or call our travel experts at 855-GET-AWAY. And we have a special discount for all of you Or So She Says readers! Use promo code: OSSS2015 at check out to save an additional $10 off your package!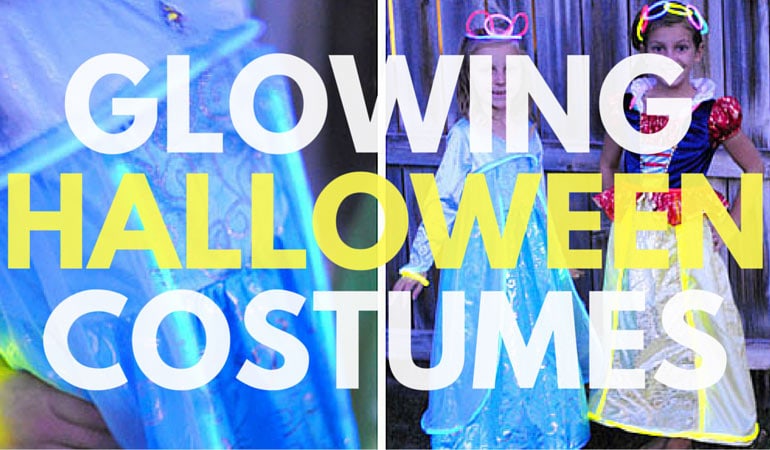 Our picks for glowing Halloween costumes:
For more info about Disneyland's Halloween celebrations, check out this post: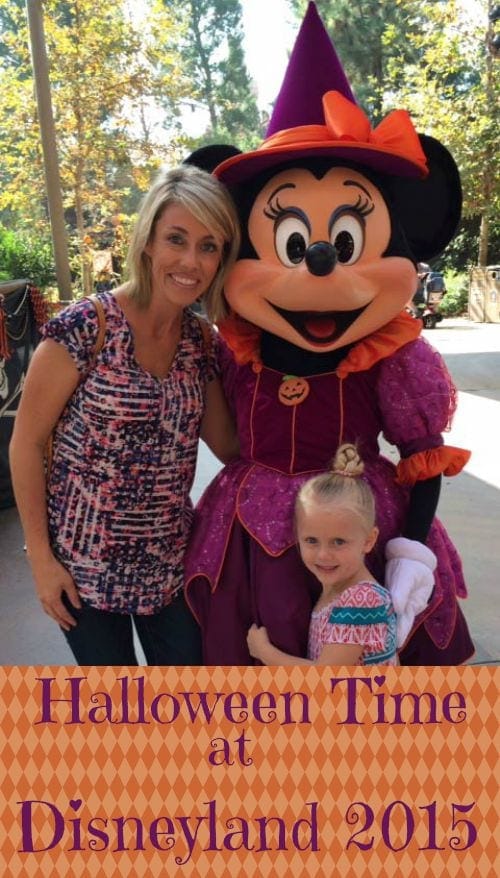 And here are some more easy tutorials you may like: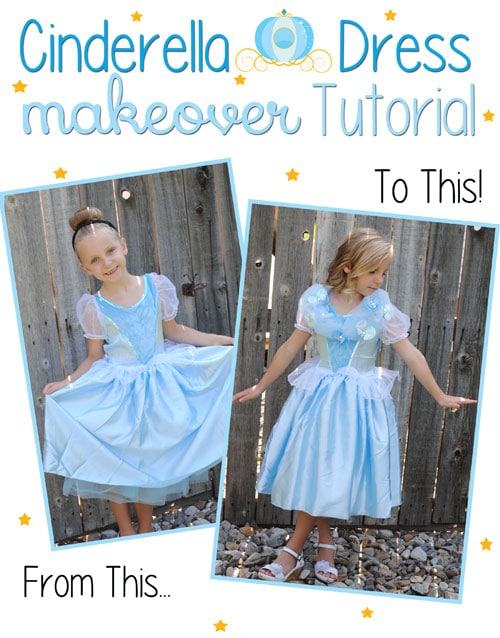 Save
Save
Save
Save