The past couple months, for homeschool, we've been learning all about the pilgrims, the indians in the New World, and the first Thanksgiving. We like to take history slow and really delve into each time period. This coming week we're going to have a fun Thanksgiving lunch (for school) to celebrate and reinforce what we've learned. I LOVE homeschool. Really. I love getting to learn right along with my kids! Anyway, after reading a bunch of books and watching some videos, I've narrowed it down to a handful of favorites products for teaching kids about Thanksgiving.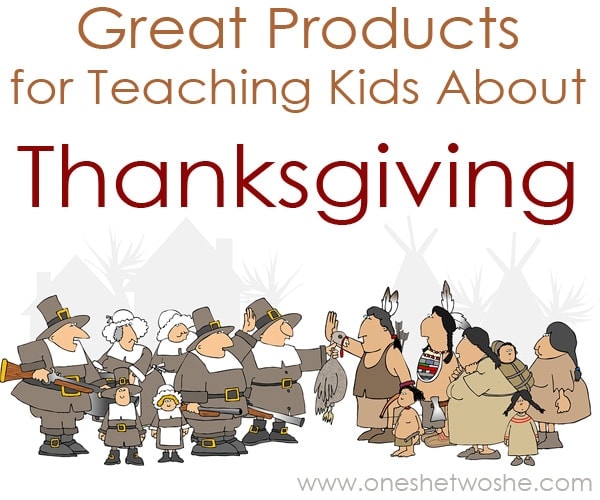 Great Products for Teaching Kids About Thanksgiving:
Magic Tree House Fact Tracker #13: Pilgrims
Magic Tree House makes great educational books. Most of them are geared towards 1st through 3rd graders, but these fact trackers are still great for older kids. My 4th and 6th grader were all able to learn a lot from this book.
Desperate Crossing: The Untold Story of the Mayflower
There were parts of this that were a little hard for the kids to understand. But overall, it gave my older kids a better sense of what it would have been like to have traveled on the Mayflower, and why the people were willing to attempt something so dangerous.
This Magic Tree House was a fun one for my 2nd grader. There were times that she would get lost while reading the other history books, but this one helped her learn a lot of the basics, and it's told in a fun way.
Squanto, Friend of the Pilgrims
I never realized how interesting Squanto's story is! This was a fun read and very enlightening. I'm sure that parts of it are inaccurate, especially because this is a story from long ago, but overall it paints a good picture of Squanto's life. The kids were totally into it.
Tapenum's Day: A Wampanoag Indian Boy in Pilgrim Times
You can't fully learn about the time of the pilgrims without learning about the indians whom they occupied the land with. The indians in the area were from the Wampanoag tribe, and this is a great book with lots of pictures, depicting a fictional life of a Wampanoag boy.
Sarah Morton's Day and Samuel Eaton's Day
These are great picture books, depicting a day in the life of children in the early Plymouth colony. The pictures are taken at the actual reenactment site in Massachusetts, Plimoth Plantation.
What Was the First Thanksgiving
We're currently finishing this book up right now. This is a great addition to our collection because it is more focused on the actual Thanksgiving event and what it may have been like for everyone involved.
Monumental: In Search of America's National Treasure
I had read fabulous reviews about this movie and recently decided to watch it for Family Night. I was so excited to see that everything I had been learning and teaching to the kids regarding the beginning of our country was talked about in this video. Not only was it talked about, but Kirk Cameron actually toured the places we hear about and so we got to see actual footage of the places where major events happened, both in Europe and in America. So, not only was it super educational, but it also teaches about the importance of families and the foundation that our country was built on.
I hope that give you some ideas for teaching kids about early American history and Thanksgiving!