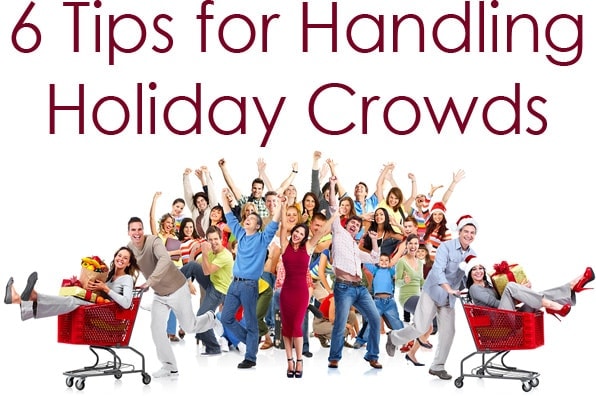 Throughout the holiday season, all of us seem to be in all the same places at all the same times as we prepare and celebrate during the holidays. Though this season is often magical and memorable, holiday crowds can leave me feeling utterly un-festive.
Through our travels near and far, I've picked up a few tips for avoiding and managing crowds. Whether you're enjoying special holiday events or shopping in preparation for the big day, here are 10 holiday shopping tips for keeping your head above the crowd.
1. Think like a crowd
Holiday crowds are usually not fun surprises. Plan for a crowd any time you are visiting:
Special events such as festivals, concerts, or holiday light displays
Family-friendly destinations, such as children's museums or indoor swimming pools
Shopping centers
Grocery stores
Restaurants
Just because you know there will be a crowd doesn't mean that you shouldn't go. Knowing what you're getting into will help you plan ahead and make it a good experience.
2. Plan ahead
Years ago, my husband and I had hard-to-get tickets to the Mormon Tabernacle Choir Christmas Concert. We thought we left home on time, but didn't give ourselves extra time to navigate heavy traffic and limited parking. Then we lost more time when the tickets were left in the car. We were just a few minutes late, but we lost our seats and saw the concert on a screen in a different part of the building. What could have been a special night was a big disappointment.
Planning ahead will minimize potential problems and maximize your enjoyment of the event. Here are a few ways you can do this:
Leave early so weather, traffic or parking delays won't be a problem
Plan for delays after the event
If you're dining out, make a reservation
Put one person in charge of tickets and other important items, and double check that he or she has them when you leave the house and the car
3. Go early or during off-hours
Avoid crowds by arriving early or visiting during less popular times. Arrive just as a store opens or well before a special event begins. Go on a week day when most people are at work or school, if possible. This rule also applies to dining out. Eating meals early or late will help you avoid long waits when reservations are not an option.
4. Use public transportation
Nothing ruins my family's holiday spirit faster than searching for a parking space. We have solved this problem by using Frontrunner and Trax, Salt Lake City's commuter rail and light rail lines, to go downtown during the holidays. Frontrunner extends along Interstate 15 from Ogden to Provo. Trax services communities throughout Salt Lake County. Here are a few of the fun places in Utah you can go on Frontrunner and Trax:
Ogden's Christmas Village, Ogden
Farmington Station, Farmington
Lights on Temple Square, Salt Lake City
City Creek Center, Salt Lake City
The Gateway, Salt Lake City
Fashion Place Mall, Murray
Gardner Village, West Jordan
Festival of Trees at South Towne Expo Center, Sandy
5. Pack provisions
Hungry and cold families are grumpy families, which can make crowded holiday events stressful. Pack granola bars or other high-energy snacks in your purse. In cold-weather climates, make sure everyone has weather-appropriate coats, gloves, shoes, hats, etc. If you have to park far away from your destination, are stuck in bumper-to-bumper traffic, or must delay a meal because of crowds, you'll be glad you did.
6. Consider alternatives
Last year, I did at least 80% of my holiday shopping online. I bought toys, clothes, gift cards and more in my fuzzy slippers. If you don't enjoy the thrill of the hunt in a crazy-crowded department store or if the thought of attending a crowded holiday event fills you with dread, explore other options like these:
Shop online
Skip an event if your family doesn't enjoy it like they used to
Create unusual holiday traditions
It's your holiday. Focus on what makes it special for your family, and create family traditions that you truly enjoy.
Crowds don't have to bring down your holiday. The energy of a full theater, the joyful noise of many voices raised in song, or the spirit of community during the holiday season can make it extra special. Planning ahead, giving yourself plenty of time and considering alternatives can make crowds a less-stressful part of your holiday season.