I have a deep love for educational products and resources. Deep. I enjoy learning right along with my kids and finding (or creating) ways to make it fun. Anyway, with homeschool in full swing, we've been getting lots of use out of some super great homeschool and educational products and resources.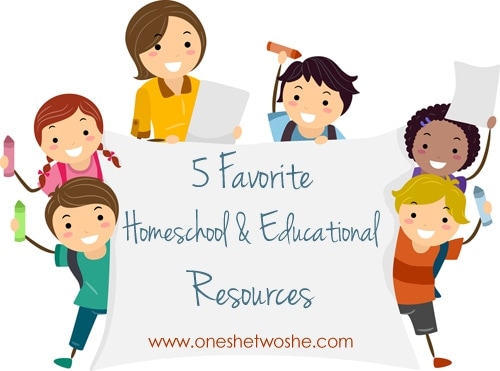 Here are my current faves:
Daily Writing Prompts – The Teacher's Corner has a fabulous list of daily writing prompts for every day of the year. What is super cool is that they are all relevant to the actual day, so let's see… today is September 17th. There are 3 choices of writing prompts. One is about how today is the day the constitution was signed and asks kids to learn and write about one of the amendments. Another is about how September 17th is citizenship day and write what it means to be a good citizen. The last is about how today is the day NASA introduced the first space shuttle, and then a thought provoking question about that. Good stuff, I tell ya. So, not only are they getting handwriting practice, but they are actually writing about something educational.
For more daily writing prompts, check out my free e-book, 124 Quotes for Kids. I put together a bunch of meaningful quotes that open up doors for great family discussions. I have my kids write the quote (copywork) then underneath, they write what they THINK it means. Then we discuss what it means as a family.
Monthly Activities & Lesson Plans – The same site has another priceless resource that I'm obsessed with. On the Monthly Activities page, you can click on whatever month it is and you will find a calendar with all sorts of fun obscure holidays going on in the month, important events that have happened, fun activities, and lesson plans to coordinate. We don't always have time for the extra stuff, but when we do, this site is so valuable.
Pizza Hut Book-It Program for Homeschoolers – Did you know homeschool kids can also earn the Pizza Hut gift certificates for reading, just like kids do in public school?? I had no idea and was so excited to find out! My kids will love it. You have to sign up for the program, promise you won't just give out gift certificates for doing nothing, and they will send you what you need to get started. Only trouble, y'all missed the deadline. But, remember this for next year! You have to apply before September 1st.
CNN Student News – Oh, we love this. I never have a single complaint when it's time for the CNN Student News. We start our morning with scripture study, family prayer, THEN the kids cuddle around me on the couch, I hold out the iPad, and we watch the Student News. It's usually a segment that is under 10 minutes, telling kids all about what's currently going on in the world. I've never found it to biased and am always so impressed at how they break things down, take time to explain, so the kids really can understand. My 7 year old can understand most of it (with occasional pauses and re-explanations from mom) and my 9 and 11 year old get it completely. It's such a neat resource!
Fake Money – Okay, this fake money has been the greatest thing for our homeschool this year. Let me tell ya. One of the hardest things about homeschooling, as a teacher, is putting so much effort into it and getting grumbles in return. It's disheartening. So, I decided this year we were going to combat the grumbles with a school store. I ordered some fake dollars from Amazon, bought a big tub at the dollar store, and filled it with all sorts of goodies (treats, dollar toys, coupons for dates, etc.) I put a price on each one with a little sticker. Each school day, as I notice good attitudes, helpful behavior, and timeliness, I reward the kids with a dollar. Every time I give them a fake dollar, I tell them exactly why. So, for example, 'This dollar is for showing up to the family room right on time, without me calling to you.' 'This dollar is for helping your sister with her math without me even asking you.' 'This dollar is for getting all your work done without wasting any time.' Stuff like that. On average, they've been earning 1 to 3 dollars a day. It's been super motivating to them, more than I thought it would! Especially since most of the stuff in the Store Bucket only costs a dollar, but they have to earn maybe 8 fake dollars to get it. I think it goes back to 'something is better than nothing.' But, really it has been great to have them be more aware of their behavior. They don't get a dollar for every good thing they do, but like I said, usually something during that day. Not once have I had to call them to come for school. I walk in the family room at 8:30 and they're plopped on the couch waiting for me. I tell them it's time for Math, and they don't say a word… as in, 'Ugh… I hate math!' It's awesome. So worth it AND it makes school more fun. I love for school to be fun for them, it really opens their minds up for LOTS of learning.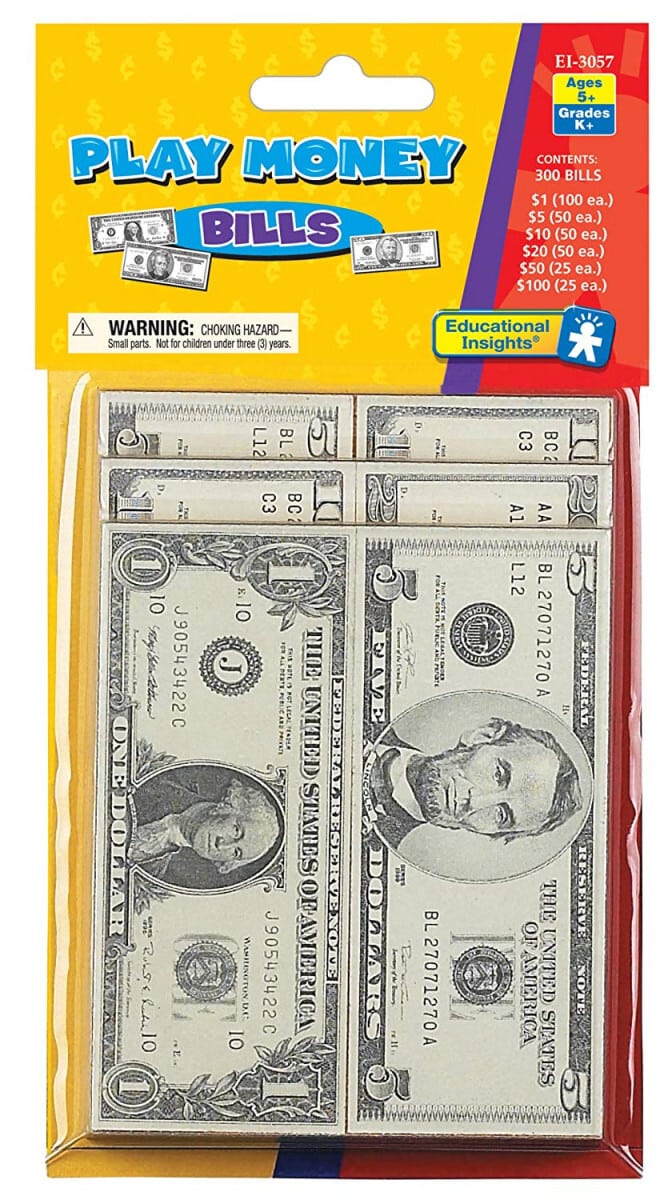 Hope that give you some ideas! To check out some of my favorite educational products, visit the Educational page and Books for Kids page.