Today Hanna is sharing a beautiful and personal story of being a birth mother in hopes of bringing more normalcy to the topic of adoption.
My name is Hanna, I'm a birth mom, and this is my story. I hope that by sharing my story, others will see that adoption can be a wonderful thing! It's beautiful and amazing and it truly is about a mother's ultimate love for her child.
I'm a Birth Mother and This is My Story
I became pregnant shortly after graduating high school. I had just recently left my baby's birth father because of our lifestyle differences when I found out I was pregnant. Becoming pregnant was actually a blessing from the very beginning. I had struggled in the week after leaving him. I loved him and wanted to be with him. When I discovered I was carrying a child, I knew I could not subject a child to that way of life, therefore I could not subject myself to that way of life. That reason alone kept me strong.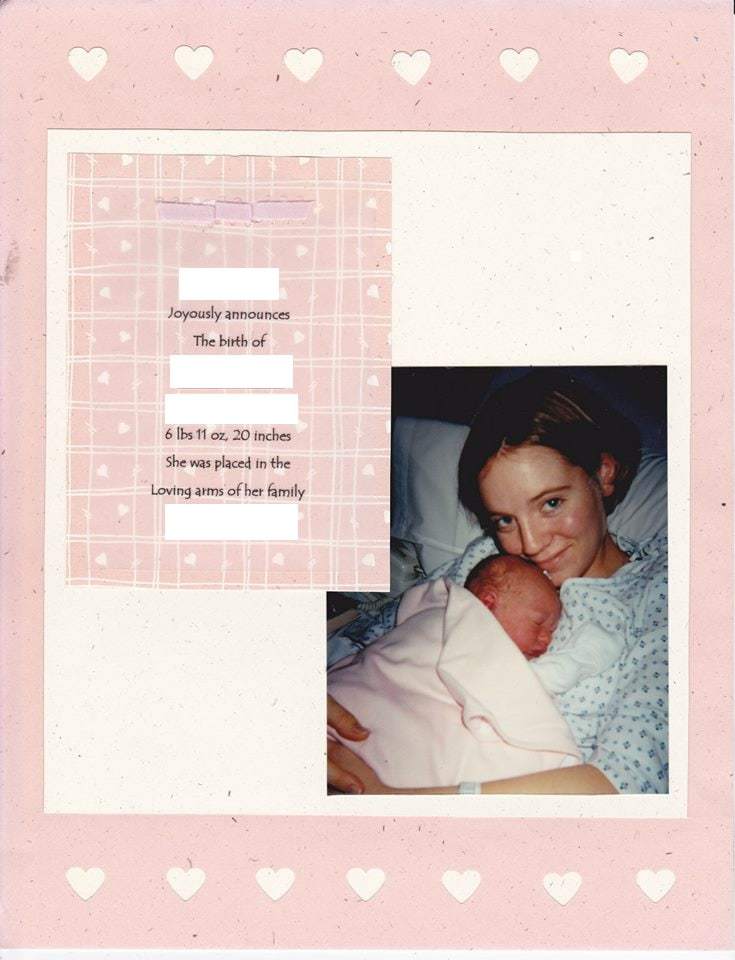 I knew, from the moment I found out that I was pregnant, that adoption was the best choice for my baby. Maybe because I was placed for adoption myself and understood that most adoptions happened out of love and not that the baby was unwanted. Adoption, in my mind, just made sense. I knew I could not provide the life she deserved at that time. I had love, but sometimes love isn't enough. The strongest reason though, was because I could not provide a father for her at that time. Chances were I would become married at some point in my life, but there was no guarantee. What if I never got married? What if I did get married and my husband did not love my baby as much as I did? There were just too many unknowns in my mind to take chances with her well-being and future. I believe strongly that fathers are very important in a child's life. My own adoptive father passed away shortly after I was placed for adoption from an unexpected heart attack. I was only 11 months old. My mother was a very good mother, but there's only so much a mother can provide. It pains me to hear people say that fathers are not important. I know things happen that are out of our control, but with my decision to place my baby for adoption, I could give her the best possible start in life.
I began meeting with an adoption counselor and when I was 6 months along I chose my baby's parents. They were "Couple A," the first family on a stack of profiles to look through. I looked at others to appease people, but I knew, beyond a shadow of a doubt, I had found my baby's mother and father. They were not spectacular and there was nothing overly amazing about them, they were just normal, which is exactly what I wanted. I wanted a couple that would do their best to provide for her and do their best to raise her right, even when mistakes would inevitably be made. A couple that loved each other as much as they loved my baby. "Couple A" was that family.
I had so much fun planning how I would announce to my baby's family! My mother (who supported me through the whole process) and I planned a "Movie Night" for them. We put popcorn, soda, a box of theater style candy and a video of my baby's ultrasound in a popcorn bucket. We designed two mock movie tickets that you can see in the photo I included. I wrote a letter that told them that I wanted this night to be a night full of laughter and joy. I also told them they were not allowed to be sad for me, because I was not sad. I was happy! More than happy, I was filled with love and excitement for my baby and for them. They wrote back and said that they had been overjoyed and there had been plenty of laughter, but there had been a few tears, not of sadness, but of joy.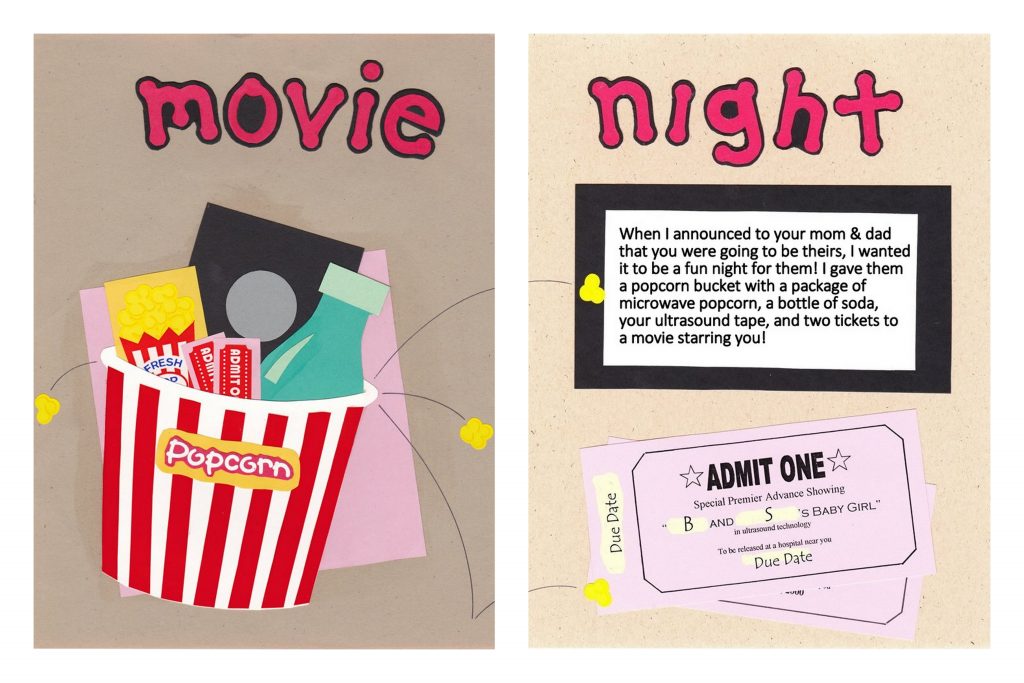 The rest of my pregnancy went quickly and smoothly. We exchanged letters through my counselor and were able to meet once in person. I was able to spend three wonderful days in the hospital with her and then I placed her in her family's arms.
E is a number of years older now and is such a joy to her family. We have been in contact since she was two and it has been wonderful to be able to see her grow. Having E has been a blessing in more ways than I could ever count, and a blessing in the lives of so many others. She has shown me that from deep sorrow, overwhelming joy can be found. Thank you E, for choosing me.
~ Hanna
If you, or someone you know, is interested in placing a child up for adoption, contact Steve Sunday with Forever Bound Adoption.
Steve has been involved in adoption placements, counseling, and advocacy for over 30 years. He is passionate about ensuring a positive experience for both the birth mother and the adoptive parents. He is also Mariel's father, the owner of this blog.
If you liked this post about becoming a birth mother and adoption, check out these too!
My Experience with Open Adoption
My 6 Tips for Finding the Right Adoption Agency
Save