Everyone's getting on the Instant Pot bandwagon these days, and are asking for Instant Pot recipes to get the most out of this convenient appliance. Check out today's post for one the whole family is sure to love!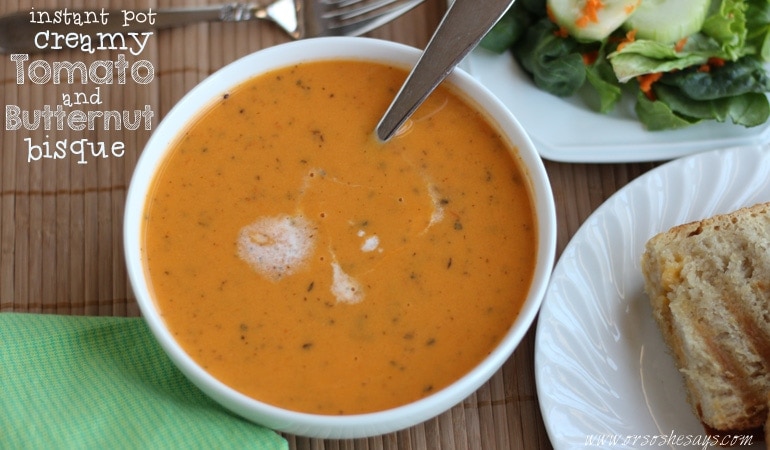 The recipe is written for the instant pot, but if you don't have one, you can adapt it by adding already cooked squash in the step with the diced tomatoes. Alternately, you can add the uncooked, peeled, diced squash in the chicken broth and boil for about 15 minutes, or until tender enough to puree. Instant pot recipes can usually be adapted for use without one!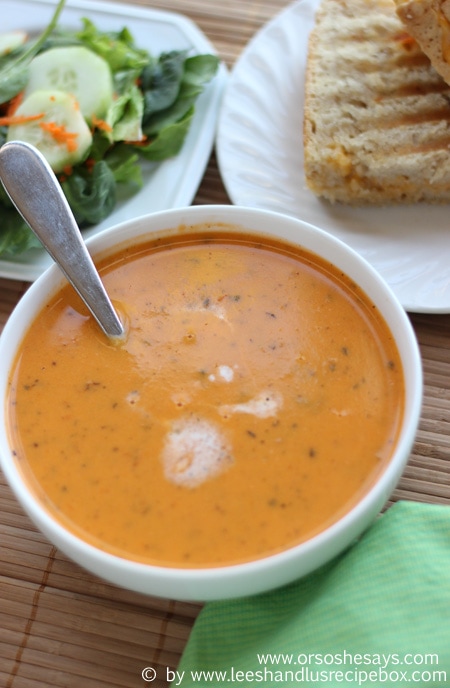 This instant pot tomato bisque is the smooth, veggie-packed, healthy version of your childhood favorite. When it's blended smoothly, whomever you feed it to will be none the wiser that it's filled with goodness. When we serve it to our kids, we just tell them it's tomato soup–they wouldn't generally be thrilled at the idea of eating butternut squash– and they devour it! Serve it alongside panini, grilled cheese sandwiches, or even your favorite crusty bread and you've got a quick meal that puts you in comfort-food heaven!
The instant pot makes quick work of cooking the squash. A squash that would normally take 30-40 minutes to cook in the oven cooks in the instant pot, or other pressure cooker, in just 8 minutes once pressure is reached. If you need another shortcut to get this on the table even more quickly, buy the peeled, diced butternut squash in the refrigerated produce section.
We love serving this with a salad and bread for a fun lunch get-together, or with sandwiches (and a handful of goldfish crackers!) for a family-pleasing dinner.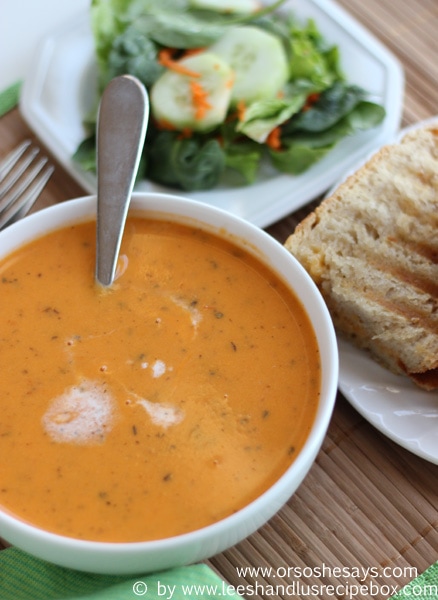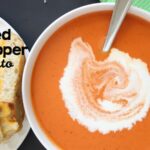 Instant Pot Tomato Bisque
Instant Pot Tomato Bisque
Ingredients
2

cups

peeled

diced butternut squash (about 1 medium squash)

1

tablespoon

butter

½

cup

diced onion

3

cloves

garlic

finely minced

2

cans

14.5 ounces each diced tomatoes

1 ½

teaspoons

Italian seasoning

1

cup

chicken stock

1

teaspoon

salt

1

tablespoon

sugar

add more or less to taste

1

teaspoon

dried basil

1

cup

half-and-half

Tapatio or other hot sauce to taste
Instructions
Turn Instant Pot on to 'Saute' mode. Once hot, add butter and onion and saute until softened (3-5 minutes). Add the minced garlic and diced butternut squash and saute for 1-2 more minutes. Add chicken stock. Set Instant Pot to high pressure for 8 minutes. Quick release the pressure and return to 'Saute' mode. Add diced tomatoes, salt, sugar, and basil.

Using an immersion blender (or transferring soup in batches to a regular blender) blend until smooth. One soup reaches a simmer, add the half-and-half and hot sauce to taste. Serve warm.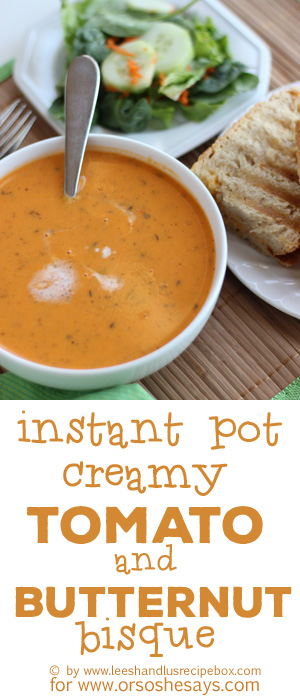 Here are some of our other favorite soups! Hope you enjoy!
Creamy Mushroom & Wild Rice Soup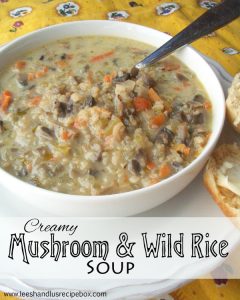 Cheesy Chicken & Vegetable Soup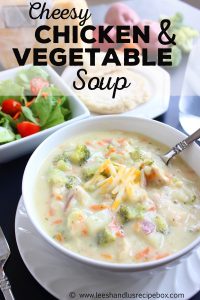 Roasted Red Pepper and Tomato Soup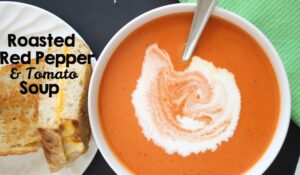 And cute bowls to serve them in!
KOVOT Set of 4 Speckled Ceramic Soup Bowls With Spoons – 22-Ounces Each
Sweese 1110 Porcelain Fluted Bowls – 18 Ounce for Cereal, Soup and Fruit – Set of 6, White
Stacking Bowls with Handles, Set of 6
DOWAN 28 Ounce Stoneware Fluted Bowl Set for Cereal/Soup – Set of 6, Assorted Colors
Check out more great recipes on the blog:
Olive Garden Breadsticks Recipes