This is a sponsored post written by me on behalf of Disney Consumer Products for IZEA. All opinions are 100% mine.
If you haven't yet heard of Sofia the First, you're missing out. She's one of Disney's newest, bravest, kindest, most-adventurous princesses!
Hi everyone! It's Liv, happy to be joining you on OSSS today. I've been working behind-the-scenes on Mariel's blog for a couple of years now, and I'm looking forward to the opportunity to contribute more today, as well as in the future.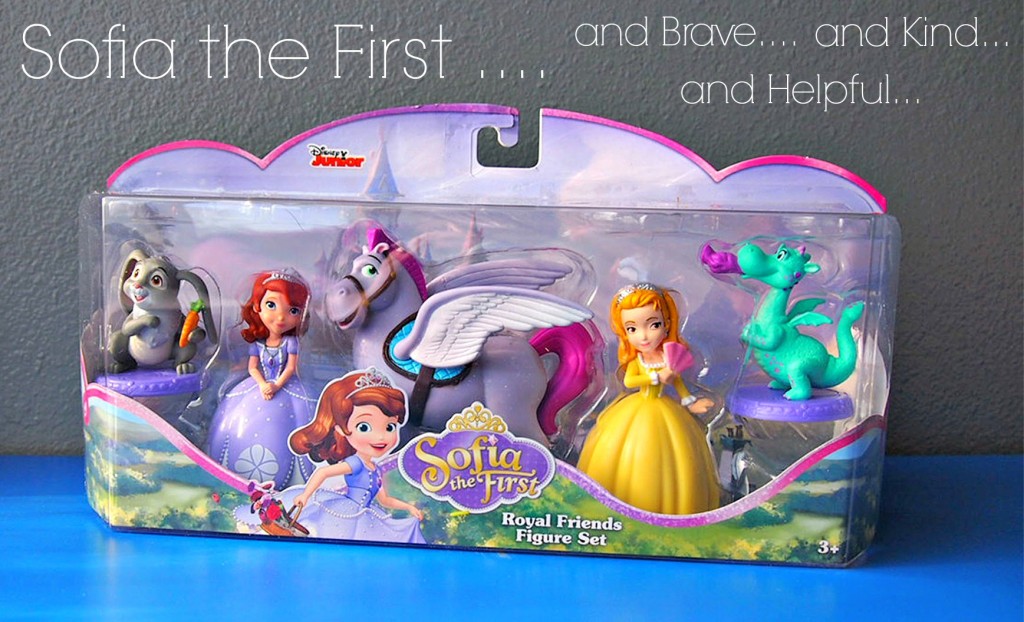 My daughter Aspen was thrilled when I told her I had the opportunity to share some Sofia the First toys with all of you. Having just binge-watched the entire series like a true fangirl, Aspen was ready to help me come up with reasons why Sofia the First is awesome. If you're not familiar with this fairly-new princess in the Disney lineup, I'll give you a little rundown: Sofia is a young girl who lives in town before her mother marries the king of Enchancia. Then Sofia finds herself living in the palace with two new siblings, twins Amber and James, and a whole host of royal friends. I didn't even have to ask Aspen about all this because I've memorized the theme song, which shares all the pertinent info you need to know about Sofia. If you'd like to get the song stuck in your head, too, check out Sofia the First on Disney Junior! Or you can skip the theme song and watch the show's trailer by clicking HERE.
I did ask Aspen what makes Sofia the First one her of favorite characters, and she told me it's because Sofia is so nice and helpful. She also told me she's a lot like Sofia herself, which is actually true because Aspen's little brother requires her to practice patience and kindness every. single. day. You may be thinking that a nice princess is nothing new, but there's more to Sofia! Since she's so young and wasn't born a royal, she has to attend Royal Prep Academy and actually learn about being a princess. The show does a great job instilling in viewers the understanding that being a princess is more than just pretty dresses and jewels. It's about doing good and using one's talents to benefit others.
Sofia is also a brave little girl; she doesn't need someone to come to her rescue at every mishap! It's refreshing that Sofia is smart and capable. When Aspen plays with the dolls, they go on adventures and have parties and they have yet to find themselves in distress. Isn't it so great to teach our kids they can be their own heroes?! Yes, we all need to know when to ask for help, and Sofia finds a great balance in doing so, but we also need to know we all have the power to overcome our challenges. Aspen love that Sofia is always going on adventures, sometimes with just the help of her bunny friend, Clover. Aspen is always imagining that she's accompanied by animal friends, so I'm sure she loves seeing a princess have that in common.
Having this Royal Friends figure set is exciting for Aspen; I love that we got all the dolls for only $12.99! As soon as we got home from the store, Aspen wanted to immediately rip open the box and get going on all the scenes she'd been creating in her head on the ride home. When Sofia and friends were released they immediately went to school, then attended a party. Aspen loves making Sofia and Amber take rides on Minimus the Pegasus just like in the show and, thankfully, Sofia can actually balance on the pegasus to do so. There's nothing ordinary about this princess, who rides a pegasus to play in a Royal Derby game and CAN TALK TO ANIMALS. Aspen regularly tells me she can talk to all her things- and that to her everything is alive and talks back. She loves that Sofia does it too. I enjoy seeing Aspen act out conversations and actual story lines with her dolls, now, too. When she was younger, we would spend what felt like ages "playing" with toys, but it was really just me doing everything one-sided. It was so boring I thought I would cry. I'm so relieved that she's been inspired by a show like Sofia the First to do a little more with her own imagination.
You can find this set and other products from Sofia the First at all major retailers, including Target, Walmart and Toys 'R Us. A whole new line has just launched, so check them out and let me know which is your favorite! Personally, I love that the fashion industry's Tim Gunn voices one of the characters. I won't tell you who, though. You'll need to watch for yourself!