This spaghetti sauce recipe kills the competition!
I know that's a bold statement since I'm sure your Grandma has a great recipe too, but this is beyond delicious and has been known to turn people into spaghetti addicts! It's one of the reasons I added this spaghetti sauce to my Food Storage Plan first, because if I had live on it for a year that wouldn't bother me one bit!
The best part is this recipe makes a ton – so you can freeze the extra, can it for storage, give some to neighbors, or eat spaghetti sauce for a straight week (or a year, depending on how much you make)!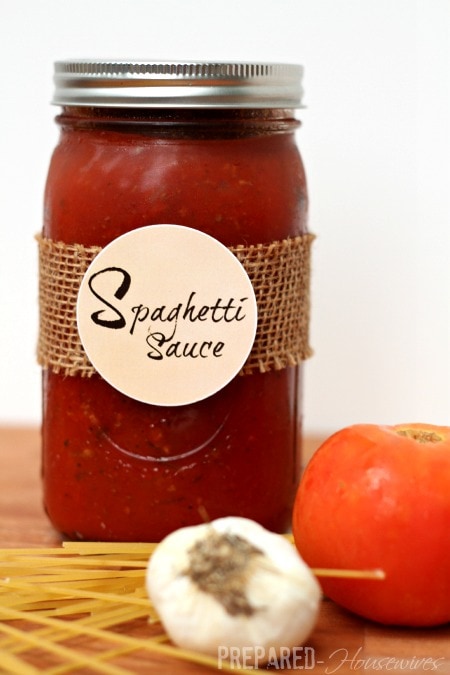 To make this spaghetti sauce recipe, you're going to need a very large pot (I use my canning pot), because it makes a lot!! You can always half the recipe and make less, but I'm all about cooking as little as possible. The more meals I can make ahead, the more time I have to focus on important things (like taking a nap).
I'm not kidding when I say my freezer has definitely saved me on more than once occasion, and it is by far the best money I've ever spent!
Anyways, enough about my love affair with the freezer, let's get started…
In your pot simmer together the following ingredients:
2/3 c olive oil
2 lg. onions chopped
2 cloves garlic chopped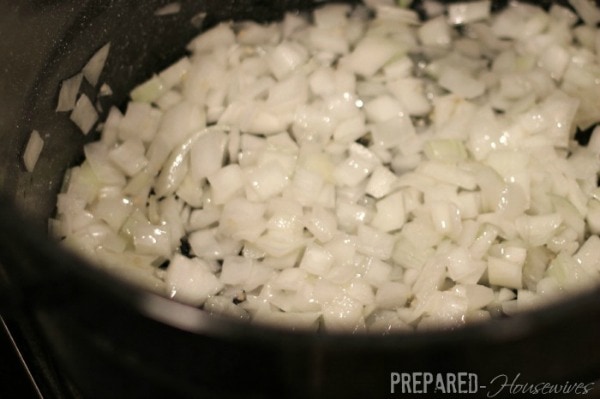 Once everything is simmered you are going to stir in the following:
5 (12 oz) cans of Pureed Tomatoes
8 (15 oz) cans Tomato Sauce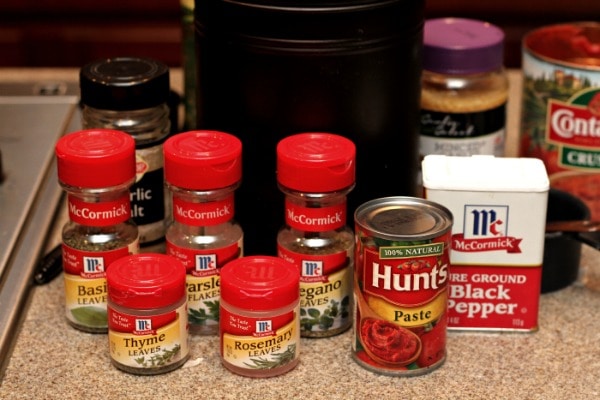 Add the following seasonings to the pot:
1 1/2 tsp garlic salt
1/2 tsp thyme
3/4 c. sugar
1 1/2 tsp basil
1 1/4 tsp black pepper
2 1/4 tsp oregano
1 1/2 tsp rosemary
1/2 tsp majoram
Dried Parsley to taste.
Once everything is added, cook on low for 45 minutes.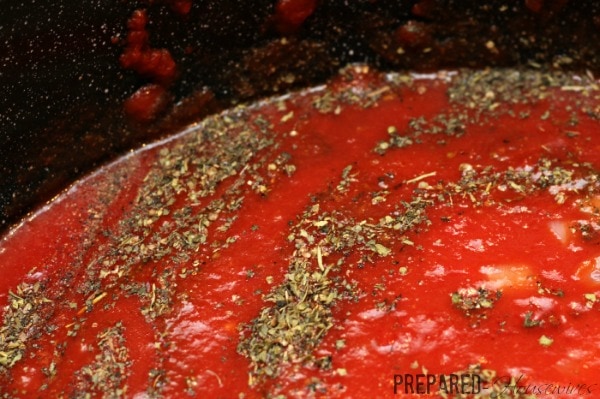 While the sauce is cooking going ahead and brown all of your meat. You can definitely add whatever meat you prefer, or omit it entirely, but I have to admit it's the best part!
Once the meat is brown and the spaghetti sauce is done cooking add the following:
4 (6 oz.) cans tomato paste
2 lbs. browned hamburger
2 lbs. browned mile Italian sausage
1 lb link sausage (cooked) cut into bites
Can of olives chopped and can of mushrooms (optional)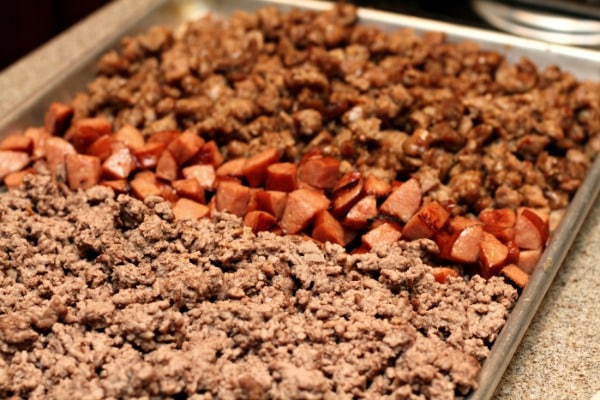 Now you can just simmer the rest until you are ready to eat.
It makes about 8 quarts, so put the leftovers either in Quart Size Jars or Ziploc bags. You can throw it in the freezer for later or even can the extra. Then whenever you're in a hurry just pull it out and enjoy!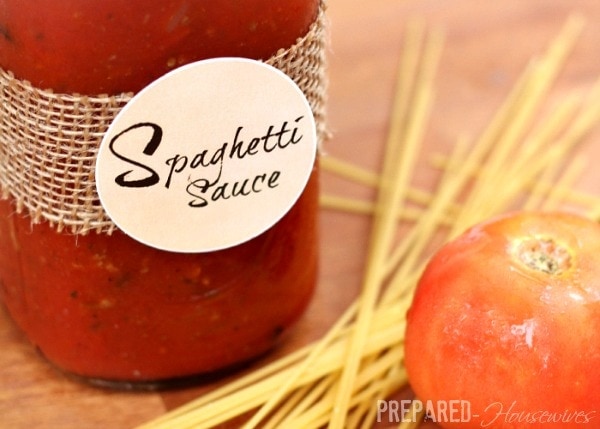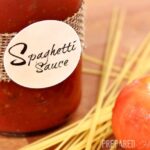 Killer Spaghetti Sauce
Ingredients
2/3

c.

olive oil

2

lg. onions chopped

or 1 Tbsp + 1 tsp onion powder

2

cloves

garlic chopped

or 2 tsp garlic powder

5

12 oz cans of Pureed Tomatoes

8

15 oz cans Tomato Sauce

1 1/2

tsp

garlic salt

1/2

tsp

thyme

3/4

c.

sugar

1 1/2

tsp

basil

1 1/4

tsp

black pepper

2 1/4

tsp

oregano

1 1/2

tsp

rosemary

1/2

tsp

majoram

Dried Parsley to taste.

4

6 oz. cans tomato paste

2

lbs.

browned hamburger

2

lbs.

browned mile Italian sausage

1

lb

link sausage

cooked cut into bites

*Can of olives chopped and can of mushrooms

optional
Instructions
Simmer together the olive oil, onions and garlic in a very large pot.

Stir in the pureed tomatoes, tomato sauce, and seasonings.

Cook everything on low for 45 minutes.

Add the tomato paste and meat.

Simmer until you are ready to eat!

Makes about 8 quarts.

Freeze or Can the rest.
Of course, spaghetti sauce always tastes better with some bread so here's a Ridiculously Easy French Bread Recipe if you want to make your own…
Come visit me at Prepared Housewives for more meal ideas that work great in your freezer or make sure to follow me on Google+!!