So, this is a post I thought I would never be qualified to write … at least I hoped I'd never become an expert at dealing with dreaded lice! But, I'm coming to you now as a seasoned veteran of the war against these horrible, nasty, persistent little pests.
Let me start from the beginning. I have a first grader with long, thick, thick, thick (Did I mention her hair is thick?!?) gorgeous hair. At the end of the Christmas break, she started complaining about her head itching, so I casually checked her head only to find the tell-tale white nits buried deep in there. I was horrified! I cancelled all our plans, called any friends we'd been in recent contact with, loaded the three kids in the car and headed straight for the drug store. I bought everything I could find, spent a fortune and went home to begin the war!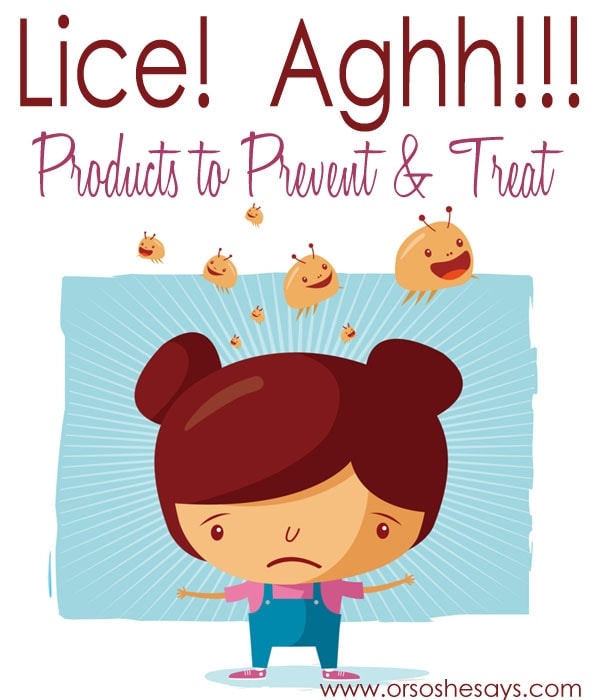 Products to prevent and treat lice:
My first battle with over-the-counter lice treatment was a failure. I read somewhere that 75 percent of lice are now resistant to the active ingredients in most popular lice treatments. Even after combing for hours and hours and hours, the lice weren't gone. There were many moments when I just wanted to cry. My daughter did cry. It was a dark time, and I knew there must be better products out there to deal with this common problem. Enter Amazon.com and all the amazing reviews that directed me to the products I needed.
The first thing I bought was the Nit Free Terminator Lice Comb. I figured any product with the word "terminator" in its title was worth a shot. Plus, it got amazing reviews. It's what the professionals use because it has micro spirals around the teeth of the comb that grip the lice and eggs and pull them free from the hair. Don't even bother with the other combs. This pulled out more nastiness than you can imagine. Actually, don't try to imagine. Just trust me. It worked. I still had to brush numerous times and pull off the tiniest nits by hand, but it's a must have tool if lice is your reality.
While the "terminator" comb helped, my ultimate weapon came in the form of the Robi Comb. It's what saved my sanity and stopped the lice nightmares (I was literally dreaming of lice … not fun). It's an electronic lice zapping comb that emits an audible signal if it comes in contact with lice. In other words, you'll know for sure if your child has lice, or STILL has lice. The comb makes a very unique buzzing sound until it comes in contact with a louse, then it goes silent as it emits an electronic pulse that kills the little bugger. It uses micro-charge technology that zaps the lice, but not your kid. They claim you'll kill all existing lice in your child's hair after the first use (That wasn't exactly my experience, but my daughter has enough hair on her head for three kids). If you continue using it once daily for 10 days, you'll end the infestation cycle. In other words, any unhatched eggs that you may have missed will hatch within 10 days. If you faithfully brush and zap them before they mature enough to lay more eggs, then you'll have won the war.
And the best part about owning a Robi Comb is that I can easily spot check my kids once a week or so (for the rest of their lives – haha)! Instead of wondering if they're in there setting up shop again, I'll know. It brings amazing peace of mind to a mama who's weary of wondering if I got EVERY LAST ONE – ahhhh!!!
And finally, who knew that there were lice repellent products out there to help keep your kid from ever getting lice?? I didn't. There are actually lots of products out there that contain a combination of natural ingredients and essential oils that won't harm your child. I'm currently using Lice Shield Leave In Spray every day before school on my daughter's hair, coat and backpack. I can't say with confidence yet that it helps, but it certainly can't hurt. Especially if you have to send your child back to the environment in which they probably first picked up the lice.
So, I hope you never, ever, EVER have to deal with lice. But the reality is that if you have kids, you probably will. And when that time comes, I promise you that the Terminator Lice Comb and Robi Comb will become your new best friends.