This post is sponsored by TruMoo. All opinions are 100% my own.
Hey, it's Becky from Bite of Delight!
Life as a mom can be crazy. Let's be real, life IS crazy! With four kids running around, things are usually a little chaotic and loud and fun…and never boring! Join me for a typical day with my kids, and see how we fuel up for our fun activities!
Some days are calmer than others, but what usually makes my day better is starting it out with a run. I'm training for a half marathon right now, so it's important to get my miles in, and to pin down my race nutrition. Since the race I'm training for offers chocolate milk as a post-race option, I like to end my daily run with a glass of TruMoo Chocolate Milk! It's important to replenish glycogen (sugar) stores in the muscle and start the process of protein synthesis (muscle rebuilding) after an intense workout (I'd say 13.1 miles qualifies!), and chocolate milk has an ideal carbs to protein ratio (between 3:1 to 4:1). It also replaces fluids and electrolytes lost during exercise, plus it has nutrients that the expensive sports drinks don't have. In other words, chocolate milk is an ideal option! TruMoo Chocolate Milk doesn't have any high fructose corn syrup or artificial growth hormones. It's a nutritious treat for both kids and adults!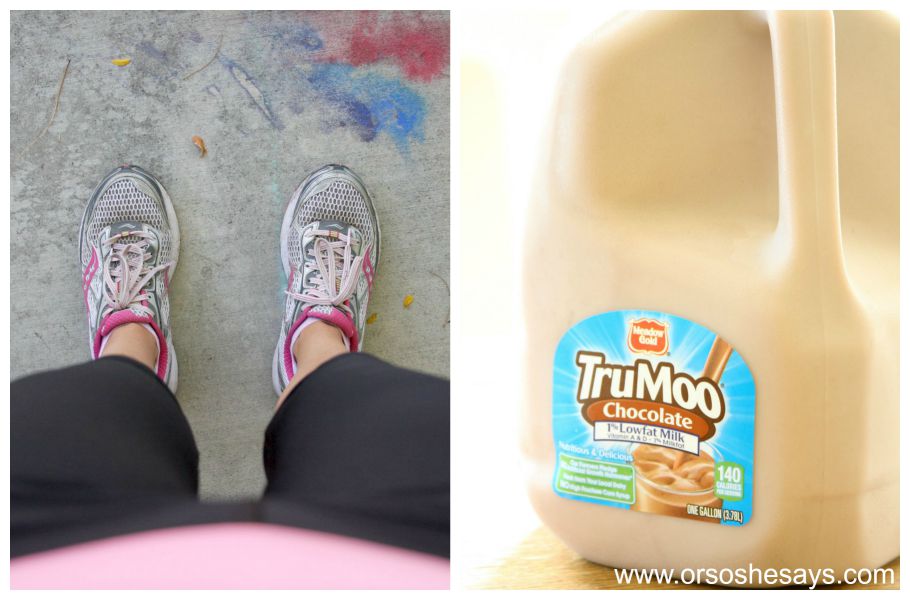 After my kids were up, we started out with haircuts for the boys and a hairdo for my daughter (we did a lace braid headband into a messy side bun). I wanted the kids to stay cool since we were planning a hike after lunch, so we had to do something about those mops of hair! (My littlest guy was grumpy in the "after" picture because he saw a quail family running across the street and he wanted to chase them!).
The boys ran outside as soon as they could to jump on the trampoline before lunch. This is one of my favorite things since they almost always play together so well when they're jumping…and it gets some energy out (one of my main goals every day)!
School is starting up soon for my kids, so we are trying to squeeze in as much fun as possible! We've been swimming, going to splash pads, seeing movies, playing in the backyard and going on awesome hikes. We live in Utah, so there's no shortage of amazing trails to explore. We've hiked a lot of trails as a family, but I've also taken my 4 kids out by myself, and sometimes we hike with friends. They love it every time! One of the ways we like to fuel up before a hike is with a smoothie. Since my kids love No-Bake Cookies so much, we came up with a no bake cookie smoothie!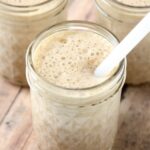 TruMoo
Ingredients
2

cups

TruMoo Chocolate Milk

3

Tbsp

peanut butter

3

Tbsp

rolled oats

1

tsp

vanilla

4

drops liquid stevia

or 1 tsp sugar

1

Tbsp

cocoa powder

1

tsp

chia seeds

1/2

cup

spinach

5

ice cubes
Instructions
Add all ingredients to blender jar and process until smooth.

Enjoy immediately.
We went on a gorgeous, fun hike just a few miles from our house. We climbed on rocks, explored the trails, and even read some of the signs talking about the history of the area. We are so lucky to have the mountains so close to us!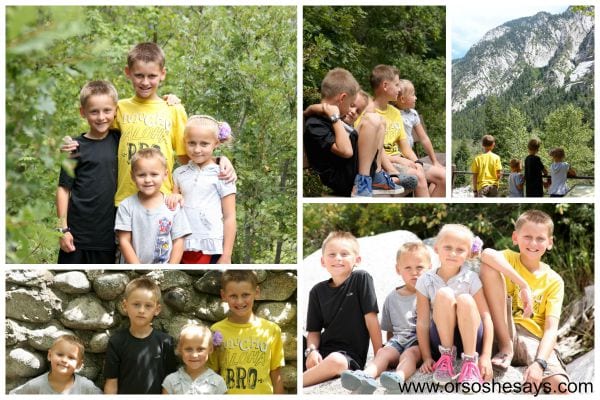 We rounded out the day by watching American Ninja Warrior, our favorite show to watch together! Our kids are always ready to go climb on everything after it's over! We love that it inspires them to be active and strong. They are all dying to be on the show…some day!
I feel lucky to be a mom of such great, adventurous kids who are always up for a fun outing! They keep me active (and tired) and always make for an exciting day! We're glad to have so many fun things to do, and we love having TruMoo Chocolate Milk to fuel our adventures (or recover from them!).
You can find TruMoo Chocolate Milk in the dairy case at grocery and convenience stores, including Wendy's locations. For more information, visit www.TruMoo.com and follow them on Facebook, Twitter, and Pinterest.