Olives are one of my favorite foods! Maybe it's because of my Greek ancestory, or maybe it's because olives are just plain awesome. They're naturally sugar-free and have lots of good monounsaturated fats. They're delicious in salads, soups, spreads, or just by themselves. I love the variety of colors, flavors and how healthy they are.
Honestly, I'm usually too busy eating my olives to think about where they came from. But I found it very interesting to learn that most of the olives eaten in the United States are grown in Spain. It's no wonder that Olives from Spain are so delicious since Spain's sunny weather and rich, fertile soil are perfect for growing the ideal olive.
Olives from Spain are actually hand-picked, one-by-one to avoid damaging the fruit. When the olives are harvested determines their color (something I'd always wondered about). My favorite green olives are harvested at their optimum ripening period; whereas, ripe black olives are harvested before they ripen. Then they're specially treated for their color and to eliminate bitterness.
While I'm happy to eat Olives from Spain straight out of the can, I wanted to try and incorporate them into some other recipes. My good friend suggested one of her favorites, Hearty Chicken Stew with Butternut Squash & Quinoa (original recipe found on Cookin Canuk.) While olives are not listed in the title of the recipe, they are, in my opinion, the stars of this recipe! The original recipe only called for black olives, but I decided to add both black and green olives. I also didn't quarter all of the olives, but served the stew with a few whole olives mixed in.
The flavors in this stew mix together so amazingly well. I wouldn't have thought to combine butternut squash with olives, but it worked! That combined with the hearty quinoa made for a perfect winter day meal. And look at those colors … the stew looks as good as it tastes!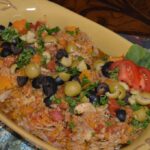 Hearty Chicken Stew with Butternut Squash & Quinoa
Ingredients
1½

lb.

butternut squash

peeled, seeded & chopped into ½-inch pieces

3½

cups

chicken broth

1½

lb.

boneless

skinless chicken thighs

1

tbsp

olive oil

1

medium yellow onion

finely chopped

½

tsp

kosher salt

4

cloves

garlic

minced

1½

tsp

dried oregano

1

can

14 oz petite diced tomatoes

? cup uncooked quinoa

¾

cup

pitted and quartered black and/or green olives

Freshly ground black pepper

to taste

¼

cup

minced fresh flat-leaf parsley
Instructions
Steam the butternut squash until barely tender, about 10 minutes. Remove half of the squash pieces and set aside.

Steam the remaining squash until very tender, an additional 4 to 6 minutes. Mash this squash with the back of a fork. Set aside.

In a large saucepan set over medium-high heat, bring the chicken broth to a simmer.

Add chicken thighs, cover, and cook until chicken is cooked through, about 15 minutes.

Transfer the chicken thighs to a plate and allow to cool. Pour broth into a medium-sized bowl.

Return the saucepan to the stovetop and lower heat to medium. Add olive oil.

Add onion and cook, stirring occasionally, until onion is starting to turn brown, 8 to 10 minutes.

Add the salt, minced garlic and oregano. Cook, stirring, for 1 additional minute.

To the saucepan, add tomatoes, butternut squash pieces, mashed butternut squash. Stir to combine.

Stir in reserved chicken broth and quinoa. Bring to a simmer, cover and cook until the quinoa turns translucent, about 15 minutes.

Shred the chicken with your fingers or a fork.

Stir the chicken, olives and pepper into the stew and simmer, uncovered, to heat, about 5 minutes.

Stir in parsley and serve.
Recipe Notes
May sprinkle top of stew with whole olives if desired.
Another favorite olive recipe of mine is tapenade. I'm really excited to try out this Olive Tapenade recipe featured on the Olives of Spain web site! Olive tapenade is amazing spread on a crusty loaf of fresh bread – yummy.
With so many delicious olive recipes out there, olives should be a staple in all of our pantries! They're affordable, easy to store and are a great appetizer that can be thrown together in minutes. Just be sure to look for the Olives from Spain logo to ensure that you're getting the highest quality olives available. Oh, and the most delicious as well!
P.S. Olives from Spain will be in Miami this month for the country's premiere food festival, South Beach Wine and Food Festival. If you're lucky enough to be in the area to attend the festival, then be sure to stop by the Olives from Spain station for some yummy samples!
Compensation was provided by Olives from Spain via MomTrends. The opinions expressed herein are those of the author and are not indicative of the opinions of Olives from Spain or Momtrends.