Hi there! It's Liz again, from Liz on Call. I'm excited to share some traveling with kids tips! My family and I just recently returned home from a trip to Disneyland! We had such a fun time and I can't wait to see what Disney will reveal in celebration of their 60th Anniversary. I have 3 young children, and if you've even had to go on a road trip with one child, you know it has potential for disaster. Today I'm excited to be sharing some fun tips for traveling with kids.
I'm not going to say that we've NEVER turned on a movie for our kids to watch while we are road tripping. We do have a DVD player in our car, but only use it on road trips and try to limit the amount of time we use it. I try and have my kids entertain themselves and be in charge of themselves. That is, as they get older. My older two kids are 4 and 6 and they've become great travelers. We are still trying to find what will work with our 18 month old.
Traveling with Kids Tips
The number one thing that is a must on our road trips is that each child has their own backpack. When we go on a road trip there are 2 things we can not leave home with out. And a backpack is one of them. Each child has their own backpack. I prefer a very specific type of backpack for traveling in the car. I found these at Target. They actually have sleeping bags in them when you buy them. So that is a plus! You can use those in your travels.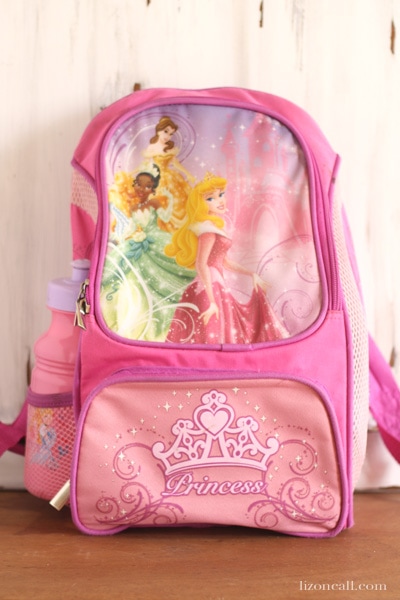 I like these backpacks for several reasons. The first is because of the mesh pocket they have on the side. I want my kids to be independent and be able to keep themselves entertained and have everything they need to do that. These water bottles that I found in the dollar section at Target work great for their drinks. They fit perfectly in the mesh pocket of the backpack and I like that the top is easy to pop open or close.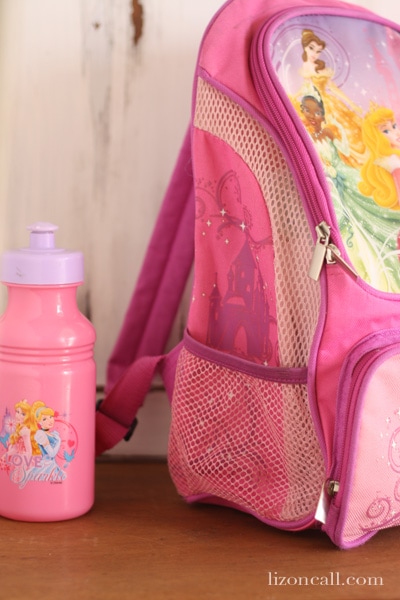 I also like that these backpacks are small enough that my kids can carry them by themselves. My next tip is to let the kids choose what to put in the backpack. When they were little, I would put books and a couple things I thought they would like in their backpacks. Well, they were never totally entertained until I started letting them choose their own things.
My daughter has all kinds of interesting things in her backpack. She loves to write and color in notebooks, so she always has more than one in there. She will have princess crowns, books, cell phones, small princess toys, etc. But she will actually pull it all out one by one and play with them while we are traveling. My son likes to fill his with hot wheels, construction toys, trucks with trailers, but not so many books. 🙂 We've found that hanging their backpacks on the hooks that are for hanging clothes works really well. They can still reach their backpacks, but if you have room on the seat next to them, that would be ideal.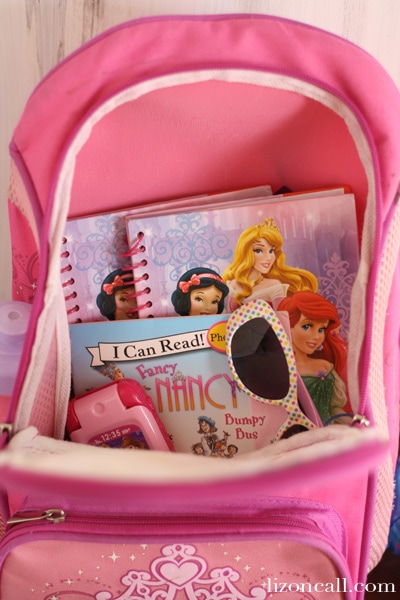 Food. Snacks are a must with our crew. I love the single pocket in the front of these backpacks. They are perfect to fill with a couple snacks for each kid. They know they each have the same treats and can eat them whenever they want. Once they are gone, they are gone and won't have anymore.
You'd think this is an endorsement for these specific backpacks. I have just found that these work the best for me and my kids. Maybe you find a backpack or bag that works better for you.
I've also, on occasion, used these divided plastic containers for snacks. I fill each section with different treats and put them in their backpacks. Same thing applies; once they are gone, they are gone.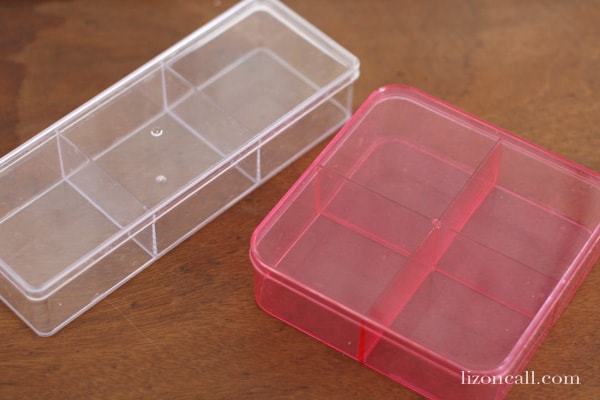 Our 18 month old does pretty good in the car until we start going into higher altitude. Then she just starts screaming. Our other 2 used pacifiers and would do fine with altitude changes, but our baby is a thumb sucker and it just doesn't work as well for those changes. Giving her gummy bears (I hand them to her one at a time or the whole bag would be gone) and trying to get her to drink from a sippy cup will usually help. We are still trying to find more ways to help her in that area of traveling.
Lastly, a road trip isn't a road trip without games! Be sure to check out this Would You Rather game with lots of questions for kids! There's so much interesting conversations to be had!! My kids also like to play I Spy. I always get a kick out of what they "spy". Now that my son is learning to read, we like to play the alphabet game and look for the letters in the signs, license plates and semi trucks as we are driving. Road trip bingo games are always fun and here are more fun ways for entertaining kids in the car and fun games for entertaining kids in the car.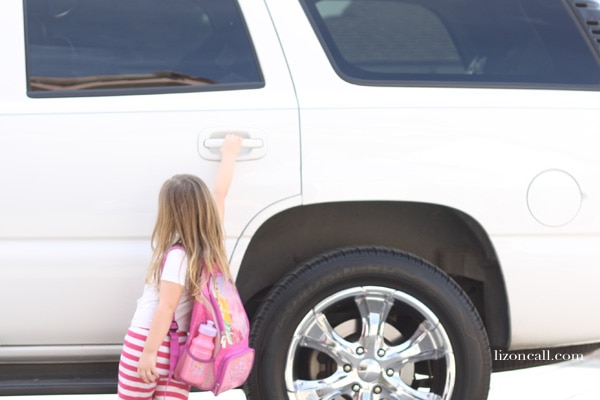 I realize that I'm lucky my kids are great travelers and enjoy taking car rides with mom and dad. Hopefully these traveling with kids tips will help you on your next road trip.
If you have a great tips for traveling with kids, I'd love to hear it!
Happy Traveling!
Liz
Here are some ideas for keeping the kids busy this summer, when you're not road trippin':