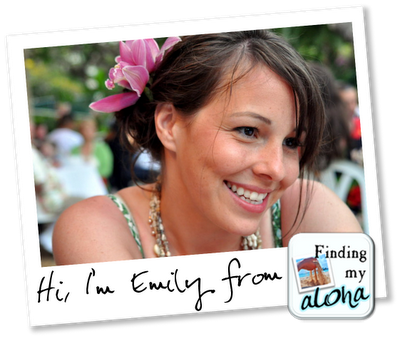 Hello, Or So She Says readers! I'm Emily and you can usually find me on my blog, Finding My Aloha. I am a blissfully happy young wife and mother. Interior design is my main passion but I love to design and create through just about any medium. I am a military spouse and we move around often, which gives me lots of blank "canvases" to work with.
I had a problem with finding towels thrown on the floor or draped around the bathroom or worse, still wet because they were crowded on the bar. I'm betting we aren't the only family to have this problem, right? Well, I solved the problem by hanging our towels on hooks on the towel bar. I love this because a lot more towels can be hanging at the same time. We found that we liked it not only for its organizational attributes but also found it faster and easier to grab and hang the towels. Recently, I took it a step further and added some flare…
I found a package of mini chalkboards for $1.49 at Joann's. The hooks I use are $0.99 for a 10 pack from IKEA (similiar to
this
). All I did was hot glue the chalkboards to the hooks. I think they turned out super cute, but regardless, our towels are off the floor, neatly organized, and dry!
I love my chalkboard hooks, but if you are willing to dismount the towel bar completely, it opens a whole new plethora of ideas!
Think outside the box when looking for unique hooks. Look in nontraditional places, like a boat store! Check out these boat cleats- made for the deck of a boat but installed on a wall it can add a bit of whimsical character to a marine or beach inspired bathroom!

Or, if you are going for a minimalist or modern feel in your bathroom, check out these sleek MUCHroom hooks. I am digging their clean lines and simple silhouette.


For a rustic feel try out these twig wall mount hooks. They give such a natural, homey feel to a room and are such a unique touch.
Who knew organizing could be so fun and stylish? Design selections as small as the towel bar or hooks really can become the pivotal element that pulls a room together. Thanks everyone, its been fun! I hope to see you over at Finding My Aloha!
~ Emily