Hello!
My name is Caroline
, and I blog over at
armelle
, a fun blog about all things creative, fun tutorials, recipes, fashion, home decor, and
my handmade jewelry
.
I know Mariel because our husbands are BFF's from high school, so I get to see her on occasion, which is always fun, especially when she makes her chocolate chip cookies! I was glad that Mariel asked me to do a guest post over here, since I'm a big fan of the blog!

I wanted to share with you a great tutorial for freezer paper stencils that I recently shared on my blog …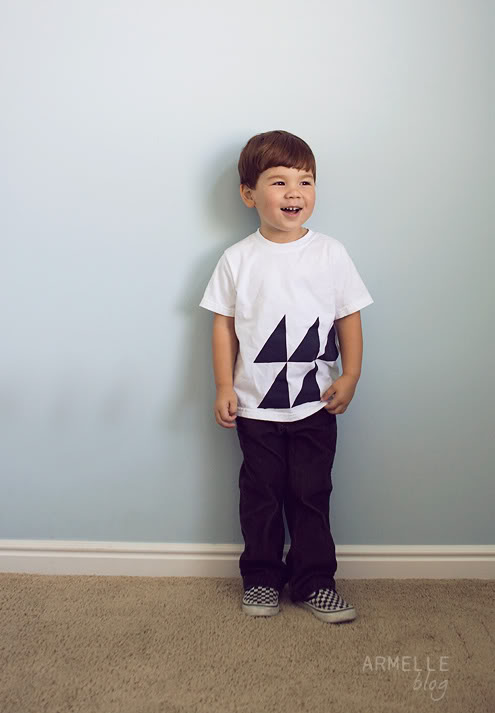 I love using freezer paper for stencils. Once you realize that the stuff just irons right onto fabric or whatever, the possibilities are endless. It is really fun, and can be as easy or as complicated as you want it to be depending on the design you want to use.
Here is what you will need …..

-freezer paper
-plain shirt
-exacto knife
-cutting board
-pattern or picture you would like on your shirt
-fabric paint, found at any local craft store
-cardboard- to put inside the shirt when painting
step one: place/tape pattern you would like to cut out on top of freezer paper, make sure the shiny smooth side is down [that will be ironed to the shirt later]. or, you can just draw your image on the paper side of the freezer paper.
cut the image out with an exacto knife on a cutting board. note: the parts that will be painted is what you cut out.
step two: using an iron on a medium setting, iron your freezer paper to your shirt where you would like your image to appear. next, paint in the open areas with paint colors of your choice. note: i liked using the foamy paint brushes the best. it is best to go up and down in a nice even coat.
step three: this is the hardest part. don't touch it after you've painted it. as much as you would like to see the finished product, you have to let it dry over night. at least 12 hours to be sure it has completely dried. next, carefully peel off the freezer paper, and voila! you have a new fun shirt!
let me know if you try this, and if you have any questions!