This hearty peanut butter granola is packed with nuts, chocolate and banana chips making it an indulgent healthy breakfast/ snack treat.

Hi everyone, I'm Zainab the baker behind Blahnik Baker. I'm so excited to be sharing with you this peanut butter chocolate banana chip granola recipe as a new contributor here on OSSS! But before we talk about food, I should probably tell you a little bit about myself.
I'm a newly wed graduate student who is teaching herself her way around making delicious desserts and treats! I didn't grow up baking like most people and had never baked before attempting to make a V-day cake for my then-fiance a few years ago. It was not the prettiest but he loved it 🙂 Since that disastrous first cake making experience, I've been on a mission to teach myself the basics of baking and decorating. That's how I fell in love with baking and making special treats for my friends and family.
During the day, I work on my PhD in Neuroscience and in my spare time/weekends, I'm a bake-a-holic and shoe-a-holic! I love making easy, simple to assemble yet beautiful everyday desserts. But why am I telling you about all the desserts I make and here sharing a healthy granola? Well, while I would love to be eating cupcakes and cakes for every meal, I don't. I try to balance my diet with healthier recipes, like this peanut butter granola, for most meals so I can indulge later.
I am a huge fan of easy, grab-to-go breakfasts. Between classes, taking care of our home and blogging, I am always running late so having a power breakfast on-the-go keeps my mornings less stressful. Granola is perfect for this and I find myself making a new batch at least twice a month. A few weeks ago I shared this Coconut Almond Granola over on my blog and it is my staple recipe. But today, this peanut butter chocolate and banana chip granola combines two of my husband's favorite things; peanut butter and chocolate. So I made this for him and filled it with lots of goodies. Oats, nuts, flaxseed, peanut butter and of course a little chocolate because peanut butter and chocolate is the best combination.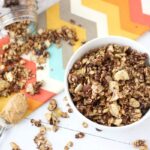 Peanut Butter Chocolate & Banana Chip Granola
Ingredients
3

cups

old fashioned oats

¾

cup

sliced almonds

¼

cup

flaxseeds

¼

cup

maple syrup

1/3

cup

peanut butter

2

tablespoons

molasses

¼

cup

brown sugar

1

teaspoon

vanilla bean paste

or vanilla extract

½

cup

dark chocolate chips

1

cup

banana chips

chopped
Instructions
Preheat oven to 325 degrees F. Line a baking sheet with parchment paper.

In a large bowl, whisk together the oats, almonds and flax seeds. In a medium saucepan set over medium heat, combine the maple syrup, peanut butter, molasses and brown sugar. Whisk until sugar dissolves and peanut butter melted. Remove from heat and whisk in vanilla bean paste. Pour over oat mixture and toss until evenly coated.

Spread granola evenly on baking sheet. Bake for 30 minutes, tossing every 10 minutes until oats are golden brown.

Cool mixture completely on wire rack. Mix in chocolate chips and banana chips.

Store in an airtight container at room temperature.
It's been great sharing this recipe with you today!! I look forward to returning next month with a brand new recipe! In the meantime, feel free to stop by Blahnik Baker to say hello and see what I have been baking. Here are some recent favorites :
No-Bake Peanut Butter Chocolate Pie
Nutella-Stuffed Salted Chocolate Chip Cookies