You will definitely NOT regret making these Easy Raspberry Thumping Cookies with Lemon Icing! Previously, my blogging buddy, Leigh Anne, shared one of her recipes with me, Jam Diagonals. Normally, I would look past any cookie that was fruity (as opposed to chocolaty), but after seeing several people rave about them, I was like…why not?? And, I'm SOOOOO insanely glad that I tried them. I love how the cookie part just crumbles instantly in your mouth, and the jam paired with a lemon icing is so nummy. I ate these for breakfast, lunch, and dinner for two days in a row!
Easy Raspberry Thumbprint Cookies with Lemon Icing
So, Leigh Anne's version is a bar, cut into diagonal pieces. When I did it like that…mine looked sloppy. Nothing like hers (lovely). I couldn't bring myself to take a picture of. But, I loved them enough to figure out a shape that would do them justice when I made them. Introducing, Jam Rounds, or Easy Raspberry Thumbprint Cookies with Lemon Icing, if you prefer a mouthful of words, just like a mouthful of cookies. 🙂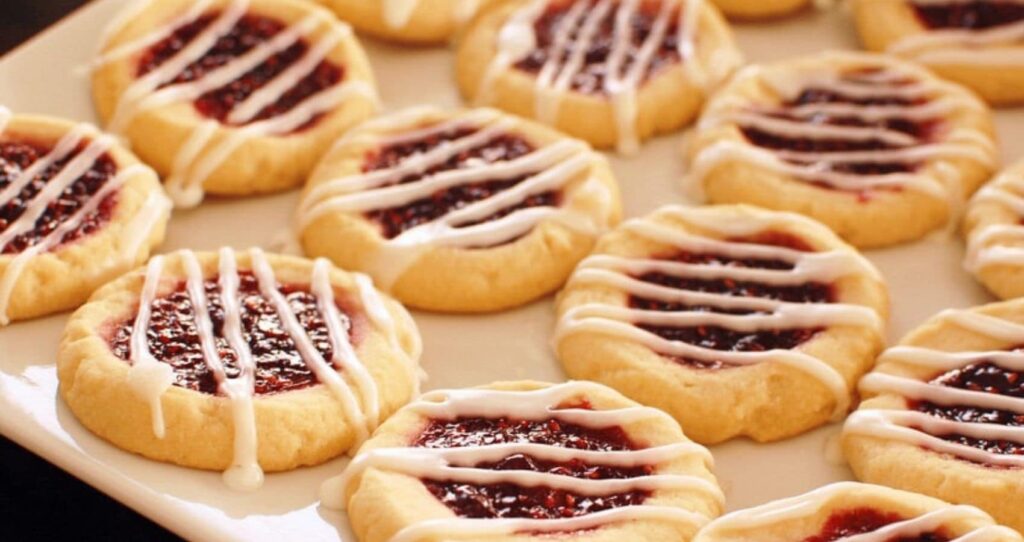 I tried these cookies with several different flavors of jam and jelly. Strawberry jelly was too sweet, peach jam didn't work with the lemon icing, raspberry was perfect.Oh, and I tripled the recipe…if you're making cookies, you might as well make enough to share (or eat for every meal for the next 2 days.)
Really, the only tip you need is to make sure you fill your indentation with plenty of jam! I didn't realize that the cookies would spread like it did, and once they were baked, I wished there was more jam!
Trust me on this…more jam.
You're done! Invite me over if you make them 🙂
Raspberry Jam Cookies with Lemon Icing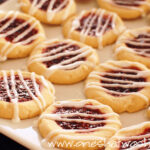 Raspberry Jam Rounds With Lemon Icing ~ Love This Cookie!
Ingredients
1 1/2

cups

butter

3/4

cup

sugar

3

tsp.

vanilla

1/4

tsp.

salt

3 3/4

cups

flour

raspberry jam

3 1/2 to 4

cups

powdered sugar

12

tsp.

lemon juice
Instructions
Heat oven to 350 degrees.

Cream the butter, sugar, salt, and vanilla in a mixer.

Slowly add the flour and mix well.

Roll the dough into small balls and place on a parchment lined cookie sheet.

Press your finger, gently, in the middle of the ball to flatten and leave an indentation in the middle, to be a "pocket" for the jam.

Fill each pocket with a dollop of jam. Remember, the cookies will spread a bit, so extra jam is good, so that it will spread too 🙂

Bake for about 15 - 18 minutes, or until you see a slight hint of golden color on the cookie. Remove from oven and let cool.

Meanwhile, mix the powdered sugar and lemon juice to make the icing.

Using a pastry bag, squiggle the frosting across the tops of the cookies.
Love this raspberry jam cookie?? Check out these too…
My Favorite Sugar Cookie
Chocolate Turtle Cookies
Peanut Butter Cookies
Chocolate Chip Pumpkin Cookies with Buttercream Frosting
To save this easy shortbread cookie recipe, pin this image:
Click the Pinterest image at the top of the post for additional image choices to pin.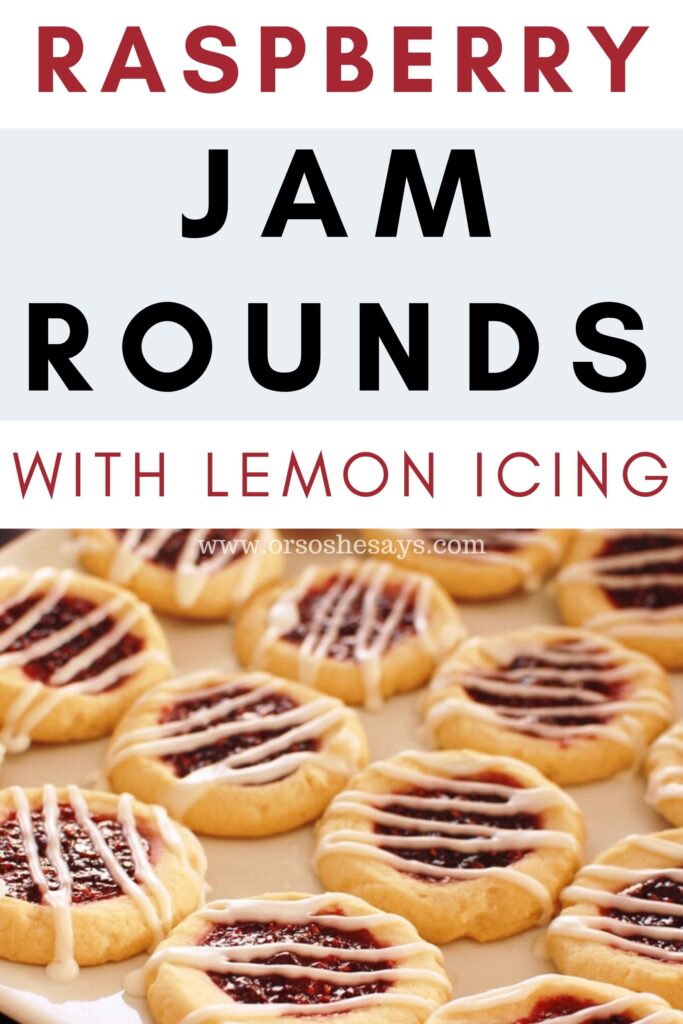 Join 180,000+ others & follow OSSS for lots of family ideas!
NEWSLETTER (free most-requested family recipes download included!)
PINTEREST (lots of awesome family related ideas!)