No need to have a dull, run-of-the-mill baby shower! Check out some of these fun, super cute (and some slightly craaaazy) ideas!
Shower Decor

I love, love, love the decor and table settings found at
Baby Shower Stuff
! They have everything from invites, balloons, and favors to diaper cakes, candy and dolls.
Babies floating in
ice cubes
?? I read about this game where everyone is given an ice cube, with the baby inside.  The first person to melt their cube ("break the water") wins a prize.
Party Favors
How cute are these?? These
egg timers
are perfect party favors!
What a clever idea to make candles inside of baby food jars! Paint the lid, put a cute label on and make up a heavenly smelling batch of wax! You can buy these online or there is a great tutorial,
here
.
Shower Food & Drinks
No shower would be complete without
fetal shaped
sugar cookies! Okay, maybe not.  But, I just had to show you.
Try doing all the food in miniature sizes (baby size)! Think baby carrots, pigs in a blanket, mini pizzas, tiny cookies, etc.
Carve a carriage out of watermelon, instructions
here
.
Not "baby" themed at all, but bread bowls are sure sounding good to me right now. And, I totally think it would be cool (or hot) to serve these at a shower!
Another idea would be to do a Mexican Buffet.  Have tortillas, a couple kinds of meats in crock pots, and a table full of toppings (guacamole, cheese, sour cream, etc.)  Serve with tres leches cake, sopapillas, or churros for dessert.
Or,
Hawaiian haystacks
!  Have your rice and gravy in separate crock pots and set up the counter will all sorts of toppings.
Baby Gifts
These are lame-o pictures but I was cracking up reading all these
t-shirt
slogans for babies!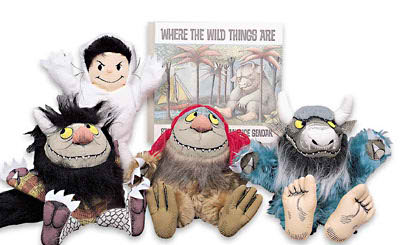 Instead of giving the mother-to-be the default blanket and burpee, how about a fun book, like
Where The Wild Things Are
and matching
puppet
? You can totally have too many blankets, but you can never have enough books! If it's a girl, maybe a
Fancy Nancy
book with the corresponding
doll
..or
Olivia
…you get the point.
I always love a good gag gift. Relieve any motherhood stress and tension by squeezing this
baby head
and throwing it around the room (makes scream noises). Don't lie, we all feel like we're going nuts sometimes…but it doesn't mean we want to squeeze or throw babies (only fake one's that are round, bouncy, and ugly!)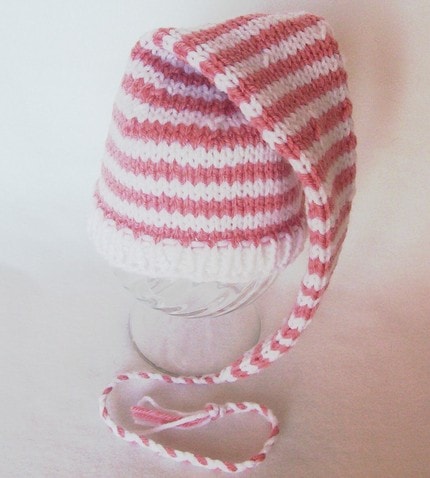 These
hats
are SO cute, especially for naked newborn pictures!
What better way is there to take advantage of a baby's inability to defend themselves than to stick a buck-tooth binky in their mouth? Actually, I can think of a few…kissing their face endlessly and squeezing their chubby thighs. But, these would make some memorable pictures! There's a whole array of hilarious binkis at
Prank Place.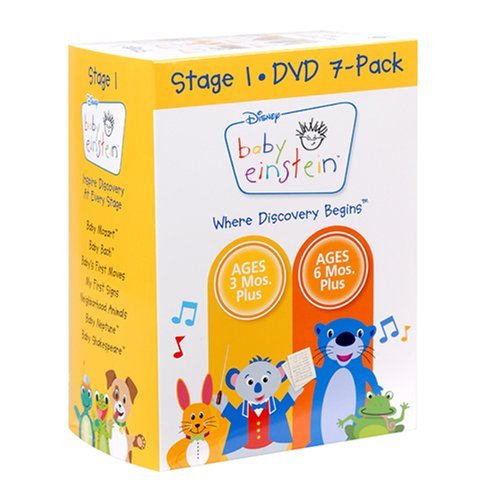 Baby Einstein
movies are so magical to babies! The become completely entranced with the music, other babies, animals, etc. A great gift for a new mother!
Shower Games
I'm not a huge fan of shower games. I tend to like the freedom of "open houses," but they do present their problems. It's hard to get a word in with the guest-of-honor, presents are opened randomly throughout the night, and a lot of people just stand around feeling dumb. So, enter shower games. I found a couple great sites with tons of games:
this one
and
this one
.
These are a few of my favorites…
1. Get about 10 diapers, inside of them smear different types of food. The guest have to guess what it is by smelling it. (Smashed Milky Way, Mustard, Mashed Peas, Chocolate Bananas, Vinegar, etc.) Whoever guesses the most wins a prize!
2. Put together some BINGO cards. In each of the squares have things such as: the mother's due date, the baby's name, the nursery theme, mom's fav cartoon, baby food flavors, favorite lullaby, etc. Give each guest a handful of candies to place on the squares when they are called out. The first person to get BINGO or Blackout wins! Even cooler…have some
custom M&Ms
made up for the square markers!
3. Binky Game – Give each guest a
binky necklace
. Nobody can say the word "baby". Whoever can catch someone saying the word can take their necklace. The person with the most necklaces by the end of the shower wins a prize!
4. Complete The Nursery Rhyme – Type up several nursery rhymes (or a main line from each) and leave out a few words. Have the guests see how many they can fill in. Whoever gets the most correct wins!
5. Baby Relay – I just made this up, hope it makes sense. Have two teams line up in separate lines. The first in each line runs across the room to complete a task, when finished they run back and tag the next person in line. The first team to have all their players complete each task wins. The tasks could be as follows: Take toilet paper and wrap it around the nether-regions to create a diaper-look-alike, Use a hair band to create the signature baby palm-tree hair-do on top of their head, smear carrot baby food around their lips, stack up a set up blocks and knock them down, crawl on all fours while crying back across the room to tag the next member (complete with diaper on and all). Is that totally crazy, demeaning, nutty?? I think it would be hilarious…if you had the right group. It would make some great pictures! Have a prize for the winning team.
Anyway, I could throw out some ideas all day but I've got my little girl running around the office with poopy pants. The scary thing is…I've put off changing it for so long that I can't smell it anymore! I better go.
Need More Baby Shower Ideas??
Baby Shower Theme Ideas
Baby Food Jar Candles
Baby Shower Ideas and Breakfast Fajitas
Need Gift Ideas for New Moms and Babies, check out (and pin) Gift Idea Central.  That's where I store all of my past and future gift idea posts.  Comes in so handy!!