Using Amazon to throw a baby shower is such a great way to simplify the whole process. There are so many fun baby shower decorations on Amazon, as well as baby gifts. This post is packed full of ideas for decor, gifts, baby shower games, and even food to serve. Here's to making life a little easier and having a great party too!!
Using Amazon to Throw a Baby Shower
Baby Shower Decor from Amazon.com
Baby Showers don't have to be expensive to be super cute. I love all of the adorable options on Amazon for baby shower decor, and most of them come in packs that include many types of decorations for under $30 bucks! Below, I'm sharing 3 of my favorite baby girl shower decor ideas, 3 for baby boys, and a couple gender neutrals for those who aren't finding out what they're having. And further down, you'll find ideas for games, gifts, and food!
Cute Baby Girl Shower Decor Ideas
Pink & Gold Baby Shower
Any time you can find a value pack of baby shower decor, that is ALSO cute, you're in luck!! I love this Pink and Gold Baby Shower Decorations Pack, that comes complete with banners, lanterns, flowers, balls, tassels, and balloons… all for a great price.
Additional decor for this theme: pink and gold shower plates, baby pink and gold straws, pink metallic fringe curtain backdrop
Hot Pink and Black Shower Decorations from Amazon.com
For a more bold look for a baby girl celebration, this Hot Pink and Black Baby Shower Decor Pack fits the bill perfectly. It's still a great price and includes everything you see in the image.
Additional decor for this theme: matching straw, napkins, and extra balloons, black & white striped photo backdr0p
Mint and Peach Shower Decor for Baby Showers
The picture for this shower decor doesn't do it justice, but I love the idea of doing pink and mint… a fun, modern variation from the standard pink for girls! It's perfect for a spring or summer baby shower. This Peach and Mint Shower Decor Package includes everything you see here.
Additional decor ideas for this theme: mint plastic tablecloth, mint and peach baby shower invitations, peach and mint straws
Cute Baby Boy Shower Decor Ideas
Baby Blue and Gray Shower Decorations from Amazon
The silver and gray in this Baby Blue Shower Decoration Set adds a super cute modern element, and the addition of elephants takes it over the top! How fun would it be to have some stuffed and toy elephants spread around the party area?!
Additional decor ideas for this theme: Baby Blue Table Cover, blue and silver balloon garland, the cutest stuffed elephants
Navy and Gray Baby Boy Shower Decor
There's something about navy blue that just screams "classy." I love this Navy and Gray baby shower decoration collection on Amazon.com. The addition of any accent color would look awesome too… maybe red?? Yellow??
Additional decor ideas for this theme: silver/navy/white balloons, tissue paper balls/tassles/garland in navy/white, advice and wishes cards in navy stripe
Woodland Theme Baby Shower Decor
For the soon-to-be-raised-in-the-outdoors baby boy, this theme is so adorable! There are so many additional fun decoration ideas, such as stuffed forest animals, a teepee, and you could even pull out your mini Christmas trees to pull in the woodland theme. This set only comes with the banners, so you will have to rely a little more on the extras, but they should be easy! See some ideas below…
Additional decor ideas for this theme: Woodland photo booth props, Woodland cupcake wrappers, Natural cotton teepee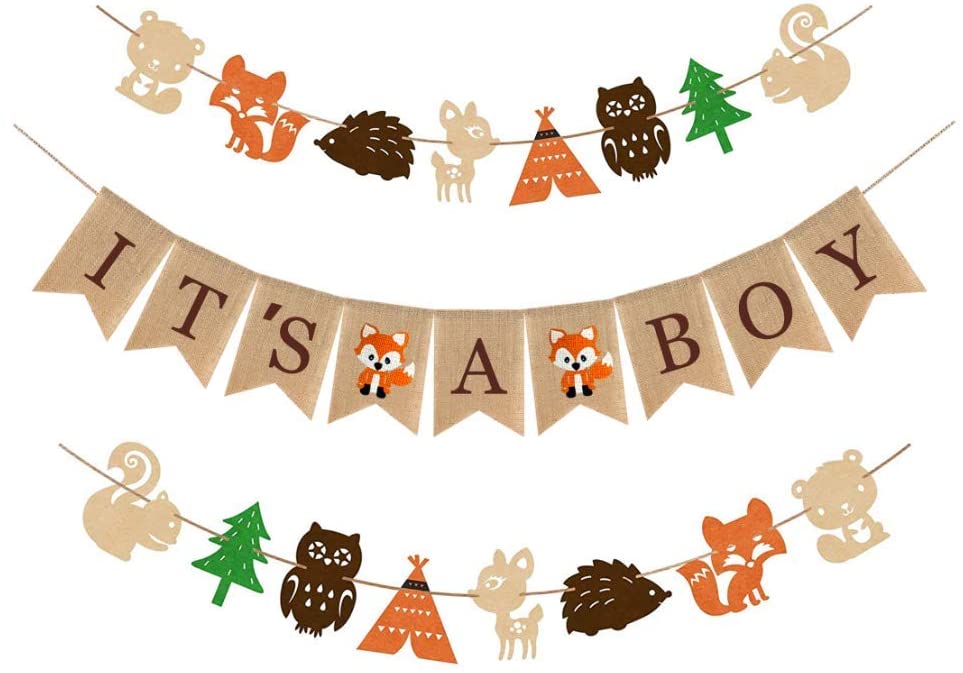 Gender Neutral Baby Shower Decoration Ideas
Natural Burlap, Gold, and White Neutral Shower Decor
Sometimes gender neutral themes have the reputation of being boring, but I actually think this Burlap, Gold and White decoration set is one of the cutest I've seen! Even if you were doing a boy or girl theme, it could easily be turned either direction with an accent color.
Additional decor ideas for this theme: "Oh baby!" gold and white napkins, Gold and white baby shower plates, "Oh baby!" gold cake topper
Yellow and Green Gender Neutral Baby Shower
This is definitely the classic gender neutral look, but it's still as cute as ever. The Yellow and Green Gender Neutral Baby Shower Pack comes with the banner, balloons, lanterns, pom moms, and tassels.
Additional decor ideas for this theme: Mint green plastic tablecloth, yellow 'Oh baby' mini candy wrappers, mint green baby shower 'Price is Right' game
Baby Shower Games (That are actually fun!)
I'm not a huge fan of shower games. I tend to like the freedom of "open houses," but they do present their problems. It's hard to get a word in with the guest-of-honor, presents are opened randomly throughout the night, and a lot of people just stand around feeling dumb. So, enter shower games.
These are a few of my favorite games for baby showers…
Easy Baby Shower Food & Drink Ideas
For these ideas, I tried to think of food and drink ideas that appeal to large crowds, are easy to serve, and are a little different than the standard plates of chicken salad sandwiches.
Baby Shower Food Recipes and Ideas
Baby Shower Drink Recipes
Baby Gifts from Amazon to Give at a Baby Shower
As a mother of 7 children, I like to think I have a few ideas on great baby shower gift ideas. Here are some gift ideas for babies I've either given or received and absolutely loved. Or, they may also be products that I've bought, used, and loved for my own babies. I'm pretty sure you'll find some fun ideas that will make great gifts here!
Favorite Handmade Baby Gifts from Amazon
Anyway, I could throw out some ideas all day but I've got my little girl running around the office with poopie pants.
Like this post for using Amazon to throw a baby shower?? Check out:
Pin this image to save this baby shower ideas post:
For additional Pinterest images, click the Pinterest button at the top of this post.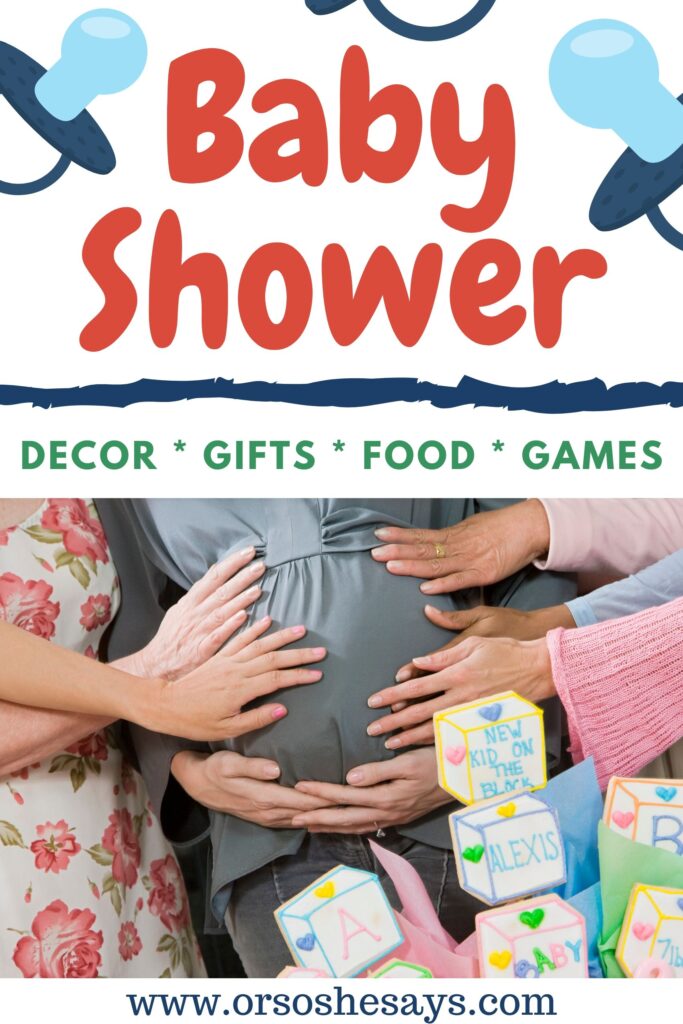 Join 180,000+ others & follow OSSS for lots of family ideas!