Hi friends! I am back today to show you the cutest DIY paper pinwheels that I made for my niece's baby shower. They make the perfect baby shower decoration!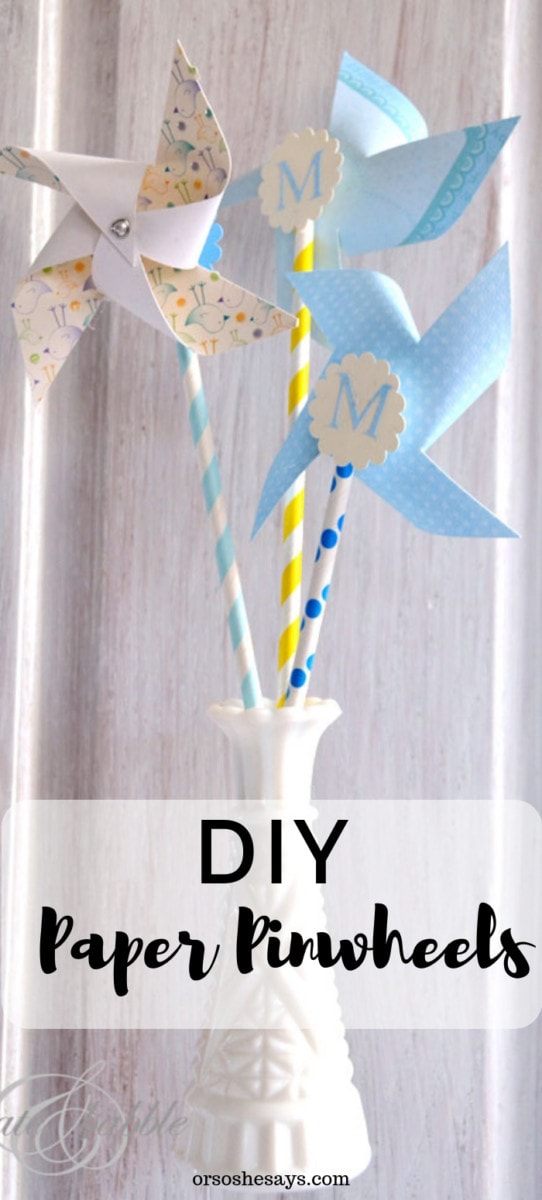 DIY Paper Pinwheels
When my sister asked me to make table
centerpieces
for the guest tables, my first thought was flowers. But that's not very original and I knew it wasn't what she had in mind. She wanted me to create
something
. Something unique and fun. I put on my thinking cap and thought pinwheels! They can be colorful, fun, personalized and perfect for a baby boy shower! Now I'm sure I'm not the first person to decorate with pinwheels, but this is how I made mine. I did use my Silhouette Cameo using one of their pinwheel shapes, but these can easily be made without one. I'll show you how.
DIY Paper Pinwheels – Materials
12″ x 12″ two-sided card stock (both sides will show)
coordinated solid color card stock
alphabet stickers
brads
straws
bamboo skewers
scissors or Cameo
hole punch
hot glue gun
paper crafting glue
DIY Paper Pinwheels – Directions
Cut the 12″ x 12″ card stock into 4″ squares using scissors or a paper trimmer.
With your scissors, cut from each corner of the square to within 1/2″ of the center of the square.
Bend each corner with the punched hole together towards the center and secure the 4 layers with a brad (OPTION: you can punch a fifth hole in the center of your square and put the brad through the back of the square. I opted not to this because I liked the "puffy" look better).
Hot glue the pinwheel to a decorative paper straw. I got my straws through one of the daily deal sites like Pick Your Plum or Sassy Steals, but I saw them in Michaels, too.
Since the straw isn't long enough for most of the bud vases that we're using, I hot glued a bamboo skewer to the inside bottom of straw, sort of as an extension : ) Once it's in the vase, you can't see the skewer.
For the back, cut 1 1/2 circles from your solid color card stock and glue to the back of the pinwheel.
For personalization, I added the baby's last name initial as a monogram onto the circle. I cut the letter using my Cameo, but alphabet stickers would work great, too.
My sister was thrilled with how these DIY paper pinwheels turned out and I know my niece will love them. I hope you like this little project and that it inspires you to make something cute, fun and festive for your next event! I'd love to have you visit me at my blog: Create & Babble. With wedding season fast approaching, I have shared a series of Wedding DIYs that you or someone you know that is planning a wedding may be want to see.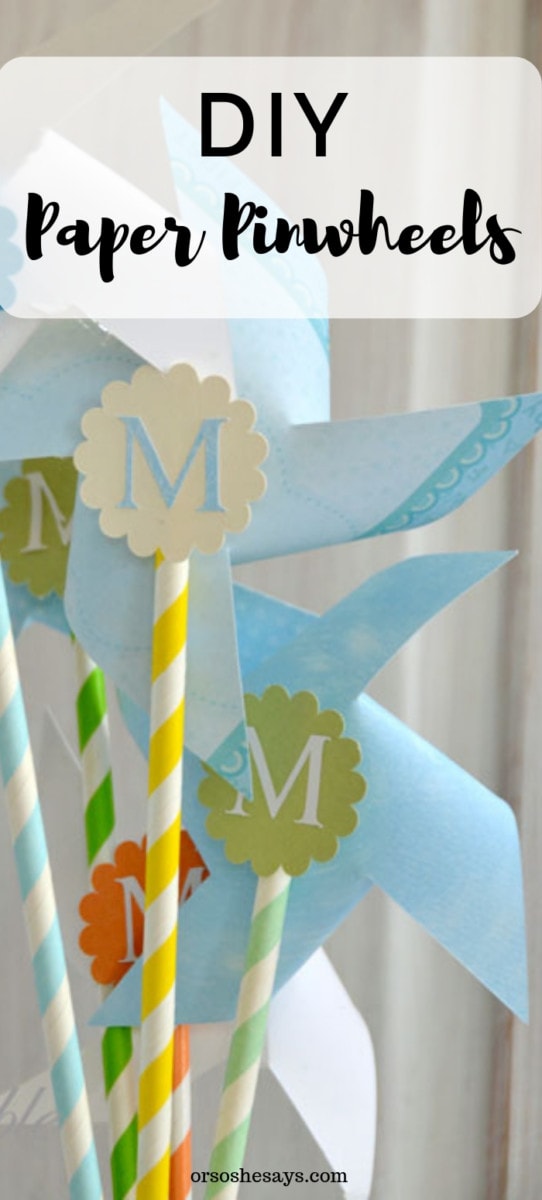 More posts on 'Or so she says…' you'll love: